The art of organization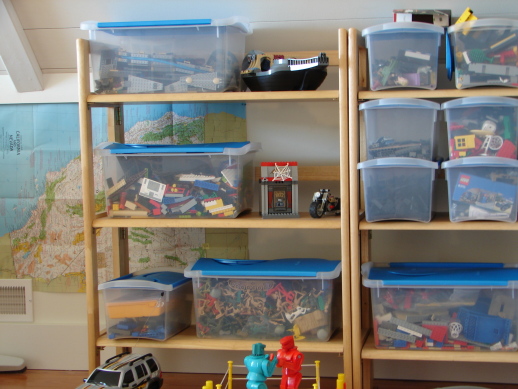 Don't worry, I'm not going to pretend I can cover the topic of organization in just one post.
After all, "Real Simple" talks about it in pretty much every issue.
However, we're getting ready to gear up for the school year, we need to organize our classrooms, and parents have many of the same concerns at home. (In fact, more and more bedrooms and play rooms are drawing inspiration from classrooms.)
I am not one of those people who keep only the things which I feel to be beautiful or know to be useful (paraphrasing William Morris). My closets and drawers are crowded with the less attractive, the downright ugly, the obscure, and the "maybe some day".
At home (see above), we had a major organizing shift this year in the play room. I purchased a couple dozen of the clear bins shown, which have permanently attached lids that, when open, hang neatly at the bin's sides like a hinged open door. These were purchased at Wal-Mart when they were on clearance, and I made a second trip to get more. Bless the person who thought of the permanently attached lid.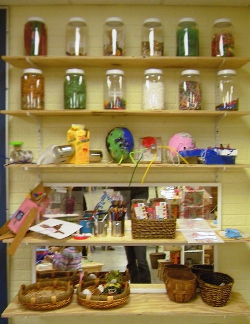 Clear bins and containers are so nice for showcasing their contents. If a child can't see into it (e.g., open baskets and trays on a low shelf), clear containers allow them to see what materials are available.
With limited storage, it always helps to go up ... clear containers on high shelves mean materials that aren't needed everyday are still in sight, so children don't forget what you have. High shelves are also a nice way to display completed projects.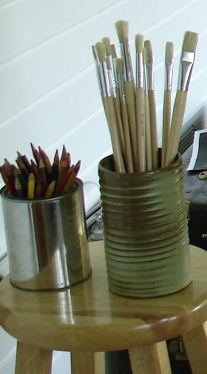 One of my favorite finds for organizing pens, pencils, markers, paintbrushes, etc, is paint cans. The paint store sells them (new, unused) in different sizes, about 88 cents for the quart size. These are a natural material, sturdy, and .. bonus .. magnetic -- so you use magnets or magnetic labels on them.
Martha Stewart uses paint cans turned on their sides to make excellent cubbies. It's not hard to imagine these repurposed as student mailboxes in the classroom (drawings can be rolled!).
More organizational inspiration for today:
Pegboard desk (Martha Stewart Kids)
Baskets, chalkboards, and cork boards (Pottery Barn Kids)