beautiful kid space
Mari Eriksson has some beautiful photos on her blog of her home, including some truly inspirational kid spaces.
All posts on this blog that have to do with children's spaces in home or school are tagged "environment". An explanatory quote from The Hundred Languages of Children
:
A Space That Teaches

The environment is seen here as educating the child; in fact it is considered as 'the third educator' along with the team of two teachers.

In order to act as an educator for the child, the environment has to be flexible: it must undergo frequent modification by the children and the teachers in order to remain up-to-date and responsive to their needs to be protagonists in constructing their knowledge. All the things that surround the people in the school and that they use — the objects, the materials, and the structures — are seen not as passive elements but on the contrary as elements that condition and are conditioned by the actions of children and adults who are active in it.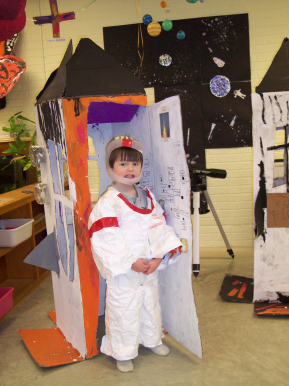 In our school this translated to a classroom that was very open and flexible, with areas that could be transformed according to the children's interests and project work. An open area that had a play kitchen, table, chairs, couch, etc., during one season was transformed into a library for several months, a skating rink, a rocket ship factory.
At home, children need space to build and — I think this is key — room to keep a project out while they are working on it.
Again, we talk about children having short attention spans, but we make them clean up their projects and put them away each evening! How can they do extended work, adding layer upon layer of understanding, if they can't keep an unfinished painting? LEGO structure? block city? cardboard box building?
Children need the opportunity to work on something again and again, until they decide they are finished. One of the things I love about Mari's spaces is that they are so fresh and spacious. Empty space gives ideas room to grow.