Comics project: Extending ideas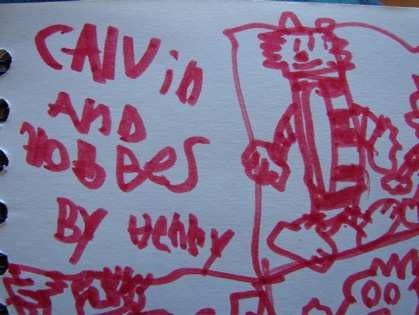 When Jack was first interested in/obsessed with Calvin & Hobbes, he started by reading the books
over and over and over.
Then he started drawing the comics. He tried to draw the characters as closely as he could to the originals. He filled two large sketchbooks with these drawings.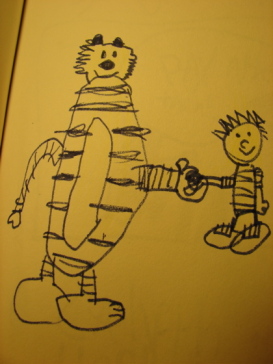 It was at that point that I began to support his deep interest with project materials and resources.
It is fascinating to watch as he makes the work more and more his own, as he becomes more confident. After mastering drawing the characters, he began copying whole strips.
After mastering copying the strips, he moved on to making up his own original C&H stories and drawing those.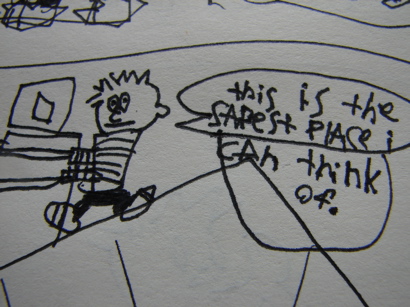 After filling a book with his own C&H comics (which were hilarious, and very much in the original style), he invented his own comic, George and Falkin. George was the grown-up son of Calvin and Susie (Calvin married Susie Derkins!), and he had his own imaginary friend Falkin, a stuffed bear.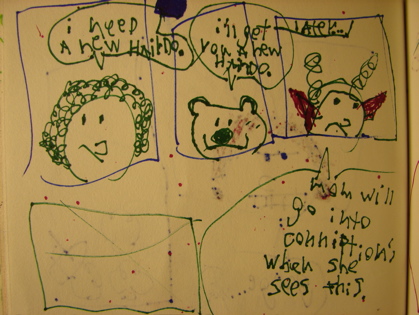 At this point, I have to stop and just admire my 7-year-old's grasp of storytelling and humor. He drew Calvin's dad the same, but older, and used a lot of the same running gags as the original strip. As Calvin used to pretend to be Stupendous Man, George pretends to be Fantabulous Man. And so on.
He was no longer just copying, he was extending the ideas.
At each level, he sticks with one thing until he feels confident to make the next step. I play no part in this. I just watch and admire his work. I don't say, "Why don't you…?" or "You should…" (Sometimes it's difficult.)
At each level, he gains mastery (as defined and measured by himself) then moves on naturally and fluidly to the next, more complex thing.
His natural inclination is to stick with something until he thinks he does it well enough. He assesses his own efforts and decides when he's satisfied.
His natural inclination is to make connections (noting similarities between two comics, among the drawing styles of different cartoonists and illustrators, across story and character development, and so on.
His natural inclination is to reach out to other people — to share his work, to talk in person with artists whose work he admires, to talk with people who do work that interests him.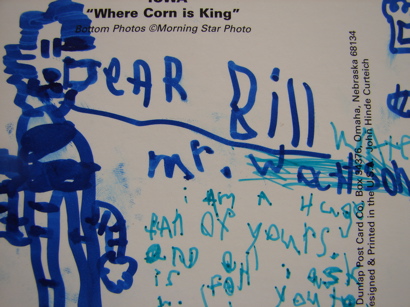 His natural inclination is to enjoy everything he does. He pours his heart into his work.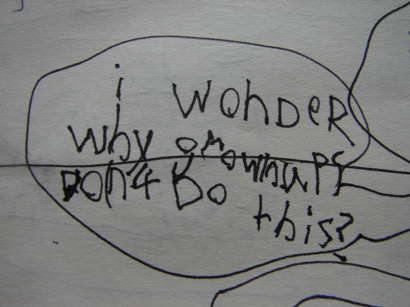 If he doesn't someday become a professional cartoonist (right now he says cartoonist-scientist), he may not ever require the exact skills he is learning from this particular project at this moment. But he certainly is picking up a lot of intangibles and habits of mind.