Displaying children's art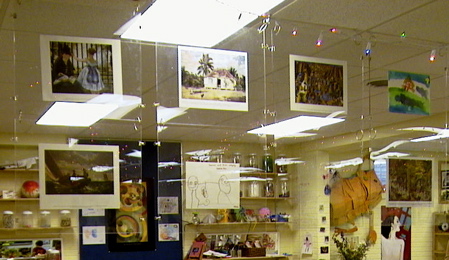 My friend Jo asked me if I had anything to contribute to this delightful post at the Cookie Nesting blog on kids' art displays. I didn't manage to send her anything because I've been a little swamped.
(Also, when anyone asks me for something, instead of rifling through my photos and immediately sending something in, I tend to think "oh, that won't do .. I need to take new photos" and "I'll wait until the light is brighter" and etc. and etc.)
So, up above is my favorite way we displayed children's art at the T.P.S. — in a hanging room divider of plexiglass frames. These are two pieces of plexi sandwiched together with two pieces of art in the middle — so you can see something different on each side. We drilled holes in the corners and used circle clips to attach them together and make a huge display, but you could easily have the plexi cut smaller (they will cut it for you at the hardware store) and hang them singly or maybe three in a row vertically. A smaller version would look beautiful hanging in a window.
And here are some of my favorite kid art displays from my peeps:
Estea's houses on the windowsill, rickrack art line, and wire book/art display shelf.
Geninne's son Daniel's window art
Kajsa's beautiful kid art line in the kitchen
Eren's drying rack gallery display
And, technically this isn't kids' art, but what a great display idea:
Hannah's little brother's stop sign as magnet board (awesome!) (totally stealing this for the boys' rooms!)
Let me know if you have something cool to share!