Empty hours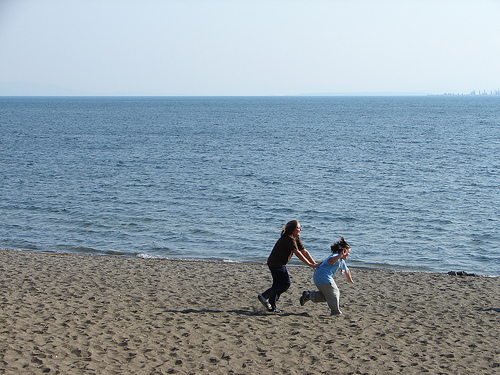 Kelly's comment on The Only Thing That Matters:
This echoes something I heard recently … that most parents in this time period want their kids to have as many experiences as possible. In return, children are end up experience rich and relationally poor. The point was not that we should keep our kids from having wonderful experiences. Simply that we should be encouraging them in quality relationships.
Why are kids' schedules so packed with organized activities and experiences? There have been numerous articles in the media every year for the last decade, at least, about "overscheduled kids," but I don't notice any real interest in a return to the lazy childhood days of yore.
In fact, not only do we still pack our kids' week full of sports, clubs, camps, classes, and etc., but even during family outings, we itch to organize the kids' experiences.
In our family, we respect that "nothing time" of childhood — time spent dreaming and playing and thinking and discovering. We see the value in empty, unscheduled time, and we prioritize giving it to our children. In fact, we prioritize giving it to ourselves. We feel that it feeds our souls and makes our work and our relationships better.
What do you think?
Parents worry about kids' boredom, so they schedule their lives to keep them busy. But empty hours teach children how to create their own happiness. — Alvin Rosenfeld, The Over-scheduled Child
The pressure to excel is undermining childhood as never before. Why are we so keen to mold [children] into successful adults, instead of treasuring their genuineness and carefree innocence? — Johann Christoph Arnold
Children need adults in their lives who understand the relationship between boredom and creativity — and are willing to set the stage so that kids can create the play. — Richard Louv
[T]here's more than stress involved in pushing children onto the fast track to success before they even understand the concept. For one thing, children aren't allowed to discover motivation on their own — and motivation is often more important to success than talent. Pushed children never have the opportunity to discover who they are. And they never learn to be at ease with themselves when alone, with time on their hands. Having experienced life "by the clock" — and almost constantly surrounded by others — these kids have never learned the joy of solitude, of having only oneself for company. Not only does this mean they're unable to practice self-reflection, but they're also unable to simply be. — Rae Pica
Home at last and now it was the time she had been looking forward to all week: fire-escape-sitting time. She put a small rug on the fire-escape and got the pillow from her bed and propped it against the bars. Luckily there was ice in the icebox. She chipped off a small piece and put it in a glass of water. The pink-and-white peppermint wafers bought that morning were arranged in a little bowl, cracked, but of a pretty blue color. She arranged glass, bowl and book on the window sill and climbed out on the fire-escape. Once out there, she was living in a tree. No one upstairs, downstairs or across the way could see her. But she could look out through the leaves and see everything.
It was a sunny afternoon. A lazy warm wind carried a warm sea smell. The leaves of the tree made fugitive patterns on the white pillowcase. Nobody was in the yard and that was nice. …
Francie breathed the warm air, watched the dancing leaf shadows, ate the candy and took sips of the cooled water in-between reading the book. — A Tree Grows in Brooklyn
See also: Protected time