Friday link round-up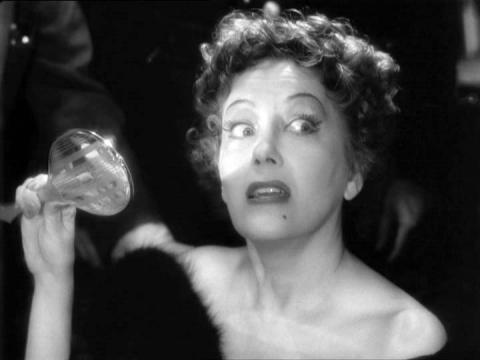 i woke up with a crick in my neck so this morning whenever anyone talks to me i turn to them full-body like a dramatic norma desmond.

— Lori Pickert (@campcreek) November 6, 2013
I have good intentions about doing this round-up every Friday, but is it just me or does Friday seem to come around every other day?
The last one I did was a month ago, so I have a lot of links to share.
First, I posted on Facebook a follow-up mini-rant about my post What's wrong with DIY/Maker Faire/hacking/tinkering for kids — and how we can make it better:
Re: yesterday's blog post about what's wrong with DIY/Maker Faire/hacking/tinkering activities/clubs for kids and how we can make them better…

The pushback is "It's not that bad." It's not that bad to give kids limited choice. It's not that bad to give extrinsic rewards like badges. It's not that bad to have all the kids following directions to build the same thing. Come on — it's not that bad.

But it is that bad. Because we're talking about big, countrywide initiatives where people are making money to create a structured, prepackaged, preplanned activity for lots and lots of kids.

It's one thing to make a less-optimal choice on a rainy Sunday afternoon because it's easy, you're feeling lazy, and after all, it's only once in awhile.

But when you're building a giant machine that is going to be affecting the lives — the learning, the thought processes, the habits — of tens of thousands of kids, then you should be doing everything you can do to get it right.

"It's not that bad" is not something we want to settle for when it would be just as easy to give kids the best. Let's give them the best.
When you decide to be the only person nitpicking a whole host of popular groups, you have to expect to be labeled the crab of the internet.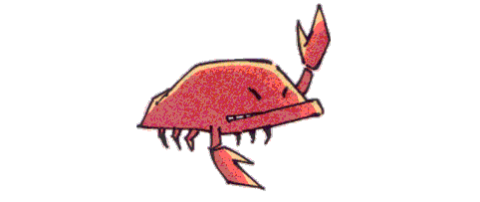 I knew I was probably in for a firestorm of "What's your problem?!" It's hard to criticize people who are actively working to make something fun and educational for kids. But if someone has to do it, it may as well be me.
I loved this comment that Julie, an art teacher and parent, left on that post:
When I first read your comments and your article, I thought that I couldn't disagree more. I love DIY and pinterest and my bookshelves are FILLED with art project books. I've never heard of diy.org so I've checked it out the past few days… and I've signed up for maker stuff online… bought many a pre-packaged project for the kids (and myself)… and I've taught many projects throughout the years that weren't 'cookie cutter' (hey! nobody wants to be called that!) but all had the same goal. So, I've been thinking and even losing sleep over this topic, I've turned it over in my head… over and over. …

I'm inspired by it because I grew up in an era when art lessons where assessed the same way math lessons are — where there is a 'right' answer and if you get the 'wrong' answer (you didn't paste that on right!) you get a bad grade. … If we continue to measure creativity and use extrinsic rewards that we turn into carrots, training kids to think they're important (grades… badges…) then all we're doing is perpetuating the machine that some of us are fighting so hard to change.

… Sometimes these things are nice to lean on, but are they truly authentic? Am I a better artist than little Johnny because I have an art school degree and awards? I never thought so, but those awards suggest otherwise. Those extrinsic awards are just proof that I got some support, somebody thought I was 'good enough' and I 'earned' a representation of that… But where is my representation of me thinking I am good enough??? Nowhere, not even collecting dust on a shelf. I'd like to say that I just 'knew' I was, but I didn't. That is not what I want for my kids. I want them to first value and respect their own opinions and thoughts before what the world tells them to think.

My daughter is in a soccer class and I just learned that they had a drawing contest during class — whoever draws the 'best' witch wins a soccer ball. Well, they did this in class and their teacher decided whose witch was the best. My 7 year old was saddened that she didn't win … This made her feel like she was not a good drawer and if she can't win the contest at it, then why even draw? I was really angry to learn that they did this and it's not what I signed up for. It made me realize that this sort of thing happens all the time everywhere, and I might have been the only parent that even cared because everyone else seemed to be used to it. Her friend Maddy won the ball. I was Maddy when I was a kid. I would win those drawing contests, but looking back… that is wrong that adults put themselves in the position to decide what is best simply because they are adults. …

As a kid, I would've cared about [badges].... but I also really craved that kind of approval. It would have been nice to get that kind of esteem through other avenues.
I edited the above for length; see the whole comment here.
This topic goes back to my post about the intellectual benefits of the real old-fashioned summer — when we create structured activities for kids, we need to really think about the trade-off between what they get and what they lose.
I've already heard from people who are using that post and the checklist as talking points with other parents as they start new groups. Remember: This isn't about being anti-DIY, anti-making, anti-tinkering, or anti-hacking. It's about setting better, higher goals for these groups and activities so ALL kids can have the learning experiences they deserve.
So here are a bunch of links about play and learning and working; let's see if we can tie them back neatly to the theme of giving kids more control over their own learning.
"In addition to providing experience, play also helps children learn what they like and don't like.

Nobel chemistry laureate Roger Tsien tells of reading about chemical reactions before he was eight years old and then trying out the reactions for himself. He was able to bring about beautiful color changes in his house and backyard. 

Because he didn't have enough laboratory glassware, he had to make equipment from used milk jugs and empty Hawaiian Punch cans (see photo). Tsien later won the Nobel Prize for developing colored dyes and proteins that become brighter or change hue when they encounter chemical signals in living cells, including neurons. …

Tsien's great contribution to science — the invention of tools that help us visualize what is happening in active biological systems — had its roots in his childhood interest in home chemistry experiments.

Not all childhood endeavors lead to such heights, of course, but regardless of your children's eventual interests, discovering them may be one of the most important outcomes of play." — Play, Stress, and the Learning Brain
It's not enough to be introduced to new ideas or taught new skills; you have to have time to play with them. Play is the learning language of childhood, but it's also how adults learn and make creative connections. If you're moving in a linear fashion from A to Z with little time for exploration, making side connections, repeating, extending ideas, and so on, then you haven't left enough time for play. If you're operating on a schedule, you probably haven't left enough time for play.
"Each person has an inherent urge to grow toward his or her potential, much in the way an acorn becomes a tree. But because we all aren't acorns and won't all be oaks, there is bound to be confusion about what exactly growing toward our potential means. …

Maybe we feel the cultural press to be an engineer before we find out what exactly that entails. Or our parents tell us more about what we should be like than what we are like. Or Facebook suggests that our … lives ought to look a lot better than they do. Scrambling after ideals, we become alienated from what is true about ourselves and the world. …

Shoulds can masquerade as high standards or lofty goals, but they are not the same. Goals direct us from the inside, but shoulds are paralyzing judgments from the outside. Goals feel like authentic dreams while shoulds feel like oppressive obligations. Shoulds set up a false dichotomy between either meeting an ideal or being a failure, between perfection or settling. The tyranny of the should even pits us against our own best interests."

"Part of realizing our potential is recognizing how our particular gifts and limitations fit with the world around us." — Meg Jay, The Defining Decade
Scrambling after *other people's* ideals, she means. In order to figure out how to use and make the most of your own potential, you have to have a sense of self and be able to set your own goals and not be distracted by the approval and rewards of your larger society. And preferably you start when you're a child. So let's help kids set their own goals.
Are we still hung up on extrinsic rewards as adults?
"Some things are hard to measure. So, 'Am I a better dad than I was last year?' Well, there's no objective scale where I can look back and someone says, 'Last year you were a 71 dad. This year, you're a 74 dad.' Or spouse or whatever it might be, it's very, very hard to know.

The things that we can know are things we can count, and one thing that is really, really easy to count is money.

So, if I want to know if I'm better off this year than last year, one of the first things I can do is say, 'Do I have more money?' I think that alone makes it very, very motivating.

It works with things like the size of your TV, the square footage in your house, all of these things that we can… The number of cars you have. 'Am I better than I was five years ago? Well, I have five cars. I had no cars. I guess I'm better.'

We're just unable to correct for it because the other things that are important are hard to count and counting is great. It feels like math and math feels like science and we feel like we're better off because there's a confidence that I'm doing better, and it also works better with other people: 'Am I better off than you? I don't know, but if I have a bigger house than you, I beat you.'" — Harvard professor Michael Norton explains how to be happier
Maybe it's just me, but this reminds me of Julie's daughter and the soccer ball.
Michael Norton goes on in that interview to say:
[W]hat we're trying to say in the book … is, "Knock it off. Knock off counting how much money you have and start thinking about what you're doing with it. What you're doing with your money and time is a lot more important than how much money and time you have," and that has really changed my life.

"Knock it off, because it's not good for your happiness and you're probably focusing on the wrong dimensions for what will really make you happy." It's very hard to apply, but that's something that I actually try to apply in my life, really, every day. — ibid.
Not to beat a dead horse, but if you can't move beyond focusing on empty rewards and tap into your own beliefs about what's worthy of your time and effort, you're going to be stuck expending a lifetime of effort on meeting someone else's benchmarks for success. Let's help our kids define success for themselves. If life is one big marshmallow test, then that first marshmallow is the applause of society when you meet their goals for success — the second marshmallow is when you meet your own goal.
Why is it less desirable for adults to set the agenda rather than letting kids pursue their own ideas?
"[Y]oung children, motivated by curiosity and playfulness, teach themselves a tremendous amount about the world. And yet when they reach school age, we supplant that innate drive to learn with an imposed curriculum.

'We're teaching the child that his questions don't matter, that what matters are the questions of the curriculum. That's just not the way natural selection designed us to learn. It designed us to solve problems and figure things out that are part of our real lives.'" — How a Radical New Teaching Method could Unleash a Generation of Geniuses
Another quote from the same article:
"[A] new breed of educators … are inventing radical new ways for children to learn, grow, and thrive. To them, knowledge isn't a commodity that's delivered from teacher to student but something that emerges from the students' own curiosity-fueled exploration. Teachers provide prompts, not answers, and then they step aside so students can teach themselves and one another. They are creating ways for children to discover their passion…" — ibid.
Adults should be stepping out of the way as soon as kids get going.
"[M]entoring self-directed learners is like rolling a hoop down a hill. You want to let the hoop roll on its own, only touching it when necessary to keep it upright and rolling, and even then as lightly as possible." — Project-Based Homeschooling: Mentoring Self-Directed Learners
Why? Because…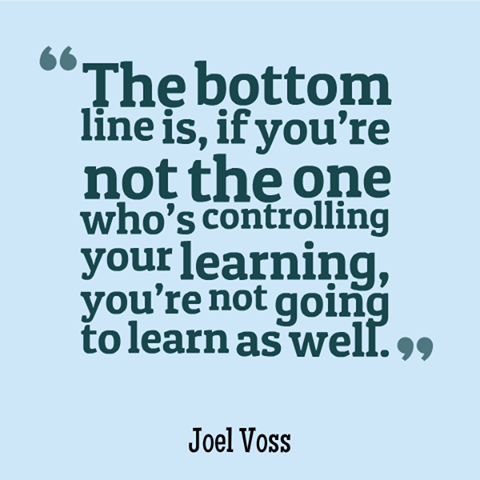 One student shares his view:
"I want to read Tribes by Seth Godin this week and next week focus on learning JavaScript. After that, I want to learn about marketing. I am working for a start-up right now that I wish I could be giving more time. However, I have to learn something that is irrelevant to the real world in class.

When did I lose my love for the classroom? When did I lose my interest in exploring beyond the requirements? When did I lose faith in my school?"

"With self-directed learning, you step away from attaining a 'grade' for the sake of a GPA. Instead, you take a step toward acquiring practical skills."

"Through projects, you can display what you are learning in a tangible form. There are no rules, no rubrics, and no limitations … Is there something wrong for wanting to dive deeper and to control my learning?" — I put more effort into this than any school essay
It's not enough to learn skills in a vacuum. They have to be connected to something the learner wants to do. Note the writer has goals he wants to work on. Self-directed learning is more than just acquiring practical skills — it's acquiring them for a purpose.
The learner's ideas and goals should form the meaningful context for acquiring knowledge and skills.
I'm going to end with a fantastic post on tumblr by cartoonist Lynda Barry about how freaked out adults were when they were asked to free-draw. This is what happens to us with the current educational system — and I don't just mean in schools, I mean in homeschooling and in kids' groups and activities (even soccer) and everywhere else: we lose our ability to relax and explore/play/create without fear. We lose the joy of not knowing — of working without guidelines. We cling to extrinsic rewards, using them to measure our worth and set our compass. We let other people's opinions about what we're good at/not good at determine what we do with our lives — even when no one is looking.
"There is something beautiful about the lines made by people who stopped drawing a long time ago.

And there is something curious about how scared they are when I ask them to draw…

And what usually happens is a kind of involuntary laughing that sounds like the laughing of people who are about to enter a spookhouse ride…

And a terror too that becomes especially evident when I ask people to stand up and look at each other's drawings…

All we did was draw a car but the room feels like it's on fire. Why? …

[W]hat if the way kids draw — that kind of line that we call 'childish' — what if that is what a line looks like when someone is having an experience by hand?"

"When someone learns to draw — to render — it's the first thing that goes — the aliveness — and it's what some artists spend their whole lives trying to get back… — Let's draw a car and then let's draw Batman
Is there something right now that you wish you could do, but you don't think you're good enough?
Somewhere along the way, did you forget that you can learn whatever you want to learn and you don't need anyone's permission to start?
Let's help our kids keep their aliveness — so they won't have to work so hard to get it back.