Friday link round-up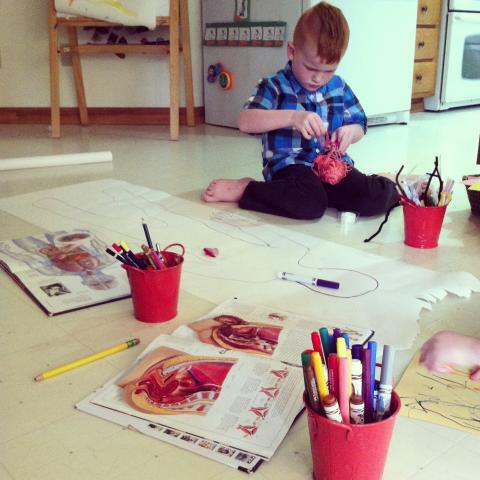 My favorite thing this week was something Georgia Schlegel (YarnPirate) said during a conversation on Twitter when I expressed frustration that some people see PBH as just "arts and crafts":
My five-year-old knows most of the organelles of a cell from his so-called arts and crafts.
To see more of her son's anatomy project, check it out on PBH Kids!
Some good links about making and doing and sharing this week:
"Time is the raw material of creation. Wipe away the magic and myth of creating and all that remains is work: the work of becoming expert through study and practice, the work of finding solutions to problems and problems with those solutions, the work of trial and error, the work of thinking and perfecting, the work of creating. Creating consumes. It is all day, every day. It knows neither weekends nor vacations. It is not when we feel like it. It is habit, compulsion, obsession, vocation. The common thread that links creators is how they spend their time." — Creative People Say No — Thoughts on Creativity
If you need someone to give you permission to say "no" to something so you can prioritize your meaningful work, this should help. "The math of time is simple: you have less than you think and need more than you know."
I liked this post of Michael's and we had an interesting discussion about it on Twitter. Some read it as "take 24 hours to commit to working on your top project," which is hardly doable for parents of young children. I read it as "take 24 hours to focus on one project and not be distracted away from it." (Can you tell what *my* issue is?)
"Sometimes lack of time or energy make it necessary to make very radical choices about what is important to us, what we want to give priority to and get on with. Sometimes it can just be that the amount of choice and options before us is so overwhelming that reducing them suddenly seems like a breath of fresh air.

Whatever the motivation, I'm increasingly coming to the conclusion that cutting right back and concentrating on very few (or even just ONE) thing is the way forward." — Distill your ambitions down to their essential core @ Sustainably Creative
Michael writes about doing creative work from the perspective of having a chronic illness that leaves him with low energy; his "important work" equates to my "meaningful work." I find his work very inspiring; you might want to check it out.
Along with this, Jennifer's beautiful words as she works on changing her life:
"My intention and direction have been set
now I need only to listen
to pay attention
and let go." — growing :: letting things go @ under the big blue sky
Pay attention to what you want to grow; put your focus there. Let the rest go. Good thoughts for anyone who's trying to make a change.
A couple of work-related links this week, the first just one great quote from a slideshow by Reid Hoffman (founder of LinkedIn) that's well worth your time. Having owned two businesses and hired and fired more people than I want to count, I think his advice is pretty much on the money. And forget about college grads — this applies to anyone who wants to accomplish anything:
"Opportunities do not float like clouds in the sky. They're attached to people. If you're looking for an opportunity, you're really looking for a person." — Amazing Career Advice for College Grads
This is something I've experienced in my own life. Magical things can happen if you focus on trying to help people, preferably for free. You can build experience, make contacts, make friends, learn, and grow — and opportunities lie beyond that experience. Concentrate on people — they *are* the opportunities.
An article about work *and* about making and doing:
"There are millions of unfilled jobs in America, and most of them are careers where you actually have to make and build stuff. If you grew up in an affluent environment, then you see your software engineer friends getting jobs easily. But it's not just them. There are countless labor jobs — everything from HVAC to plumbing — that still pay big dollars. But rich kids don't even know what those jobs entail.

My advice to young people is to figure out how to make something. That means either working with your hands, or learning how to type code with them." — Young People Are Screwed … Here's How to Survive
Even if you go the traditional job route, it's the people who have real skills — the ones who know how to make and do — who float to the top. This goes back to that "arts and crafts" misunderstanding — it's not about a pretty picture, it's about knowing how to plan, execute, revise, build, share, collaborate, and contribute!
And one more thought on prioritizing:
"Make no mistake about it, the things you spend most of your time doing is how the world sees you." — We Are What We Do, Not What We Say
I'll add to that: How we live is what our children see and it's what they internalize. They will do as we do — so it's crucial that we think hard about what we're doing and how we're doing it.
Finally, I'll end with the quote I shared on Mother's Day:
"Be yourself. Everyone else is taken." — Oscar Wilde
Hope everyone has a wonderful week!