Friday picks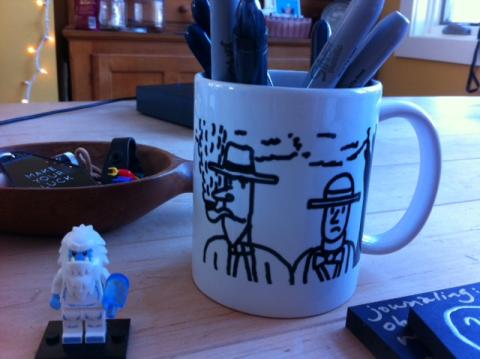 Happy Friday! Here's what I've been reading and thinking about…
"Education has to focus on learning how to learn — metacognition.

School will still be important, but not to impart what happened during the Revolutionary War or to teach the quadratic formula.

School … should focus on teaching young people the intangibles, the things that make humans unique: relationships, flexibility, humanity, how to make discriminating decisions, resilience, innovation, adaptability, wisdom, ethics, curiosity, how to ask good questions, synthesizing and integrating information, and of course, creating." — If Robots Will Run the World, What Should Students Learn?
Learning how to learn is actually meta-learning; metacognition is thinking about thinking. But the point stands — education that only focuses on facts is missing the deeper purpose of teaching: helping learners develop the ability to teach themselves.
When I was running my tiny private school, we created an alternative assessment (alternative to letter grades) that attempted to tell the story of the whole student: their thinking habits, dispositions, strengths, and so on. We had a list of traits similar to the ones listed above.
Question: When you think about how your child is doing — and how they compare to other kids their age — what do you think of? Is it a list like this? Or something else?
"[I]nterest can help us think more clearly, understand more deeply, and remember more accurately. Interest has the power to transform struggling performers, and to lift high achievers to a new plane."

And "if catching people's interest is about seizing attention and providing stimulation, holding it is about finding deeper meaning and purpose…" — How the Power of Interest Drives Learning
Authentic interest is the irreplaceable first step. Next? Ownership.
Kids are more engaged and enthusiastic if they have some input and control, even if it's not their own self-chosen work. If you can't give them autonomy over the whole project, can you involve them in making substantial choices?
Speaking of real choice, just because a program says it's PBL/inquiry-based/learner-centered doesn't mean it really is…
"[A] lot of supposedly participatory projects had a distinct air of tokenism. Children were being put on display, so to speak, as though they we

re actively participating, but they were not taken seriously."

"Most school projects … are conceived and designed by teachers, representing lost opportunities for more engaged and profound learning."

"A lot of adults are genuinely trying to be helpful … but they don't maximize a child's chance to contribute in a way that allows the child to prepare and be confident and give an opinion that is really likely to be listened to. They don't involve them, because they don't think the child will contribute anything serious that will really make a difference."

"People think American children already have a lot of voice. I thought the same thing when I first came here. But having rights implies being listened to, as well as speaking, and being taken seriously. Being listened to is even more important than having the freedom to make a lot of noise." — Are we taking our students' work seriously enough?
No matter what a program says it cares about and no matter what type of values they say they're implementing (and this goes for homeschoolers, too, as well as schools), what matters is what is actually happening in the room. Are your kids REALLY being listened to? Are they sharing decision-making? Are they driving the curriculum with their own questions and ideas? If they're not, it's not project-based learning. It's not learner-centered. It's the old product in a new wrapper — same ingredients, repackaged with new jargon.
What I've been reading (or rereading) this week:
"[T]he view you adopt for yourself profoundly affects the way you lead your life. It can determine whether you become the person you want to be and whether you accomplish the things you value."

"Believing that your qualities are carved in 

stone — the fixed mindset — creates an urgency to prove yourself over and over."

"[With a growth] mindset, the hand you're dealt is just the starting point for development. … [Y]our basic qualities are things you can cultivate through your efforts.

Although people may differ in every which way — in their initial talents and aptitudes, interests, or temperaments — everyone can change and grow through application and experience." —

Mindset: The New Psychology of Success
Learning is wider than education
; education is only one social institution in which learning occurs, albeit the only one specifically directed toward it. Indeed, the reduction of human learning to the social institution of education is one of the typical features of the modern era. But all the social institutions together cannot contain learning, since learning is fundamental to human being and to life itself. These
institutions exist only to facilitate the smooth functioning of the social system, and so they may often constrain learning
. —
Paradoxes of Learning
"Here's a Twilight Zone-type premise for you.

 

What if surgeons never got to work on humans, they were instead just endlessly in training, cutting up cadavers? What if the same went for all adults — we only got to practice at simulated versions of our jobs? Lawyers only got to argue mock cases, for years and years. Plumbers only got to fix fake leaks in classrooms. Teachers only got to teach to videocameras, endlessly rehearsing for some far off future. Book writers like me never saw our work put out to the public — our novels sat in drawers. Scientists never got to do original experiments; they only got to recreate scientific experiments of yesteryear. And so on.

 

Rather quickly, all meaning would vanish from our work. Even if we enjoyed the activity of our job, intrinsically, it would rapidly lose depth and relevance. It'd lose purpose. We'd become bored, lethargic, and disengaged.

In other words, we'd turn into teenagers." — NurtureShock: New Thinking About Children
• • •