Getting back on track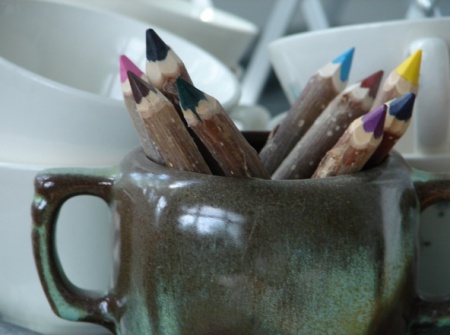 I have read several blog posts recently by parents talking about how sometimes they get off track and their routine starts to drift. (If this doesn't happen to you, please don't comment — we don't want to know!)
How do you get back on track?
When this happens to me, I break the routine, clear away the clutter, and pull my attention back.
Breaking the routine seems key to stopping my inertia slide. We do something really different for a day or two. This usually reenergizes all of us as well. It's like throwing the windows open and letting the breeze in.
I am always surprised by just how much my attention (or lack of attention) affects what is happening with our days. I set the tone. When I pull my attention back to what is important, their attention follows.
I clear away the clutter from the studio (it does tend to accumulate) and that's all it takes. No new art materials, no interesting provocation — just a clean table and a clean easel and re-sorted supplies, and they are suddenly drawing and painting and building.
I put my finger on a (dusty) half-completed model that was hidden behind a spilling-over bag of new recyclables and suddenly the maker is deeply involved in finishing it.
I put my finger on a map inside my other son's project journal and suddenly he remembers he wanted to remake it on giant paper and paint it.
I crack open my own project journal and start reading back, and I remember where I dropped the threads of what we were doing and start picking them back up again.
My attention has gravitational pull.
I set the tone.