Getting beyond the surface of learning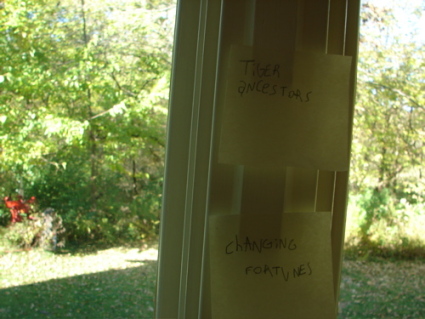 The photo above shows some of Jack's notes on his current project.
One goal of project-based learning is to stop skimming around on the surface of learning and dig deeper.
Make learning more complex, more layered, more sticky.
How do we get beyond the surface? By sticking with one idea longer.
Imagine a little stream flowing by, burbling, moving, dancing. How many gallons of water are zipping by you every day? This is your child's natural learning output — a flow of questions, ideas, misconceptions, opinions, interests, declarations.
What we want to do is slow things down. At that little stream, a beaver drops a few trees, slaps on a load of mud and twigs. Swiftly moving water becomes a pond. The water is suddenly slow, still, and deep.
It's the same water. But now we have time to see what's there.
We want to get beyond the surface of learning — skimming from one topic to the next, learning a little bit about many different things. We want to stop moving on to skim another topic and, instead, stick with the same topic longer.
We can do this by keeping track of all that learning output in a project journal, then gently redirecting back to unanswered questions, unexplored ideas, unfinished plans.
We can do this by making an environment that reflects children's ideas, questions, thoughts, and plans — hanging photographs and sketches and posters, displaying constructions, pulling resources together.
We can encourage our children to keep their own notes, journals, blogs … and make time to review them together.
Every effort we make to slow down makes more opportunity to exercise higher-level thinking.
[L]earning science — an interdisciplinary field that includes cognitive science, educational psychology, information science, and neuroscience — suggests that the best learning occurs when basic skills are taught in combination with complex thinking skills. Decades of research reveals that there is, in fact, no reason to separate the acquisition of learning core content and basic skills like reading and computation from more advanced analytical and thinking skills, even in the earliest grades. — Elena Silva, "Measuring Skills for the 21st Century"