Great holiday books for kids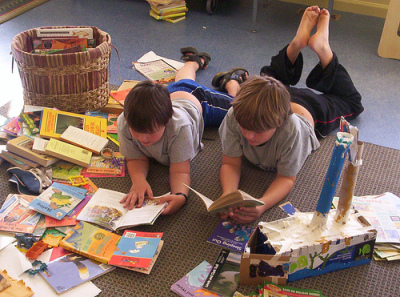 Well, it's five o'clock and all is dark in the midwest.
I didn't manage to photograph the thing I was going to post about today before the sun fell behind the trees, so instead, please enjoy these book recommendations from my resident experts.
The boys have just turned 8 and 11 in the past few weeks. If you have any middle-size kids to buy for this holiday season, even (or especially) those who hate to read, maybe these books will be just the ticket.
Of course the boys enjoy the Harry Potter
series and D loved Lemony Snicket
, although J found it too depressing. I have exposed D (now 11) to some classic fantasy fare like the Dark Is Rising
series, which he enjoyed.
D loved Black Horses for the King
, written by Anne McCaffrey.
Another classic series the boys both enjoyed was A Wrinkle in Time
and the rest of the Time Quartet (which is strangely now the Time Quintet; they added An Acceptable Time
— unfortunately quite a step down from the original three books, I think). The sets
certainly are a good deal considering the cost of the individual books. However, the top two are definitely A Wrinkle in Time
and A Wind in the Door
.
They loved the Narnia series
as well. I still have my original paperback set, and we must have about 12 copies of The Lion, the Witch, and the Wardrobe. (Did you like the movie? I was disappointed.)
J (now 8) has just finished reading The Lightning Thief
, book one in the Percy Jackson series which both boys have enjoyed.
Speaking of which, D really liked Eragon
(which, God help me, I read aloud) and its sequel Eldest
(which I made him read to himself). Christopher Paolini, the smart and talented homeschooler who wrote these books as a teen, can get a little long-winded. If you are going to try reading these books aloud, I suggest throat lozenges.
Another favorite fantasy series was The Great Tree of Avalon
and its
sequels
.
Your middle-size kid not a fantasy lover? You can't go wrong with the Wayside School boxed set
. Or practically anything by Roald Dahl
. Kid humor.
(Their favorite Roald Dahl
book? The Wonderful Story of Henry Sugar and Six More
.)
Our favorite poetry book (though it's hard to choose) is The 20th Century Children's Poetry Treasury
. We've been reading aloud from this book since Dominic was two. We usually end our before bed read-aloud time with two or three poems; we pull favorites from this book most nights. (It has great illustrations, too.)
Classics? They both love The Phantom Tollbooth
. (Who doesn't?) D urged J to read The Indian in the Cupboard
and its sequels. Actually, D collected about a dozen books that he thought J should read this year and made a special shelf for them in their room; his picks included Tom Sawyer
, The Adventures of Huckleberry Finn
, The Story of King Arthur
, The Adventures of Sherlock Holmes
, Treasure Island
, Kidnapped
and King Solomon's Mines
.
Finally, D's favorite read this past year, real-life adventure Kon-Tiki
. J's favorite: Charlie and the Great Glass Elevator
.