Homeschooling autodidacts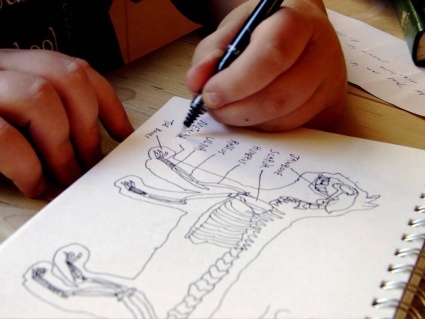 I want my children to teach themselves.
How do you teach someone to teach themselves?
The other day I saw this sentence: "The goal of classical education is to teach the student to enjoy investigation and learning." How do we teach a child to enjoy investigation and learning?
If you believe (or want to believe) that children are powerful and can construct their own learning — do you believe that about yourself?
Often we champion one form of learning while trying to transmit it in an entirely different sort of way.
Thus: The school that hired me to teach their staff about Reggio-inspired, project-based learning, but wanted me to ram it down their throats in a traditional "learn it, memorize it, repeat it back, start on Monday" sort of way.
No wonder education majors and new teachers are a bit wobbly when they are told "follow the interests of the children … and do it exactly like this."
"We want to encourage curiosity, individuality, and self-expression … for the children, not for you. You, we want to follow directions and do as you're told. Stick to the script."
To champion a form of learning for your children that you wouldn't use yourself seems … hypocritical at best.
So…
If we want children to teach themselves, can't we accomplish this best by modeling it? by teaching ourselves the things we want to know and sharing that process with our children?
If we want our students to be self-directed learners, shouldn't we trust our teachers to find their own paths as well?
Can you homeschool an autodidact without being an autodidact?