I am the boss of you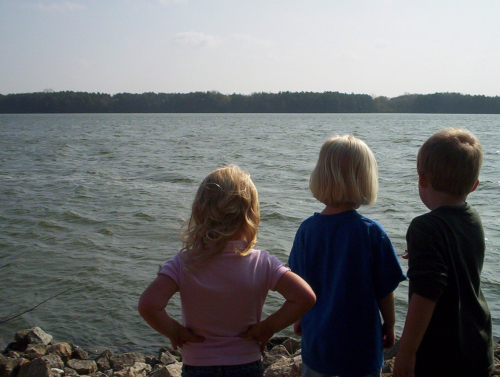 Conversation with a Respected Educator
R.E.: Your project is lovely, but the children shouldn't be studying oceans; you live in Illinois!
Me: What should they be studying?
R.E.: Well, you could have steered them to study the pond in the backyard.
Me: They are studying the pond. Because we don't have access to the ocean.
R.E.: But they are studying ocean animals. They should be studying local freshwater fish.
Me: They are studying local fish. But they are really, really interested in ocean life.
R.E.: I just wish you had started with the familiar.
Me: But that's not where they started. Maybe because it is familiar. They are intensely interested in the ocean —  which is very interesting, you must admit.
R.E.: Mmm.
Me: If you had a group of children studying the pond in the backyard, and then they wanted to learn about the ocean, and compare and contrast the differences, would you let them?
R.E.: Of course!
Me: In my experience, children always draw an immediate connection between the far-away and the near, between the exotic and the familiar.
R.E.: Mmm.
Me: So why not let them start where they want to start? From the spark of their intense interest?
R.E.: It's better to start with the familiar and then work from there.
Me: Well, I've watched many a teacher shut down a rich line of inquiry because she was afraid it was ranging too far afield, too far from "the familiar."
R.E.: Well, that shouldn't happen.
Me: Mmm. If all paths lead to home, why not let children choose the path that most interests them?
R.E.: Mmm.
In my opinion, telling the children they couldn't study oceans (until later?) but they could study the pond in the backyard (until later) is like telling them they can eat their slice of pizza but they have to eat it my way.
What's wrong with letting them start at the crust when we know they're working their way toward the point?