Keeping it holly & jolly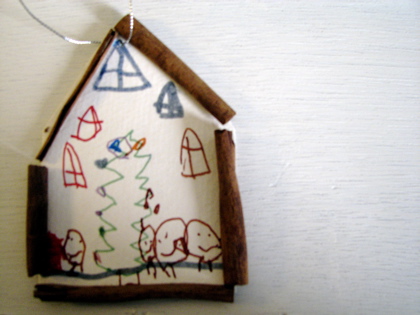 The less we try to do during the holidays, the more we enjoy the season. Because, you know, a party doesn't just take that one day. There are the days you clean, the days you decorate, the days you order food or cook or bake or all three, the days that you stress because your homemade wreath that expresses just how you feel about the holidays doesn't look like the one on the cover of Blueprint.
I'm not even going to get into guest lists, finding the holiday platter you were sure you put in the high cupboard but it's not there, and guiltily shifting some of the ornaments the kids hung on the tree because the clumping is ruining your overall effect of elegant insouciance.
It's not just the one day, it's a whole lot of days, in a holiday season that for me often feels like the giant hourglass on the Wizard of Oz. Or Days of Our Lives. Anyway, an ominously large hourglass.
I'm not trying to discourage entertaining, just pointing out that when you take on a commitment, you're usually looking at the bright, shiny tip of the iceberg — for instance, that four hours that your warm, glowy house will be filled with laughter and well-dressed friends lifting their glasses in cheer. You blissfully forget the looming bulk of the iceberg hiding 'neath the blue water, representing all the hours and days you'll need to spend to get to those happy four hours.
Taking on one major commitment during the holiday season may be worth it, but how many of us stop at one? What is it that impels us to make a complicated gift from scratch, sign up for three cookie exchanges and a handmade swap, agree to help out with a church or school event, decide this year is the year we'll show the kids the true meaning of the season by donating time to the local shelter, and somehow get pressured into the neighborhood's progressive dinner, all in the same month?
After all, we can have a big party any time of the year. We can teach the kids about giving back to the community any old month. (Actually, they need you more in February.) People will always call and ask you for help, because you're so busy, you ooze success at getting things done. (If you say no, they'll call the next person on their list.) What makes us decide that we have to do all these things, right now, this month?
Have you ever had a minor illness and experienced how luxurious it is to just lay around and do nothing? Imagine Santa brought you something you didn't even know you needed — a sprained ankle, or maybe a ever-so-slightly detached retina. (Does that hurt?) And suddenly you were just left at home by yourself (with your family, of course) and no commitments, because you're not allowed to go out. You just have the fire, the softly falling snow, your favorite music on the stereo, and your family, who are relaxed and happy because they're not being yelled at asked to clean something, move something, hide something, or stay away from something every 10 minutes.
Now that's a good present.
And the Grinch, with his Grinch-feet ice cold in the snow, stood puzzling and puzzling, how could it be so? It came without ribbons. It came without tags. It came without packages, boxes or bags. And he puzzled and puzzled 'till his puzzler was sore. Then the Grinch thought of something he hadn't before. What if Christmas, he thought, doesn't come from a store. What if Christmas, perhaps, means a little bit more. — Dr. Seuss