A little more Eric Carle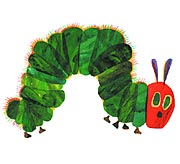 The Eric Carle Museum of Picture Book Art uses a Reggio-inspired approach in their art studio programs.
Based on the ateliers of Reggio Emilia, programs in the Art Studio feature a variety of materials and techniques in order to promote the process of "thinking" with our hands, eyes, and sensibilities, as well as our brains. By using one's visual language as a means of inquiry and investigation of the world, the cognitive and expressive processes are joined in the development of knowledge. Whether through the drop-in Public Art Program available to all visitors whenever the Museum is open, the group programs which include a gallery and studio component, or the many workshops and classes offered by teaching artists, we are guided by the belief that encounters with materials teach us about ourselves, heighten our awareness of the world around us, and promote a deeper understanding and appreciation of the visual arts.
Eric Carle also has a separate website, which includes an FAQ that might be interesting to children who enjoy his work. At the bottom of the same page are links to download Eric's "occasional newsletter", the Caterpillar Express.