Mirrored shelves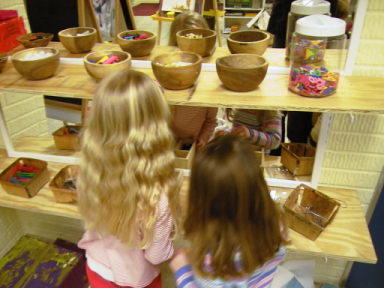 This week we'll share some of our tips for making a beautiful learning space (at home or at school) without spending much money.
Our preschool classrooms, like many in America, were located in the basement of our building. Yet we still managed to have a very bright and open space, and we received a lot of compliments on its warm and welcoming feel.
One way we accomplished that goal was the right paint color — light, bright, but also warm. It was a very light yellow, and it even managed to warm up the overhead fluorescent lighting. If you can manage it, full-spectrum paint is the best (but it's more expensive).
We bounced our available natural light around with several mirrors, making the most of our two small windows. In the picture above, you can see students choosing art materials from mirrored shelves. Mirrors not only bounce light and reflect views, but they give the illusion of extra space. Setting a mirror behind a plant gives you two plants, and so on.
These mirrored shelves were easily (and cheaply!) accomplished with inexpensive metal shelving hardware, wood planks, and five-dollar door mirrors (bought at this time of year, meant for dorm rooms) laid sideways and attached to the wall in-between the shelves.
Set out art materials in garage-sale wooden bowls and berry baskets, and you have a beautiful, affordable display.