Open thread: Let's not block their view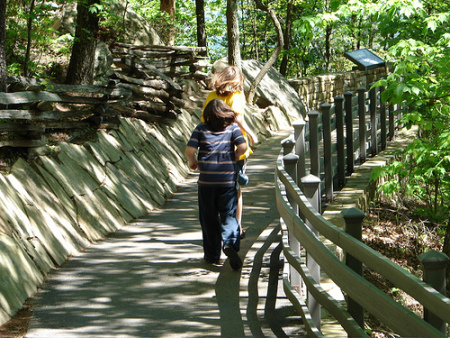 We spent last week camping in the Great Smoky Mountains National Park.
I've written before about how vacationing tends to highlight adults' need to control things. I made a few discrete observations on this trip that made me think about not only traveling with kids, but helping them learn at home, too.
Sometimes it seems like adults are always trying to get between kids and the experience. We're trying to define it for them, we're trying to frame it, we're writing a lesson plan for it, we're designing a rubric, we're setting down expectations and goals and plans. We are dissecting it before they even have it and reducing it to its parts and labeling them by curricular area — this is language arts and this is science and this is math and this is writing and this is creative problem-solving.
We insert ourselves into the picture and stand between our kids and the experience like an over-enthusiastic docent, spouting facts and pointing vigorously to things and partially blocking their view.
They don't have a chance to take in the pure, unadulterated (pun intended) experience … the whole view … the undissected and not-labeled thing … the thing that is itself, whole, apart from our ideas about how it checks off a curricular box or fulfills an educational goal.
We need to work on standing back and letting them experience things for themselves, ask their own questions, make their own plans, devise their own ways of interacting with what they see. Sometimes we need to climb into the backseat and just see where they go.
(p.s. Because I skipped off to the woods, I was tardy with approving comments to last week's open thread — there is some good stuff in there that hasn't been adequately discussed, so check it out!)