Points of entry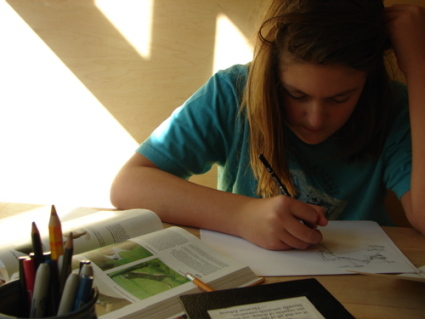 Picture the whole body of possible knowledge as a globe. Children learning through projects begin at a very particular place — like reaching out and touching the tip of one finger to the globe … and that interest spreads in lines of inquiry … which branch into new lines of inquiry … and if you were given infinite time, you would eventually go everywhere, know everything — all venturing out from that one spot.
Everything is connected.
Project-based learning allows children to apply — and develop — their basic skills while pursuing a strong personal interest. It supports and enhances general knowledge (reading, math, reasoning, problem-solving, creative thinking) and it respects and honors individual interests and talents.
In a project, we talk about points of entry — a topic should offer many different places to enter, like a house with many doors. A group of children can find different ways to relate to the topic, which honors their varying interests, talents, and temperaments.
If the topic is the bakery, some children might be very interested in cooking, some in the business aspect (the cash register, the money), some in the building, some in the machines (oven, bread slicer), and etc.  In this way, a single topic can hold wide appeal for a large number of children — in a classroom or in a family.
As they study and learn, even though they may have a strong interest in a very particular part of the project, they share their enthusiasm and their knowledge so that at the end, every child knows everything that was learned.
Even a child working on a project by himself will, following a single interest, touch so many related pieces of knowledge and, following a single line of inquiry, open so many other lines of inquiry. There is no part of our world that lives in a vacuum; to reach out and touch one part that particularly interests you is like touching the surface of a still pool of water. Everything you discover leads on to new and interesting territory.
Everything is connected.
See also: Limits can be so… limiting