Project-based homeschooling: Planning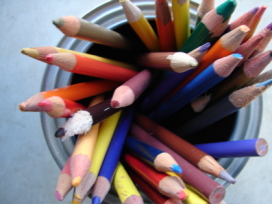 Don't plan ahead — plan along.
Plan the environment.
Plan time to observe and document.
Plan one-on-one time. 
Plan to supply resources as they are needed/requested.
Plan time to collaborate.
Plan time to reflect.
In a traditional curriculum, all the planning is done ahead of time, and determination of success is based on how closely the learning follows the plan, how well the student learns the facts pre-chosen by their teacher.
Learning through projects doesn't require less planning, just an entirely different sort of planning. Rather than planning outcomes, which can't possibly be predicted, the adult plans to observe the children, document their learning, give them what they need, collaborate and reflect on the project's progress, assess the children's learning, and determine how best to support it.
Deciding that you won't pre-define what your children will learn opens up the possibility that they will learn so much more than you ever imagined possible. We owe them that possibility.
In our work, we speak of teacher planning, understood in the sense of preparation and organization of space, materials, thoughts, situations, and occasions for learning. — Carla Rinaldi
It is true that we do not have planning and curricula. It is not true that we rely on improvisation, which is an enviable skill. We do not rely on chance either, because we are convinced that what we do not yet know can to some extent be anticipated. What we do know is that to be with the children is to work one third with certainty and two thirds with uncertainty and the new.

…We can be sure that the children are ready to help us. They can help by offering us ideas, suggestions, problems, questions, clues, and paths to follow; and the more they trust us and see us as a resource, the more they give us help. All these offerings, merged with what we ourselves bring to the situation, make a handsome capital of resources. — Loris Malaguzzi