Project: Tepee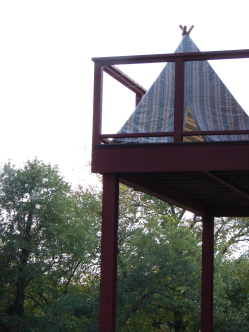 I whipped up a tepee for younger son yesterday. He was talking about how much he wants a treehouse, and I pointed out that the upstairs deck is very much like a treehouse.
He was quite dubious.
I bought three six-foot-long pieces of bamboo a couple years ago for about $7.00. I was planning on making a tepee for school — maybe out by the garden, or maybe an inside tepee for a special reading nook.
So today I fetched those never-used pieces of bamboo, rooted around in the closet for an old canvas duvet cover, produced a pair of scissors and announced I could make him something cool, something super-cool, that would be even better than a treehouse.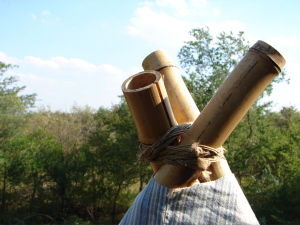 The pieces of bamboo were tied together with twine in three spots. I removed two of the twine "bracelets" and left the remaining one to hold the top of the tepee together.
I cut one corner off the duvet (did I mention this is a no-sew project?) and popped it over the top, then cut along one seam so it would be tepee-shaped.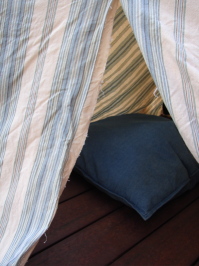 I cut straight up one seam to make the door, then I cut out a window and rolled it up, securing it with a little clamp. (I traced a magazine to make a more-or-less rectangular window.)
We threw an old pillow on the floor and younger son found a plastic bin to hold art supplies and a pair of binoculars; he was delighted that the bin also made him a little table.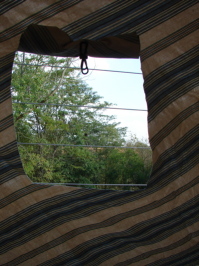 Final result: For $7.00, we have a fantastic play structure that will entertain him all fall. And if it rains, we can pop the fabric in the washing machine and dryer. (The pillow comes in at night.)
He says it's better than a treehouse, for sure.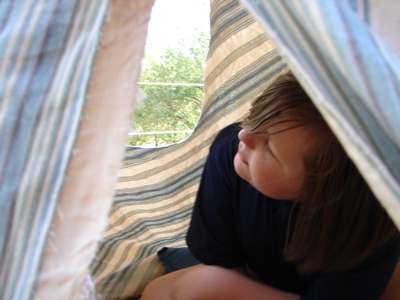 More tent & tepee goodness:
Eren's cowboy camp on her blog, This Vintage Chica
HGTV's much more complicated DIY tepee