Real "hands-on" learning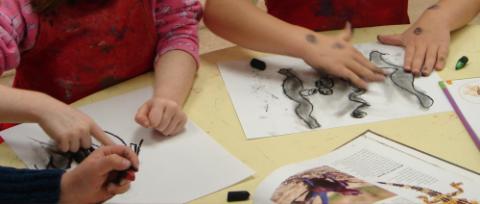 Big ideas can always be watered down until they are almost nothing except the name, like painting with plain water.
In the world of learning, "hands on" is watered down until it means literally simply that kids get to use their hands. They get to touch something rather than just look at it from their desk.
When learning math facts, they get to hold some plastic bears. When learning science facts, they get to push a bean seed into the soil.
What does real "hands-on" learning look like?
When we hand over control to the children. When we pass them not the bean seed, but the lesson plan.
Children who have been trained to be passive learners simply watch and wait. They watch you do, and they wait for it to be over.
Children who are active learners look at everything as a possibility, a beginning, a spark. A starting-off point. They are looking to see what they can do with what you are showing them. They see it as something to be played with, manipulated, explored, tested for abilities and boundaries and potential.
A child who is truly allowed to get his hands dirty learning knows that his ideas are valued — not only valued, but absolutely essential. There will be no learning until he grabs hold and sees what can be done with this chunk of life in front of him.
This is about ownership. Are we going to put learning into their hands or keep a tight grip on it? Are we showing them the skills and tools of learning, then dictating how they use them? Or are we mentoring them so they can take over immediately and start apprenticing as makers, doers, creators, explorers, thinkers?
Children know the difference.
When a child reads a great book and then races to write his own mystery/sci-fi adventure/secret code, he is grabbing learning with both hands. He is taking what he experienced and turning it into something brand new — he is learning with his hands, his brain, his whole self.
Whatever he confronts — a new type of story, a movie, a science experiment, a building material, an art technique — he must know that (1) it can be worked with — changed, played with, experimented with, altered, extended, turned upside down, (2) he is capable of working with it, and (3) he is allowed to work with it.
Creating knowledge, making it with his own two hands and his own ideas, sharing it with someone else, seeing what they do with it, using their new ideas as yet another jumping-off point — this is what our family culture must celebrate.
Real hands-on learning is this: Everything is here for you to work with.
You can build something new with it. That new thing comes from you and only you. And I want to see what you do.