Teacher effects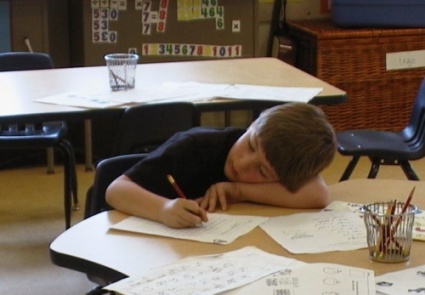 "Eric Hanushek, an economist at Stanford, estimates that the students of a very bad teacher will learn, on average, half a year's worth of material in one school year. The students in the class of a very good teacher will learn a year and a half's worth of material. That difference amounts to a year's worth of learning in a single year. Teacher effects dwarf school effects: your child is actually better off in a "bad" school with an excellent teacher than in an excellent school with a bad teacher. Teacher effects are also much stronger than class-size effects. You'd have to cut the average class almost in half to get the same boost that you'd get if you switched from an average teacher to a teacher in the eighty-fifth percentile. And remember that a good teacher costs as much as an average one, whereas halving class size would require that you build twice as many classrooms and hire twice as many teachers." — Malcolm Gladwell, Annals of Education: Most Likely to Succeed (New Yorker)
There's a lot here that I think is interesting in terms of homeschooling as well as general education.
One, the teacher is more important than the environment. Good education doesn't require money and fancy accoutrements as much as it requires an adult who is good at helping children learn. There was a bit in the paper last week about how Detroit is asking parents to donate paper, pencils, soap, etc., to their schools — even though they receive $11,000 per student. Still, I hear people say that homeschooled children are being cheated if their families can't provide them with all the "luxuries" available at public school.
Two, good teachers accelerate children's learning as much as bad teachers bring it to a grinding halt. The majority of children in average schools probably have a mix of teachers from the wonderful to the mediocre to the bad (or, just as ineffective, the not-a-good-fit). So does the overall effect even out? A great teacher makes up for a bad teacher? But also vice-versa — whatever gains a great teacher is able to make can be erased the following year. I know dedicated teachers who are trying to teach a project-based curriculum but who feel frustrated beyond belief that the next year their students will plop right into a traditional classroom. Without multiage classes or looping, you can't sustain the good effects. On the other hand, multiage classes and looping also sustain the effects of bad teaching.
(Looping is when one teacher teaches the same class for more than one year.)
There is an anti-homeschooling contingent that believes that parents cannot possibly be as good at teaching as certified teachers, even as evidence mounts to prove the contrary. If homeschooling parents are doing a good job, however, it stands to reason that their children are probably also learning a year and a half's material in the time an average public school student learns a year's worth. No wonder they have so much time for socializing and developing their interests.
Note in the last line of that quote up above: halving class sizes requires hiring twice as many teachers. If schools have so much trouble hiring great teachers in the first place (and evidently they do), how are they going to hire twice as many?
Having interviewed and hired teachers for several years, I can say that hiring an exceptional teacher is very, very difficult, even when you know exactly what you are looking for. Schools, after all, are restricted to choosing from what's available. Can we make more great teachers and less bad ones? Can we allow that good homeschooling parents are better than a hit-or-miss series of public school teachers?