Weave it to me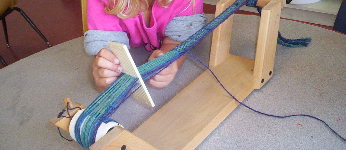 Karrie from Girl on the Rocks is starting a week of weaving information about looms, patterns, and more. Check out her blog for great ideas about palm-sized looms and weaving projects.
For young children, you can't go wrong with a classic plastic pot-holder loom and a bag of nylon loops. This is the type we use with kids age 3 and up in the classroom and art studio.
The loom pictured up above was a heddle loom we used in the classroom. It is useful for weaving belts, skinny scarves, bracelets, bookmarks, and headbands. You can make your own heddle with popsicle sticks; maybe we'll show you how in another post.
For large weaving projects, or shared projects on which several children can work together, you can purchase large classroom looms for about $215. Or you can do what we did — find a big, cheap wooden picture frame (thrift store, garage sale, junk shop, or clearance), drill holes along the top and bottom, and insert pieces of dowel rod you cut yourself. Total cost: approximately $4.00. We added a couple of pieces of wood at the bottom to serve as feet, strung it up, and we were good to go. (I can't find a photo of our loom to share, unfortunately…)
Read about it elsewhere:
Purl Bee: The Lure of the Loom
For a nice selection of plastic and wood looms, check out Dick Blick. Be careful: art supplies are just as enticing online as they are in person.