What I've been reading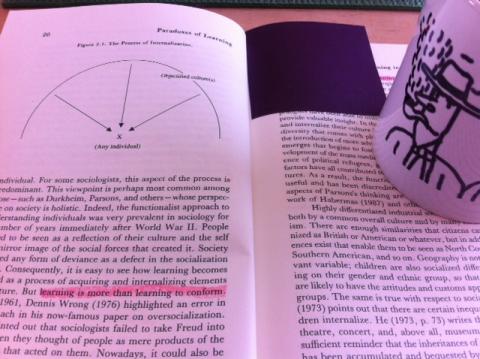 "Learning is more than learning to conform." — Paradoxes of Learning, Peter Jarvis
I've been seeing lots of articles lately about how employers no longer consider elite degrees as important or desirable as they once were.
"The least important attribute they look for is 'expertise.'

Said Bock: 'If you take somebody who has high cognitive ability, is innately curious, willing to learn and has emergent leadership skills, and you hire them as an H.R. person or finance person, and they have no content knowledge, and you compare them with someone who's been doing just one thing and is a world expert, the expert will go: "I've seen this 100 times before; here's what you do."' Most of the time the nonexpert will come up with the same answer, added Bock, 'because most of the time it's not that hard.' Sure, once in a while they will mess it up, he said, but once in a while they'll also come up with an answer that is totally new. And there is huge value in that."

"[W]hen you look at people who don't go to school and make their way in the world, those are exceptional human beings. And we should do everything we can to find those people."

"Beware. Your degree is not a proxy for your ability to do any job. The world only cares about — and pays off on — what you can do with what you know (and it doesn't care how you learned it).

And in an age when innovation is increasingly a group endeavor, it also cares about a lot of soft skills — leadership, humility, collaboration, adaptability and loving to learn and re-learn. This will be true no matter where you go to work." — How to Get a Job at Google
and
"[B]usiness leaders are now echoing Google by saying that college pedigree and major don't matter as much as people think in hiring decisions.

A new Gallup survey finds that in hiring decisions, only 9 percent of business leaders say that the school on a candidate's diploma is 'very important,' compared to 84 percent assessing knowledge in the field and 79 percent looking at applied skills."

"Google's head of people operations Laszlo Bock told the New York Times that top graduates can lack 'intellectual humility,' and that schools frequently don't deliver on what they promise."

"96 percent of college provosts say students are prepared, compared to 14 percent of the public, and 11 percent of business leaders." 

"It could be that higher education is really not preparing people at all and we have a broken system, or just a fundamental misunderstanding. Either way it's a tragedy…" — Survey: Businesses Don't Care if their Employees went to Yale
So almost 100% of colleges think they're doing a great job of preparing students for work and only 11% of business leaders agree. There's a bit of a disconnect there.
So what about for future entrepreneurs? Does a top college degree matter there?
Recently a venture capitalist told students at the Harvard School of Business:
"It's really unfair to you guys, but I think you're discriminated against now … I would bet a large amount of money that the overwhelming majority of us would not look favorably on a company started by one of you." — Investor gives closing keynote at Harvard Business School
Ouch.
I've read several articles in the last few months saying that the biggest thing holding college graduates back from starting their own businesses is… wait for it… college loan debt.
The rising mountain of student debt, recently closing in on $1.2 trillion, is forcing some entrepreneurs to abandon startup dreams…

Some academic experts say leftover loans are the biggest impediment to upstart entrepreneurship by those who recently received college or graduate degrees. "I mentor students all the time," says Vivek Wadhwa, a fellow at Stanford University Law School. "The single largest inhibitor to entrepreneurship is the student loans." — Student Loan-Load Kills Start-Up Dreams
If student debt is a roadblock to economic opportunity, that really undermines a philosophy of how America has moved forward and prospered. — Millenials' ball and chain: student loan debt
So your college degree creates a roadblock to your economic opportunity? Ouch again.
From the Harvard Business Review themselves:
A bachelor's degree used to provide enough basic training to last a career. Yet today, the skills college graduates acquire during college have an expected shelf life of only five years… — Mind the (Skills) Gap
The Google tells me that average student loan debt is about $30,000 (and 70% of students graduate with debt) but that's only the debt you walk away with — that's not the cost of a college degree (remembering to factor in the opportunity cost of spending four or five years or more not working). Still, seems like you should get more than five years' worth of knowledge for that kind of coin.
Paul Graham wrote about this way back in 2007:
It may not matter all that much where you go to college.

For me, as for a lot of middle class kids, getting into a good college was more or less the meaning of life when I was growing up. What was I? A student. To do that well meant to get good grades. Why did one have to get good grades? To get into a good college. And why did one want to do that? There seemed to be several reasons: you'd learn more, get better jobs, make more money. But it didn't matter exactly what the benefits would be. College was a bottleneck through which all your future prospects passed; everything would be better if you went to a better college.

A few weeks ago I realized that somewhere along the line I had stopped believing that.

…

Either it won't help your kid get into Harvard, or if it does, getting into Harvard won't mean much anymore. And then I thought: how much does it mean even now?

It turns out I have a lot of data about that.

…

One of the most surprising things we've learned is how little it matters where people went to college.

I thought I'd already been cured of caring about that. There's nothing like going to grad school at Harvard to cure you of any illusions you might have about the average Harvard undergrad. And yet Y Combinator showed us we were still overestimating people who'd been to elite colleges. We'd interview people from MIT or Harvard or Stanford and sometimes find ourselves thinking: they must be smarter than they seem. It took us a few iterations to learn to trust our senses.

…

Don't you learn things at the best schools that you wouldn't learn at lesser places?

Apparently not. Obviously you can't prove this in the case of a single individual, but you can tell from aggregate evidence: you can't, without asking them, distinguish people who went to one school from those who went to another three times as far down the US News list. Try it and see.

How can this be? Because how much you learn in college depends a lot more on you than the college. A determined party animal can get through the best school without learning anything. And someone with a real thirst for knowledge will be able to find a few smart people to learn from at a school that isn't prestigious at all.

…

[T]he great advantage of not caring where people went to college is not just that you can stop judging them (and yourself) by superficial measures, but that you can focus instead on what really matters. What matters is what you make of yourself. I think that's what we should tell kids. Their job isn't to get good grades so they can get into a good college, but to learn and do. And not just because that's more rewarding than worldly success. That will increasingly be the route to worldly success. — Paul Graham
Our kids' jobs aren't to get good grades, but to learn and to do. That sounds right to me.
If this gives you the sads, I'm sorry — but I think it's exciting. Things are changing. How we learn and how we work — it keeps on changing. As long as we're up for it, and as long as our kids are, I think we're all going to be fine.
If you do a job where someone tells you exactly what to do, they will find someone cheaper than you to do it. And yet our schools are churning out kids who are stuck looking for jobs where the boss tells them exactly what to do.

…

As we get ready for the 93rd year of universal public education, here's the question every parent and taxpayer needs to wrestle with: Are we going to applaud, push or even permit our schools (including most of the private ones) to continue the safe but ultimately doomed strategy of churning out predictable, testable and mediocre factory-workers?

…

The post-industrial revolution is here. Do you care enough to teach your kids to take advantage of it? — Seth Godin, Back to (the wrong) School
"In times of change learners inherit the earth; while the learned find themselves beautifully equipped to deal with a world that no longer exists." — Eric Hoffer