The work/fun conundrum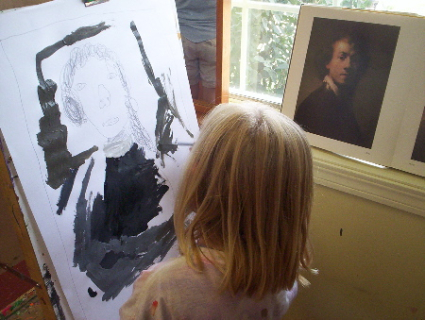 You've been observing your child and documenting his play, his interests, his conversations. You think you've hit on a strong interest that might be the starting point to some rich investigation and project work.
Let's say, polar bears.
Direct advance: "Bart, I notice that you are interested in polar bears. Would you like to study polar bears? Would you like to research polar bears? Do you want to get some books about polar bears when we go to the library tomorrow?"
Bart's wary retreat: "No thanks."
That didn't sound like fun; it sounded like work. There are certainly children who exist who, at the age of five, already have a deep fondness for folders and perk up at the word "research". But most children hear research and think cheese-covered broccoli. They are, from years of experience, suspicious — and rightfully so.
Here is where the work/fun conundrum comes in.
We think fun and work have to be two different things. If they weren't two different things, why would we need two different words to describe them?
Imagine a Venn diagram where one circle denotes Fun and the other Work. The cross-over section in the middle is the magical area where Work is Fun. When you are deeply engaged, experiencing the Flow, working at your challenge level, and firing on all cylinders, you are in this magical zone.
But a lot of us think Work isn't Work if it's also Fun. We frown and point to the Work-only area of the diagram and say, yeah, but that's real Work. We all need to experience Real Work. Grow up, kids, and eat your vegetables.
There are people who take the Jessica Seinfeld approach and try to hide the vegetables inside the mac & cheese. This aggravates me — both in the vegetable sense and the Work sense — because the message is, yeah, vegetables are terrible, and so is Work. So fool the kid into thinking they're having fun, but they're really ingesting pureed Work. Broccoli. Whatever.
When the truth is — vegetables are delicious! Not all vegetables, maybe — at least, you are probably not going to be a fan of every single vegetable. And not prepared in every fashion; boiled spinach is not my cup of tea. But as Hal would say, that's human error. It's not the vegetable's fault.
Working on a long-term project, doing deep and varied investigation of a topic that genuinely interests you, is Fun. But it's also Work. And therein lies the rub, or the conundrum — we can either change the term or change the mind. You can either deny that Fun Work is Work, or you can realize that Work can be Fun.
I intended to write something today about using provocations to jump-start project work, but as usual, my introduction took over and became as long as a post, so I'm going to let it stand and I'll write tomorrow about provoking investigation.
In the meantime, ponder this: Is there a more worthy goal of education than introducing children to the pure enjoyment of doing meaningful work?