Passion and Meaningful Work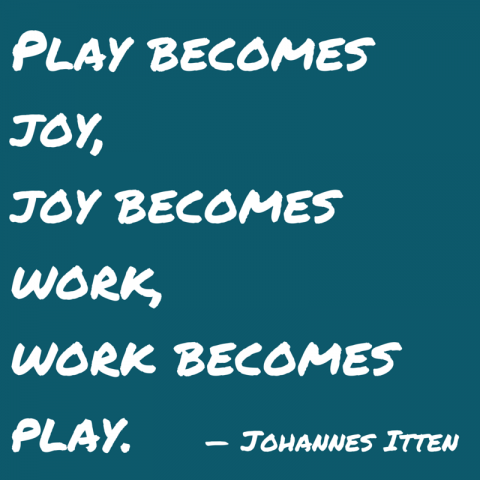 Try not to compromise. 
So many people don't do what they really want in their hearts because they feel like they're not good enough, or they're not smart enough, or they're not talented enough… anything. And that doesn't matter. 
In order for you to live a remarkable life — in order for you to live a life that is fulfilling — you need to be able to go after what you want. And if you don't, you're not going to achieve it — ever. — Debbie Millman
• • •
Do what you love. Know your own bone; gnaw at it, bury it, unearth it, and gnaw it still. — Henry David Thoreau
The winners won't just be those with more I.Q. It will also be those with more P.Q. (passion quotient) and C.Q. (curiosity quotient) to leverage all the new digital tools to not just find a job, but to invent one or reinvent one, and to not just learn but to relearn for a lifetime. — Thomas Friedman
• • •
[W]hen we grow up, have dreams, and we have passions, and we have visions, and somehow we get those things crushed. We get told that we need to study harder or be more focused or get a tutor. My parents got me a tutor in French, and I still suck in French.
Two years ago, I was the highest-rated lecturer at MIT's entrepreneurial master's program. And it was a speaking event in front of groups of entrepreneurs from around the world. When I was in grade two, I won a city-wide speaking competition, but nobody had ever said, "Hey, this kid's a good speaker. He can't focus, but he loves walking around and getting people energized."
No one said, "Get him a coach in speaking." They said, get me a tutor in what I suck at. — Cameron Herold
• • •
Skills don't trump passion. Skills are what you know how to do. Passion is where you start finding out who you are, what you're good at, and what the world needs. — Why Skills Don't Trump Passion
• • •
But what I learned in the meantime was bigger than any publishing tip I had ever read, you really must LOVE THE WORK. While getting published is an exciting possible outcome of a creative endeavor, it should not used as a motive for creating. Really enjoy yourself and the process of creating… — Keri Smith, Seven Steps to Getting Published
• • •
"Passion comes from a special fit between an activity and a person," said Geneviève Mageau, a psychology professor at the University of Montreal. "You can't force that fit; it has to be found. … I'm not telling parents to let their kids do whatever they want without limits," Mageau said. "The most important message is to focus on the child's interests and not to impose one's own on them." — Want Passionate Kids? Leave 'em Alone
• • •
From If I Knew Then — advice from the graduates of Harvard Business School class of '63:
As my good friend and author, Richard Leider, says, "Heed your life's calling — that inner urge to give your gifts away." This requires being clear about your gifts, values, and passions, and using them as a compass to find your career path. It is an "inside-out" process. — Richard L. Peterson

Try to find your passion — what you love thinking about and doing. If you can find a career doing something you are already passionate about, the finances will flow, along with a better balance in life. — Jim Utaski

To greatly enhance the odds of enjoying a career which is both fulfilling and successful, one must find an endeavor, a subject, métier, process, environment for which one has a passion. — Charles Hale

Choose work you enjoy and that serves as many people as possible. Focus on serving others — not on building wealth. Serve well, and money will follow. — Norman Barnett

Work and pleasure are not synonymous, but they're not opposites, either. Loving what you're doing (well) can be infectious and motivating to others. Ultimately, that's leadership. — Rod Murtaugh

Decide you like what you do, and do it better and smarter than anyone else. If you can't, change your career. — Joan O. Rothberg
• • •
[J]ob crafting … may help employees get more enjoyment and meaning out of work, enhance their work identities, cope with adversity, and perform better. — What is job crafting and why does it matter?
A job crafting perspective implies that the tasks and interpersonal relationships that make up a job are a flexible set of building blocks that can be reorganized, restructured, and reframed to construct a customized job. These building blocks expose employees to a variety of resources — people, technology, raw materials, etc. — that can be utilized when job crafting. 
The success of a job crafter may depend largely on his or her ability to take advantage of the resources at hand.
 — 
What is job crafting and why does it matter?
By thinking about where they invest their focus … employees are able to
re-craft their jobs to better align with their strengths, passions, and values
. —
The building blocks of a year worth living
(Psychology Today)
The secret to high performance and satisfaction — at work, at school, and at home — is the deeply human need to direct our own lives, to learn and create new things, and to do better by ourselves and our world. — Daniel Pink, Drive: The Surprising Truth About What Motivates Us
The real issue, in the end, is interests. Teaching works best when you teach students who agree that they really want to learn whatever it is you have to teach. This means making sure that students are preparing to do things they want to do and actually will do. That makes teaching much easier for all involved. The one-size-fits-all curriculum doesn't work because one size doesn't fit all. Let detail-oriented people learn detailed kinds of things. Let artistic people learn artistic kinds of things. Let logical people learn logical kinds of things. Everyone would be much happier and all would enjoy learning a lot more if we simply let people be themselves. — Roger Schank, Teaching Minds: How Cognitive Science Can Save Our Schools
If you want to internalize a piece of knowledge, you've got to linger over it. … Evidence suggests that when it comes to knowledge we're interested in — anything that truly excites us and has meaning — we don't turn off our memory. Certainly we outsource when the details are dull … [b]ut when information engages us — when we really care about a subject — the evidence suggests we don't turn off our memory at all. — Smarter Than You Think
"This quality of being able to sustain your passions, and also work really hard at them, over really disappointingly long periods of time, that's grit." — Angela Duckworth, in Does Teaching Kids to Get "Gritty" Help Them Get Ahead? (NPR)
"I don't think people can become truly gritty and great at things they don't love," Duckworth says. "So when we try to develop grit in kids, we also need to find and help them cultivate their passions. That's as much a part of the equation here as the hard work and the persistence." — Angela Duckworth, in Does Teaching Kids to Get "Gritty" Help Them Get Ahead? (NPR)
The passion for stretching yourself and sticking to it, even (or especially) when it's not going well, is the hallmark of the growth mindset. — Carol Dweck, Mindset: The New Psychology of Success
The importance of a child's authentic interest cannot be overemphasized. Without it, learning is like pushing a boulder uphill. With it, we're pushing the boulder downhill. Note: Learning occurs in both directions. So why do we usually go with the uphill option? — Project-Based Homeschooling: Mentoring Self-Directed Learners
It's the bold, not the meek, who vault higher during hard times. Fear leads nowhere; enthusiasm can lead everywhere.
People who bind themselves to what they love tend to succeed in some way, shape, or form. — Jacquelyn Mitchard
The fact is that given the challenges we face, education doesn't need to be reformed -- it needs to be transformed. The key to this transformation is not to standardize education, but to personalize it, to build achievement on discovering the individual talents of each child, to put students in an environment where they want to learn and where they can naturally discover their true passions. ― Ken Robinson, The Element: How Finding Your Passion Changes Everything
Never underestimate the vital importance of finding early in life the work that for you is play. This turns possible underachievers into happy warriors. ― Ken Robinson, The Element: How Finding Your Passion Changes Everything
The Element is where natural aptitude meets personal passion. To begin with, it means that you are doing something for which you have a natural feel. … But being in your Element is more than doing things you are good at. Many people are good at things they don't really care for. To be in your Element you have to love it too ... As Confucius said, "Choose a job you love, and you will never have to work a day in your life." — Sir Ken Robinson
Being in your element is not only about aptitude, it's about passion: it is about loving what you do … tapping into your natural energy and your most authentic self. — Sir Ken Robinson, Out of Our Minds: Learning to be Creative
[W]hat I want to argue for is not that we should give up on our ideas of success, but we should make sure that they are our own. We should focus in on our ideas and make sure that we own them, that we are truly the authors of our own ambitions. Because it's bad enough, not getting what you want, but it's even worse to have an idea of what it is you want and find out at the end of a journey, that it isn't, in fact, what you wanted all along. — Alain de Botton
If you do what you believe in and have a failure, that's one thing: you can still live with yourself. But if you don't, it's like dying twice. It's very, very painful. — David Lynch
I think one of the things we've done is we've trained the passion out of our students from the 2nd grade up. I think kindergartners and 1st graders and some 2nd graders still have it, but after that, forget it. … Instead of me having all these preconceived ideas of what they should doing, saying, and producing, I have to be open to what I find in each student. I have to discover — and help each student discover — their talents and interests and create a learning environment where they can use those gifts and passions to learn from a position of strength. — Sheryl Nussbaum-Beach, Passion-Based Learning for the 21st Century
Thriving workers are 46% more satisfied than their peers. They are 125% less likely to burn out than their non-thriving peers. What's characteristic of thrivers? They have passion mixed with mastery. They love what they do, but they actively pursue more knowledge and skills. A sub-title on the a Harvard Business Review cover sums it up: How Passion & Purpose Drive Profits. It does not read, "How Profits Drive Passion & Purpose." — A Job as Creative Quest
[W]hen you give engineers the chance to apply their passion to their [work], they can do amazing things. — New York Times
• • •
Creating a life that reflects your values and satisfies your soul is a rare achievement. In a culture that relentlessly promotes avarice and excess as the good life, a person happy doing his own work is usually considered an eccentric, if not a subversive. Ambition is only understood if it's to rise to the top of some imaginary ladder of success. Someone who takes an undemanding job because it affords him the time to pursue other interests and activities is considered a flake. A person who abandons a career in order to stay home and raise children is considered not to be living up to his potential — as if a job title and salary are the sole measure of human worth.
You'll be told in a hundred ways, some subtle and some not, to keep climbing, and never be satisfied with where you are, who you are, and what you're doing. There are a million ways to sell yourself out, and I guarantee you'll hear about them.
To invent your own life's meaning is not easy, but it's still allowed, and I think you'll be happier for the trouble. — Bill Watterson
Genuine interest is the magic ingredient that makes learning meaningful — and it's what learners require to make their best efforts.
When we label a child as a "reluctant learner," we're making a big mistake. Not only are we focusing on the reluctance rather than the learning, but we're telling a child that he has a problem learning. We're missing the fact that it's we who have the problem, because we have failed to provide our child with a learning experience that is interesting, relevant, and useful. — The Myth of the Reluctant Learner
We can start by crossing out "reluctant" and relabeling our child as a passionate, independent, ferocious, idea-filled learner. — The Myth of the Reluctant Learner
[Students] come to me and say, "Well, we're getting out of college and we haven't the faintest idea of what we want to do.
So I always ask the question, "What would you like to do if money were no object? How would you really enjoy spending your life?"
Well, it's so amazing — as a result of our kind of educational system, crowds of students say, "Well, we'd like to be painters, we'd like to be poets, we'd like to be writers, but as everyone knows, you can't earn any money that way." …
When we finally got down to something which the individual says he really wants to do, I will say to him, "Well, you do that — and forget the money, because if you say that getting the money is the most important thing, you will spend your life completely wasting your time. You'll be doing things you don't like doing in order to go on living, that is, to go on doing things you don't like doing — which is stupid!"
Better to have a short life that is full of what you like doing than a long life spent in a miserable way.
And after all, if you do really like what you're doing, it doesn't matter what it is — you can eventually become a master of it. It's the only way to become a master of something … and then you'll be able to get a good fee for whatever it is. So don't worry too much — somebody's interested in everything. And anything you're interested in, you'll find others.
But it's absolutely stupid to spend your time doing things you don't like in order to go on spending time doing things you don't like and to teach your children to follow in the same track.
See, what we're doing is, we're bringing up children, educating them, to live the same sort of lives that we're living in order that they may justify themselves and find satisfaction in life by bringing up their children to bring up their children to do the same things…
And so therefore it's so important to consider this question — what do I desire? — Alan Watts
To do something well you have to like it. That idea is not exactly novel. We've got it down to four words: "Do what you love." But it's not enough just to tell people that. Doing what you love is complicated.
The very idea is foreign to what most of us learn as kids. When I was a kid, it seemed as if work and fun were opposites by definition. Life had two states: some of the time adults were making you do things, and that was called work; the rest of the time you could do what you wanted, and that was called playing. …
School, it was implied, was tedious because it was preparation for grownup work. …
By the time they reach an age to think about what they'd like to do, most kids have been thoroughly misled about the idea of loving one's work. School has trained them to regard work as an unpleasant duty. Having a job is said to be even more onerous than schoolwork. And yet all the adults claim to like what they do. You can't blame kids for thinking "I am not like these people; I am not suited to this world." …
The most dangerous liars can be the kids' own parents. If you take a boring job to give your family a high standard of living, as so many people do, you risk infecting your kids with the idea that work is boring. Maybe it would be better for kids in this one case if parents were not so unselfish. A parent who set an example of loving their work might help their kids more than an expensive house. …
The test of whether people love what they do is whether they'd do it even if they weren't paid for it — even if they had to work at another job to make a living. How many corporate lawyers would do their current work if they had to do it for free, in their spare time, and take day jobs as waiters to support themselves? …
With such powerful forces leading us astray, it's not surprising we find it so hard to discover what we like to work on. Most people are doomed in childhood by accepting the axiom that work = pain. Those who escape this are nearly all lured onto the rocks by prestige or money. How many even discover something they love to work on? A few hundred thousand, perhaps, out of billions.
It's hard to find work you love; it must be, if so few do. So don't underestimate this task. And don't feel bad if you haven't succeeded yet. In fact, if you admit to yourself that you're discontented, you're a step ahead of most people, who are still in denial. If you're surrounded by colleagues who claim to enjoy work that you find contemptible, odds are they're lying to themselves. Not necessarily, but probably.
Although doing great work takes less discipline than people think — because the way to do great work is to find something you like so much that you don't have to force yourself to do it — finding work you love does usually require discipline. …
Finding work you love is very difficult. Most people fail. Even if you succeed, it's rare to be free to work on what you want till your thirties or forties. But if you have the destination in sight you'll be more likely to arrive at it.
If you know you can love work, you're in the home stretch, and if you know what work you love, you're practically there. — Paul Graham, How to Do What You Love
A narrow and uniform curriculum deprives children of opportunities to explore and experiment with their interest and passion, which is the foundation of entrepreneurship. — Double-Think: The Creativity-Testing Conflict
If we don't love our work, we don't look out for each other. — Simon Sinek
You know those nightmares where you are shouting a warning but no sound comes out? Well, that's the intensity with which the experts wanted to tell younger people that spending years in a job you dislike is a recipe for regret and a tragic mistake. There was no issue about which the experts were more adamant and forceful. Over and over they prefaced their comments with, 'If there's one thing I want your readers to know it's…' From the vantage point of looking back over long experience, wasting around two thousand hours of irretrievable lifetime each year is pure idiocy.
…
After listening to a thousand of America's elders give advice about fulfillment at work, nothing makes me cringe more than when I hear a young person describe his or her primary goal in life as 'making a lot of money.' … The experts have a real problem with this scenario. The view from the end of the life span is straightforward: time well and enjoyably spent trumps money anytime.
…
[Psychologists] use the word 'eudaimonia' (from the Greek) to describe happiness derived from activities that are rewarding in and of themselves. This is contrasted with 'hedonia' — as in hedonism. People with hedonic motivations look at work primarily as a way to acquire material possessions. In contrast, eudaimonic individuals who are motivated by goals that emphasize personal growth, contributing to the community, and meaningful relationships are typically much happier at work." — 30 Lessons for Living
What is the biggest regret people have at the end of life?
"I wish I'd had the courage to live a life true to myself, not the life others expected of me." — Live without regrets — What are the top five career regrets?
Ask people what they want in a job, and meaningfulness looms large. For decades, Americans have ranked purpose as their top priority — above promotions, income, job security, and hours. — The #1 Feature of a Meaningless Job
Your sense of time is actually answered by a simple question: how much are you learning?
…
Monotony collapses time. Novelty unfolds it.
…
[T]here's the old adage about cherishing time, "The days are long, but the years are short," but, actually, it seems when you do things right, it's the opposite: "the days are short, but the years are long." — How to Slow Down Time
If we could be as efficient in supporting a child's eagerness to learn as we have been in stifling this eagerness, this would revolutionize life as we know it. — William Coperthwaite, A Handmade Life
Go to virtually any preschool or elementary classroom, and you'll witness something rare:
excitement
. Whether it's engagement in painting, make-believe games, or learning why the moon disappears,
there appear to be very few young children with deficits in motivation
. Children love learning. They
want
to figure out what this new, shiny world of theirs is all about.
Contrast this with a typical middle school or high school classroom. They can't wait to get done with school and go on to 'after-school' activities. You ask them what they think of school, and many will say it's dull, boring, and dry. Systematic studies show that intrinsic motivation decreases steadily starting from about third grade. — Ungifted: Intelligence Redefined — The truth about talent, practice, creativity, and the many paths to greatness
[Vallerand and his colleagues] proposed a new theory, grounded in self-determination theory. They argued that everyone has a preference for some activity, but the reason an activity is preferable and enjoyable is because it satisfies the basic human needs for autonomy, competence, and  relatedness. Over time these activities can eventually become a central part of a person's identity. For instance, while intrinsic motivation involves feeling joy from playing basketball, passion involves *being* a basketball player.
Vallerand and colleagues defined passion as "a strong inclination toward an activity that people like, that they find important, and in which they invest time and energy." — Ungifted: Intelligence Redefined — The truth about talent, practice, creativity, and the many paths to greatness
[H]armonious passion was positively correlated with positive emotions, flow, concentration while engaging in the activity, and continued positive emotions and lack of negative emotions after engagement. … Barbara Frederickson and her colleagues have conducted an impressive amount of research showing that positive emotions lead to an 'upward spiral' of adaptive behaviors and better psychological adjustment. … This is why it's so important that we foster a climate of harmonious passion in all students. — Ungifted: Intelligence Redefined — The truth about talent, practice, creativity, and the many paths to greatness
[P]assion isn't an automatic consequence of performing well on an IQ test or getting good grades in school. Passion is activated by a clear set of conditions, and these rules apply to everyone; no one is immune. — Ungifted: Intelligence Redefined — The truth about talent, practice, creativity, and the many paths to greatness
• • •
The time has come to broaden our notion of the spectrum of talents. The single most important contribution education can make to a child's development is to help him towards a field where his talents best suit him. … We should spend less time ranking children and more time helping them to identify their natural competencies and gifts, and cultivate those. There are hundreds and hundreds of ways to succeed, and many, many different abilities that will help us get there. — Howard Gardner, as quoted in Daniel Goleman's Emotional Intelligence
• • •
Goleman: When you talk about Good Work, you propose three tests that anyone can apply to their own work to ask the question, 'Is the work I'm doing in this category?' One is, it fits your values. The second is that it's excellent work — you're highly competent at what you do; you're effective. The third is, it brings joy.
Gardner: …[W]e found, particularly in people who were working in very challenging professions or in very challenging milieus, that it was simply too difficult to be technically excellent and constantly reflecting about whether you are responsible and ethical. It was too difficult to do unless what you were doing was terribly important to yourself and you really felt it was your mission in life. You felt that you weren't whole unless you were doing this kind of thing. — Good Work: Aligning Skills and Values
Goleman: What would you advise someone starting out in their career today; what would you advise someone, Howard, who wanted to have a career that was Good Work?…
Gardner: …Let me begin by saying that one has to decide what you really like to do and what you really would like to spend your life doing. And that's much more important than deciding what particular job to hold… [Y]ou have to say 'Where could I carry that out?' and be very, very flexible about the venue and the milieu, but not flexible about what you really get a kick out of and think you can be good at. …
What we try to do in our courses in Good Work is, we say, we don't care what kind of work you want to do, that's your choice. But we want you to think about the kind of worker you want to be, before it's too late. — Good Work: Aligning Skills and Values
I…thought of a study that was done decades ago at MIT, of breakdowns that occurred at the age of 40, of people who had gone to MIT, had been very good students, had become middle or upper level executives at big engineering firms or professors, and that at age 40 they said, 'Why am I doing this? What the hell for?' They'd been on a treadmill where they had never been able to step back and say, 'Is this important to me; is it meaningful?' So, would that excellence and ethics and engagement and empathy have a natural connection, but they don't. It has to be forged. — Good Work: Aligning Skills and Values
• • •
Schawbel: What should someone who isn't passionate about their work do?
Goleman: I like Howard Gardner's concept of "good work," which combines what you're excellent at doing with what engages you and feels meaningful. Someone who is not passionate about the work they do now might consider how to make a portion of their job "good work," or how to enlarge that portion over the course of their career. — Daniel Goleman: The Truth About What Makes a Great Leader
(This is called job crafting — read more here: Job crafting: Passion matters after all)
• • •
Your work is going to fill a large part of your life, and the only way to be truly satisfied is to do what you believe is great work. And the only way to do great work is to love what you do. If you haven't found it yet, keep looking. Don't settle. As with all matters of the heart, you'll know when you find it. And, like any great relationship, it just gets better and better as the years roll on. So keep looking until you find it. Don't settle. — Steve Jobs
• • •
If you are looking for leaders, how can you identify people who are motivated by the drive to achieve rather than by external rewards?
The first sign is a passion for the work itself. Such people seek out creative challenges, love to learn, and take great pride in a job well done. They also display an unflagging energy to do things better. — Daniel Goleman
• • •
You know those nightmares where you are shouting a warning but no sound comes out? Well, that's the intensity with which the experts wanted to tell younger people that spending years in a job you dislike is a recipe for regret and a tragic mistake. There was no issue about which the experts were more adamant and forceful. Over and over they prefaced their comments with, "If there's one thing I want your readers to know it's…" From the vantage point of looking back over long experience, wasting around two thousand hours of irretrievable lifetime each year is pure idiocy. — 30 Lessons for Living: Tried and True Advice from the Wisest Americans
• • •
[I]t's not inherited talent which determines how good we become at something, but rather how hard we're willing to work…
Here, then, are the six keys to achieving excellence…
1. Pursue what you love. Passion is an incredible motivator. It fuels focus, resilience, and perseverance. … — Six Keys to Being Excellent at Anything @ Harvard Business Review
• • •
Make your passion your livelihood. Your creative talents are what allow opportunities to emerge; embrace it. As [Joanne] Wilson said, "The most successful artists and entrepreneurs believe that it's something they MUST do, not just what they should do." — 99U Conference Recap
• • •
Working hard for something we don't care about is called stress;
working hard for something we love is called passion
. — 
Simon Sinek
Discover what you want most of all in this world, and set yourself to work on it. — John Homer Miller
• • •
I know you've heard it a thousand times before. But it's true — hard work pays off. If you want to be good, you have to practice, practice, practice. If you don't love something, then don't do it. — Ray Bradbury
• • •
Pleasure in the job puts perfection in the work. — Aristotle
• • •
Sometimes, we pick these career trajectories even though they don't remotely align with our interests.
According to Gallup, 70 percent of the American workforce is disengaged on the job, costing as much as $550 billion to the economy. If the only passion you feel for your job or career is the amount of zeros on your paycheck, you might want to reconsider.
Finding your passion can allow you to truly enjoy your work hours, which is a pretty substantial chunk of your day. Plus, your passion will show through in your work, allowing you to achieve more than if your only motivation is the pay stub. — Four Pieces of Career Advice You Should Never Take
• • •
People who bind themselves to what they love tend to succeed in some way, shape, or form. — Jacquelyn Mitchard
The only way to do great work is to love what you do. If you haven't found it yet, keep looking. Don't settle. — Steve Jobs
• • •
If you have something you love, pursue it with all of your heart and the universe will help you. —
James Victore
• • •
I don't want to get to the end of my life and find that I lived just the length of it. I want to have lived the width of it as well. — Diane Ackerman
• • •
The things you are passionate about are not random, they are your calling. — Fabienne Fredrickson
• • •
My father could have been a great comedian but he didn't believe that that was possible for him and so he made a conservative choice. Instead, he got a safe job as an accountant, and when I was 12 years old, he was let go from that safe job. And our family had to do whatever we could to survive. I learned many great lessons from my father, not the least of which was that you can fail at what you don't want, so you might as well take a chance on doing what you love. — Jim Carrey
• • •
Success is being able to make an impact in what matters most to you. — Scott Belsky
• • •
People pay for what they do, and still more for what they have allowed themselves to become. And they pay for it very simply; by the lives they lead. — James Baldwin
The biggest mistake people make in life is not making a living at doing what they most enjoy. —  Malcolm Forbes
• • •
Your time is limited, so don't waste it living someone else's life. Don't be trapped by dogma — which is living which the results of other people's thinking. Don't let the noise of other's opinions drown out your own inner voice. And most important, have the courage to follow your heart and intuition. They somehow already know what you truly want to become. Everything else is secondary. — Steve Jobs
• • •
If you are looking for leaders, how can you identify people who are motivated by the drive to achieve rather than by external rewards?
The first sign is a passion for the work itself. Such people seek out creative challenges, love to learn, and take great pride in a job well done. They also display an unflagging energy to do things better. — Daniel Goleman
• • •
Follow your passion and the rest will straighten itself out. — Danny Gregory
"What Should I Do With My Life?" is the modern, secular version of the great timeless questions about our identity, such as "Who Am I?," and "Where Do I Belong?" We ask it in this new way simply because constant disruption in our society 
forces
 us to — every time we graduate, or get downsized, or move to a new city, we're confronted with 
this version
 of the question. It's a little more pragmatic and problem-solvy than its philosophical and religious antecedents, reflecting the bottom-line reality that we can search for our identity only so long without making ends meet. Asking the question aspires to end the conflict between who you are and what you do. Answering the question is the way to protect yourself from being lathed into someone you're not. — Po Bronson
How do you want to spend your days? How can you get to do that, to spend the rest of your days doing what you really enjoy, as much as possible? This is the goal, not fame or fortune or acceptance or museums, or awards or endorsement contracts, etc. This is success.
— 
Danny Gregory
• • •
Only passions, great passions, can elevate the soul to great things. — Denis Diderot
To be successful, the first thing to do is fall in love with your work. — Sister Mary Lauretta
Enthusiasm moves the world. — J. Balfour
If you are working on something exciting that you really care about, you don't have to be pushed.  The vision pulls you. — Steven Jobs
Every man without passions has within him no principle of action, nor motive to act. — Claude Helvetius
Without passion man is a mere latent force and possibility, like the flint which awaits the shock of the iron before it can give forth its spark. — Henri-Frédéric Amiel
One thing life has taught me: if you are interested, you never have to look for new interests. They come to you. When you are genuinely interested in one thing, it will always lead to something else. — Eleanor Roosevelt
Are you bored with life? Then throw yourself into some work you believe in with all your heart, live for it, die for it, and you will find happiness that you had thought could never be yours. — Dale Carnegie
We are an intelligent species and the use of our intelligence quite properly gives us pleasure. — Carl Sagan
A man can succeed at almost anything for which he has unlimited enthusiasm. — Charles M. Schwab
I have no special gift.  I am only passionately curious. — Albert Einstein
Don't ask yourself what the world needs. Ask yourself what makes you come alive, and go do that because what the world needs is people who have come alive. — Howard Thurman
• • •
Enthusiasm is a vital element toward the individual success of every man or woman. — Conrad Hilton
Enthusiasm moves the world. — Arthur James Balfour
• • •
[T]he difference between people who are successful and not are that those who are successful seemed to know from the age of 7 or 8, maybe older, they're very in tune with what they love. I compare it to a voice inside their head, not literally a voice but something that says 'you really are drawn to this subject' and they hear it throughout their lives. For me it was writing and books, since I was a kid. At any time I deviated from that love and went into something else, I was just so unhappy and I knew that I wasn't doing the right thing. It's just this voice that keeps drawing you back to what you really, really love. — Robert Greene
• • •
Technique alone is not enough. You have to have passion. Technique alone is just an embroidered potholder. — Raymond Chandler
• • •
You'll become known for doing what you do. It's a simple saying, but it's true… The only way to start being asked to do something you want to do is to start doing that thing on your own. — Jonathan Harris
• • •
Maybe my passion is nothing special, but at least it's mine. — Tove Janson
• • •
I'm very much a believer in knowing what it is that you love doing so you can do a great deal of it. — Nora Ephron
• • •
Never underestimate the vital importance of finding early in life the work that for you is play. This turns possible underachievers into happy warriors. — Nobel Prize winner Dr. Paul Samuelson
• • •
[M]any people face barriers from family and friends: 'Don't take a dance program, you can't make a living as a dancer,' 'You're good at math, you should become an accountant,' 'I'm not paying for you to be a philosophy major,' and the rest.
When people close to you discourage you from taking a particular path, they usually believe they are doing it for your own good. There are some with less noble reasons, but most believe they know what's best. And the fact is that the average office worker probably does have more financial security than the average jazz trumpeter.
But it is difficult to feel accomplished when you're not accomplishing something that matters to you. Doing something 'for your own good' is rarely for your own good if it causes you to be less than who you really are. — Sir Ken Robinson, The Element: How Finding Your Passion Changes Everything
• • •
Any fool knows that to work hard at something you want to accomplish is the only way to be happy. — Eugene O'Neill
• • •
Love what you do and do what you love. Don't listen to anyone else who tells you not to do it. — Ray Bradbury
• • •
To find out what one is fitted to do, and to secure an opportunity to do it, is the key to happiness. — John Dewey
• • •
Where your talents and the needs of the world cross; there lies your vocation. ― Aristotle
• • •
You can only become truly accomplished at something you love. — Maya Angelou
• • •
There comes a time when you ought to start doing what you want. Take a job that you love. You will jump out of bed in the morning. I think you are out of your mind if you keep taking jobs that you don't like because you think it will look good on your résumé. Isn't that a little like saving up sex for your old age? — Warren Buffet
• • •
I have looked in the mirror every morning and asked myself: "If today were the last day of my life, would I want to do what I am about to do today?" And whenever the answer has been "No" for too many days in a row, I know I need to change something. — Steve Jobs
• • •
Just don't give up trying to do what you really want to do. Where there is love and inspiration, I don't think you can go wrong. — Ella Fitzgerald
• • •
Yes, I've made a great deal of dough from my fiction, but I never set a single word down on paper with the thought of being paid for it … I have written because it fulfilled me … I did it for the buzz. I did it for the pure joy of the thing. And if you can do it for joy, you can do it forever. — Stephen King
• • •
Everyone has been made for some particular work, and the desire for that work has been put in every heart. — Rumi
• • •
I think the foremost quality — there's no success without it — is really loving what you do. If you love it, you do it well, and there's no success if you don't do well what you're working at. — Malcolm Forbes
• • •
Work is love made visible. And if you cannot work with love but only with distaste, it is better that you should leave your work and sit at the gate of the temple and take alms of those who work with joy. — Kahlil Gibran
• • •
The law of work seems unfair, but nothing can change it; the more enjoyment you get out of your work, the more money you will make. — Mark Twain
• • •
The people who make it to the top — whether they're musicians, or great chefs, or corporate honchos — are addicted to their calling … [They] are the ones who'd be doing whatever it is they love, even if they weren't being paid. — Quincy Jones
• • •
Never continue in a job you don't enjoy. If you're happy in what you're doing, you'll like yourself, you'll have inner peace. And if you have that, along with physical health, you will have had more success than you could possibly have imagined. — Johnny Carson
• • •
It's the possibility of having a dream come true that makes life interesting. — Paulo Coelho
• • •
The simple fact is that if you don't enjoy what you're doing and the people with whom you're doing it, then there is no possible way that you are ever going to do it as well as something that you do enjoy. — Richard Branson
• • •
Chase down your passion like it's the last bus of the night. — Terri Guillemets
• • •
[F]ollow your passions. [F]ind something you love. … The truth is, so few people really jump on their jobs, you really will stand out more than you think. You will get noticed if you really go for it. — Warren Buffett
If you don't build your dream, someone else will hire you to help them build theirs. — Dhirubhai Ambani
• • •
After Michelangelo died, someone found in his studio a piece of paper on which he had written a note to his apprentice, in the handwriting of his old age: '"Draw, Antonio, draw, Antonio, draw and do not waste time.'" —
Annie Dillard
• • •
Love what you do. Get good at it. Competence is a rare commodity in this day and age. And let the chips fall where they may. — Jon Stewart
• • •
I simply do not distinguish between work and play. — Mary Oliver
• • •
Be wary of security as a goal. It may often look like life's best prize. Usually it's not. — William Zinsser
• • •
We are at our best when our passions become our jobs. — Kwame Alexander
• • •
Never get good at doing what you hate. If you do, you will be asked to do more of it. And for more money. It's a trap. Run away as fast as you can. In fact, if you are forced to do what you hate, do it very badly. So badly they fire you for it. There is no shame in that. It may be the only way for you to find what you truly love. And when you do find what you love, do it, even if you are bad at it. There is not shame in that either. Only joy. — Jonathan Odell
• • •
I do not regard a man as poor, if the little which remains is enough for him. I advise you, however, to keep what is really yours; and you cannot begin too early. — Seneca
• • •
Fitting in is a short-term strategy that will get you nowhere — standing out is a long-term strategy that takes guts and produces results. — Seth Godin
• • •
You can only become truly accomplished at something you love. Don't make money your goal. Instead pursue the things you love doing and then do them so well that people can't take their eyes off of you. — Maya Angelou
• • •
The odds are irrelevant. If it's possible and it matters, you take the shot. — Regina Dugan
• • •
A master in the art of living draws no sharp distinction between his work and his play; his labor and his leisure; his mind and his body; his education and his recreation. He hardly knows which is which. He simply pursues his vision of excellence through whatever he is doing, and leaves others to determine whether he is working or playing. To himself, he always appears to be doing both. — Lawrence Pearsall Jacks
• • •
Back in the nineteen seventies, people always wanted to know if it was any fun, and I always told them yes, it was a great deal of fun…. In the nineteen eighties, people wanted to know how much money we made, and they were shocked and dismayed to learn that we didn't make any money. We made a living. We paid our bills, paid our artists, and eventually paid off our note. We had a place to live, food to eat, work we liked doing together, and no "spare time." Had I been more candid, I would have confessed that we were totally disinterested in making money. That was what my professors at the University did. They "made money" working in a vicious bureaucracy, so they could spend it in their "spare time" doing exactly what they liked — which, as far as I could tell, was writing crummy novels about working in a vicious bureaucracy, and summering in Italy. Thus I have always associated the desire to make money with a profound lack of confidence in one's ability to make a living, to make one's way in the world through wit and wile. — Dave Hickey
• • •
No success, however glittering, that denies yourself will make you happy in the long run. So listen to the voice from your soul, quiet but insistent, and honor it. Find what you thrill to: if not the perfect sentence, the beautiful cure, the brilliant formula, the lovely chord, the exquisite sauce, the artful reconciliation. Strive not for everything money can buy but for everything money can't buy. — Roger Cohen
• • •
Our aspirations are our possibilities. — Samuel Johnson
• • •
Nothing great was ever achieved without enthusiasm. — Ralph Waldo Emerson
• • •
Change everything, except your loves. — Voltaire
• • •
We are all failures — at least the best of us are. —  J.M. Barrie
• • •
If you accept that your true self is what your talent is, your real identity lies within that talent that you have a passion for. — Seymour Bernstein
• • •
Do you think the expression, Do what you love and the money will follow" is accurate?
I have not yet experienced a fondness for the phrase, in whole. I have advocated, "do what you love," in poetry and prose for thirty years. I think they are two different things. Doing what I love allows me to be content in whatever financial circumstance I find myself. — Mary Anne Radmacher
• • •
The purpose of life is to discover your gift. The work of life is to develop it. The meaning of life is to give your gift away. — David Viscott
• • •
[W]hen people say, "What should I do with my life?" or "What is my life purpose?" what they're actually asking is: "What can I do with my time that is important?" — Mark Manson
• • •
What can I do that isn't going to get done unless I do it, just because of who I am? — Buckminster Fuller
• • •
[I]n the end, it is impossible to have a great life unless it is a meaningful life. And it is very difficult to have a meaningful life without meaningful work. — Jim Collins
• • •
If you make a lot of money doing things at which you could never be the best, you'll only build a successful company, not a great one. If you become the best at something, you'll never remain on top if you don't have intrinsic passion for what you are doing. Finally, you can be passionate all you want, but if you can't be the best at it or it doesn't make economic sense, then you might have a lot of fun, but you won't produce great results. — Good to great: Are you a hedgehog or a fox?
• • •
You have to find something that allows some piece of your soul — the part that you're passionate about — to participate. If you turn your back on that, you're setting yourself up for misery. — Chris Flink
• • •
You already know the things inside of you that you feel when something is in harmony or is going right. You know it. I mean, it's what makes you feel giddy; it makes you feel like you're getting away with something. It makes you feel like you're playing. — Anthony Veneziale
• • •
Our message can be reduced to one sentence: Build a life around your interests. — Roadmap
• • •
Think of your situation like a tripod, and each of those legs has a name. One of them is luck, the other one is talent (meaning ability), and the other is hard work. Although one of those things will get you into a situation, you have to get another one on the ground as quickly as possible. Because the world is full of people who are talented, who were not lucky and did not work hard, who kind of washed out. Recognize that any one of those things will get you into a situation. Your job is to get two of them connected as soon as you can and hope for the day when you get all three connected. — Walter Murch
• • •
The big risk would have been staying at a job that wasn't fulfilling and wasting my life. That's a risk. Quitting it to do something I really loved and believed in, that's not a risk. — Jim Koch
• • •
No matter what you do, you've got to use as much energy and brain power as you've got, to do it as well as you can do it, all the time. Because you don't get the days back. You don't get the hours back. You don't get the minutes back. Do the things that make you feel like you've spent your time well, and at the end you'll be happy, if not proud of your life. That's what I think about more as I get older: what are you going to think when you finally have to answer, "Was your life spent well enough?" — Andrew Lins
• • •
This is the real secret of life — to be completely engaged with what you are doing in the here and now. And instead of calling it work, realize it is play. — Alan Watts
• • •
I was a Montessori kid for the first few years of my education, and what that education taught me is that the world is an interesting place and my job is to go explore it. The school stopped in third grade, so then I entered the public school system, and it felt like I had been sent to the Gulag. With the benefit of hindsight, I now know the job was to prepare me for life as a clerk or a laborer, but at the time it felt like the job was to kind of bore me into some submission with what was going on around me. — Andrew McAfee
• • •
Students learn what they do.
It took me a long time to learn this premise.
If you go into a classroom and look across the room at what all the students are doing, what do you see? Maybe you see the students sitting at their desks or tables, copying notes from the chalkboard — notes the teacher expects them to learn by heart and reproduce in a test at the end of the unit.
What they are learning here is what you see them doing: writing notes, coping with the boredom without complaining, and later memorizing headings and details they only partially understand.
Given the students forget most of the content of their notes after the rote memorization and test, what they do in the classroom day after day is what they learn and become expert in. — Graham Nuthall, The Hidden Lives of Learners
• • •
Ideally, what should be said to every child, repeatedly throughout his or her school life is something like this: You are in the process of being indoctrinated… What you are being taught here is an amalgam of current prejudice and the choices of this particular culture… You are being taught by people who have been able to accommodate themselves to a regime of thought laid down by their predecessors… Those of you who are more robust and individual…will be encouraged to leave and find ways of educating yourself — educating your own judgements. Those that stay must remember, always…that they are being molded and patterned to fit into the narrow and particular needs of this particular society. — Doris Lessing
• • •
I think the big mistake in schools is trying to teach children anything, and by using fear as the basic motivation. Fear of getting failing grades, fear of not staying with your class, etc. Interest can produce learning on a scale compared to fear as a nuclear explosion to a firecracker. — Stanley Kubrick
• • •
The best I can do is to try to encourage you to work hard at something you really want to do and have the ability to do. Because any fool knows that to work hard at something you want to accomplish is the only way to be happy… What I am trying to get firmly planted in your mind is this: In the really important decisions of life, others cannot help you. No matter how much they would like to. You must rely on yourself. That is the fate of each one of us. It can't be changed. It just is like that. — Eugene O'Neill
• • •
I'm willing to be bad for as long as it takes, until I'm good….I don't have a sense of shame. I just don't. If I've hurt someone's feelings, if I'm mean to somebody, I'll lament over that for days. I'm that dude. I'll lose sleep over mundane stuff. But I don't really have the thing of, "Oh, I've embarrassed myself." I just don't understand why I would stop trying to play piano even though I'm not good at it. I want to be good at it. So why wouldn't I keep playing? — Jason Segel
• • •
One of the most important things we do for our children is to present them with a version of adult life that is appealing and worth striving for. — Madeline Levine, Teach Your Children Well
• • •
The goal of living is not to consider work work, but to consider it your life and your play. — Gary Snyder
• • •
Everything I hear about is whether a kid — male or female — should pursue this field or that field, what the long-term career prospects are, etc. I almost never hear much discussion about whether it matters if they have a passion for. It's true that sometimes college is the best way for them to discover their passion, but I've seen way too many young people traumatized by the thought of telling their parents that after three years of pre-med, they're switching to something like… ornamental horticulture (a big area of study at my alma mater, Cal Poly SLO).
…Vegetarian cooking is [my daughter's] passion. She believes in it, she loves it, she takes great pleasure in it. She evangelizes it to others. What horrifies me is that even though I knew she felt this way, it never occurred to me that this was something she might consider instead of college. But she got me with this one:
'Mom, your degree was exercise physiology. You spent your first five years out of college as a glorified aerobic instructor. Then you taught yourself programming, took a few night classes at UCLA, and made a huge career switch into computers, and found you loved it. You have your own computer book series. Yet you told me you had just a single computer class in college, and you hated it. So… tell me again why college was so great for you?'
And then the kicker:
'I have no idea if I'll ever open a restaurant or develop this into a professional career, but whatever investment I make in this will serve me and make me happy for the rest of my life. I'll be using what I learn here in my personal life, almost every day, regardless of my career. How many people can say that about 90% of what they learned in college?'
The part I still have to get over is that feeling of a missed opportunity. Of unfulfilled potential (too many Microsoft ads?). This was a straight-A kid. One far brighter at 12 than I'll ever be. One of those about whom people say, 'She could succeed at anything she wants.' yet what we all secretly meant was, 'She could succeed at anything we think she should want.'
Lucky for her, she learned at a much earlier age that passion matters. That money is far less important than joy (and that money doesn't buy joy). And that whatever decision she makes now, does not determine the rest of her life. She understands that the chances of anyone having a single career for life — or even a decade — are asymptotically approaching zero. And that nothing — not finances (or lack of) or gender or age — will stand in her way if she decides to learn something. And if what she wants to learn at some point in the future is best studied in a formal higher education environment, there's nothing to stop her from going to college then.  — Kathy Sierra
• • •
Good work comes from passion. — Sidney Lumet
• • •
If you're an intelligent human being and you don't have meaningful work, then you'd better find it because your death, in those spooky terms, is stalking you every day. — Jim Harrison
Jane Austen threw out the plan for a well‑read regency‑era woman. Frank Lloyd Wright threw out the plan for a young architect of his time. Bill Gates, Oprah Winfrey, Enrico Fermi, Lin‑Manuel Miranda, Martin Luther King, Marie Curie, Pablo Picasso, Toni Morrison — they all threw out the plan. The right answer was safe; the wrong answer, the one no one else came up with or followed or believed in, was transformational. Ah, you say to yourself sitting there, 'I cannot expect to be Jane Austen or Frank Lloyd Wright,' but what you can embrace is a life that feels like it belongs to you, not one made up of tiny fragments of the expectations of a society that, frankly, in most of its expectations, is not worthy of you. And that requires courage, not compliance; passion in lieu of simply plans. —
Anna Quindlen
• • •