Art lesson: Watercolor techniques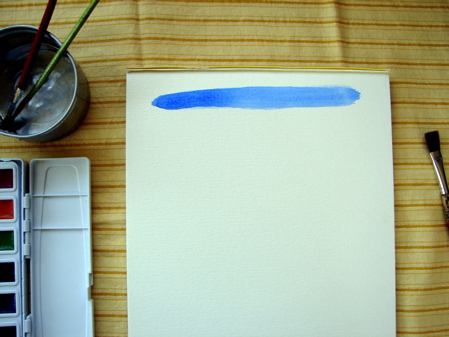 We'll be taking watercolors with us to the woods and the prairie and the garden this summer with our nature journals, so we can give our drawings a wash of color.
Since it's still quite cold and blustery in our corner of the world, we did a little drawing outside for Friday's art class, then we headed inside to review some watercolor techniques.
I've already shared that I think the best way to introduce any child to a medium is with plenty of free exploration. Time — time to play and explore and experiment! Children need time to master materials before they can work purposefully.
This is a pretty common material, though — most of my students have already used watercolors. And my time with them is limited to an hour and a half a week. So I thought I'd lead them through some simple guided experiments to become familiar with (or become reacquainted with) what watercolors can do and how they behave.
This "lesson" isn't about making art — we're just going to learn and/or practice a few skills so we're ready to make art next time!
Everyone started out with their watercolor paints, a nice heavy sheet of watercolor paper, a paintbrush, and some clean water.
First, we talked about how to get the paint wet to get it started. We loaded up our brush with a lot of color. Then we painted one big stripe across the top of our paper.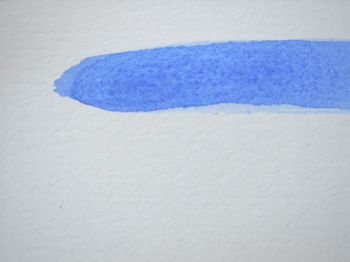 Then we dipped our brush back into the water and without getting more paint, we painted a second stripe across the bottom of the first stripe. The paint ran together, but the bottom stripe was lighter. Then we did it again and got an even lighter stripe. Now we had a graded wash.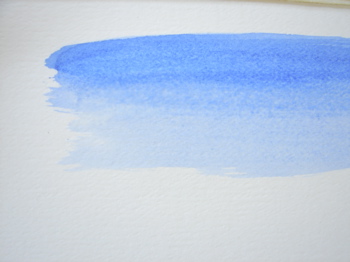 Cool!
Next, we cleaned out brushes thoroughly (by swishing our water violently) and then painted a wet square of plain water on our paper.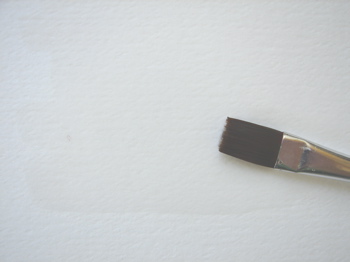 Then we loaded up our brush with color again and painted on the wet paper.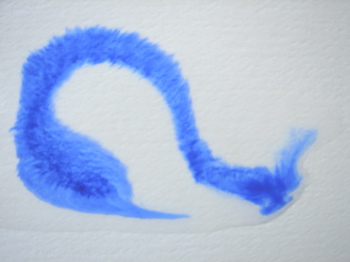 Then we painted another line beside it on the dry paper and talked about the differences.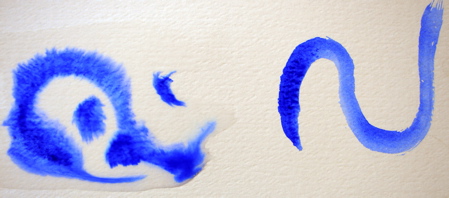 (The kids loved this whole exercise — part art, part science experiment, lots of excited exclamations: "Look at mine!" "Cool!")
Now we painted another big block of a light color.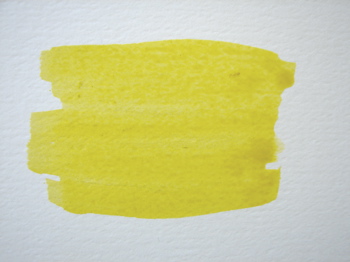 We cleaned our brush and loaded it up with a darker color and then put some splotches into the light color to see what would happen.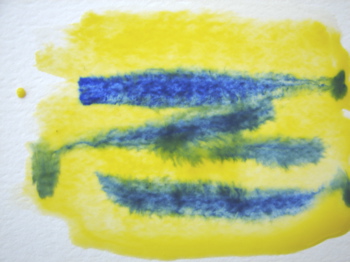 We talked about what happens when the colors mix together.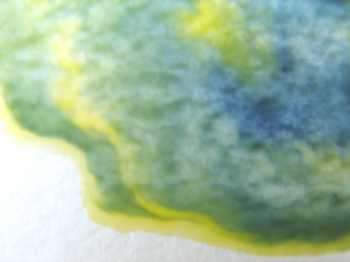 Then we chose a different color and painted another big area next to this one, allowing them to touch.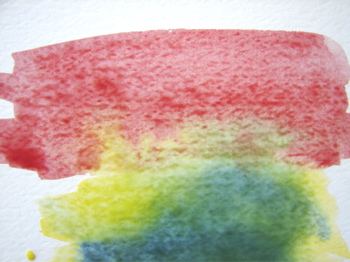 What happened? The colors blend together. When might we want this to happen? If we don't want the colors to mix, what should we do? (Wait for the first color to dry!)
Next we painted another big blue square.
More science! This time we're going to practice taking paint up from the paper.
We rinse our brush well and then use our fingertips to squeeze the water from the bristles.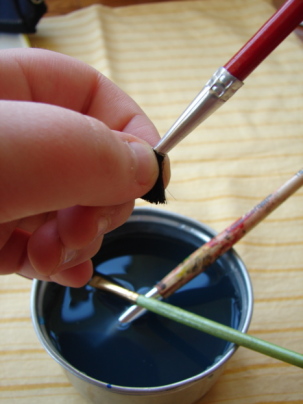 Now use your dry brush to suck up some paint from your blue square. You've made a white spot! Magic!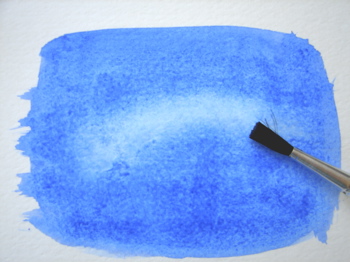 You can also use this technique to fix mixtakes — well, a little mistake anyway!
Then we used a crumpled piece of paper towel to take up more paint, and stamp a pattern as well!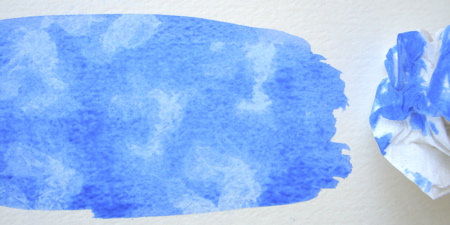 If you have time (and materials), you can experiment with using a small piece of sponge, crumpled tissue paper, leaves from the garden, and anything else you can think of to stamp in your watercolors.
Next, we used a white crayon to draw on the paper to make a resist.
Anything waxy will create a place the watercolor paint won't stick — crayon, oil pastel, even a candle! (I know it's a little late, but those plain wax crayons that come with Easter egg-decorating kits are perfect for this.)
Draw a little something on your paper and then paint over it.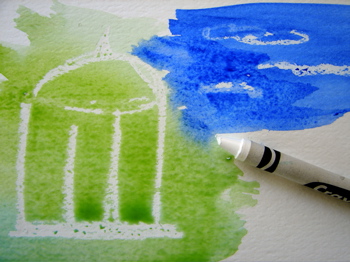 We talked a bit about when you might want to use your white crayon — if there is something white in your picture that you want to stay white, for example.
Of course, you can use any color of crayon to make a resist painting! For our nature journal kit, though, we'll make sure to carry a white crayon.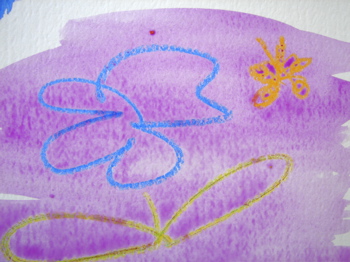 Finally, we finished by using everything we just learned to paint whatever we wanted!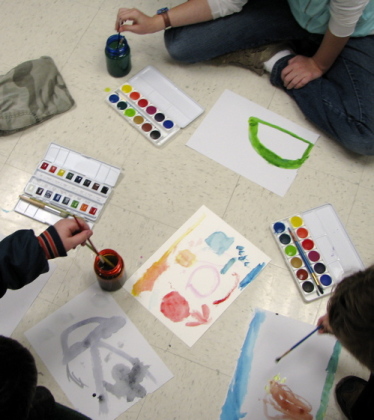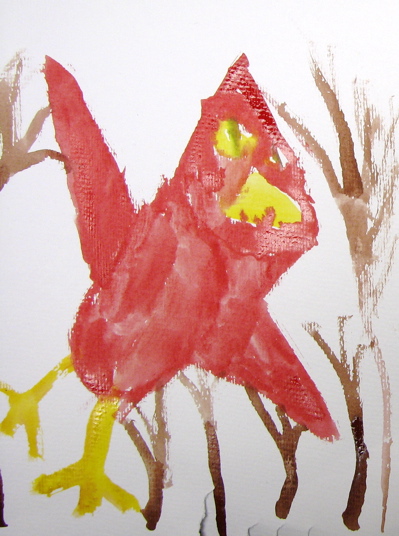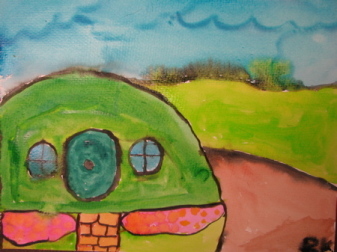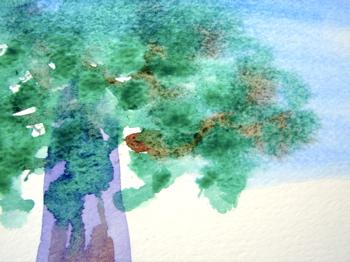 See also: