Comics project: Recognizing a strong interest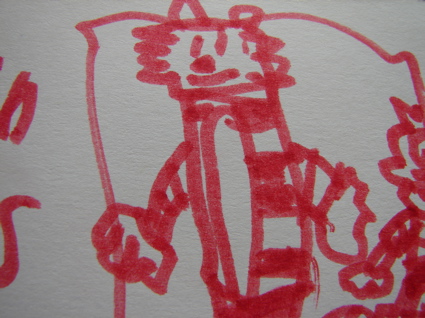 When I look for a project topic, my main criteria is interest. I am looking for something that my child has a strong, lasting interest in.
One "hey, look, that's cool" is not enough. I am browsing for something that has captured his interest for more than a few days.
The boys have been obsessed with Calvin & Hobbes for some time, but Jack (seven years old) took it to a new level when he started filling a sketchbook with drawings of the characters, which then became his own C&H comics.
The intensity of his engagement caught my attention.
One of the things that holds teachers (and homeschooling parents) back from trying new approaches, I think, is simply fear. Fear that you will do it wrong. Fear that you will lose control. Fear the children won't learn anything. Fear that you will reveal you don't know what you're doing.
Fear you won't know the answer to every question. (Project-based learning doesn't have a teacher's edition. There are no answers written in red at the back of the book.)
I have no such fears. I do things wrong all the time. I lose control of the project. It stalls. It races ahead without me. I accidentally step right on a fantastic moment and kill it. Oops. My children are well aware I don't have all the answers.
I always told my teachers, "Feel for the edge. Cross over it and don't be afraid to make a mistake. You won't know where the line is if you don't cross it once in awhile." Ideally, we want to let the children direct and manage their own learning. We want to help them find the answers to their questions, not give them questions and then tell them the answers. We want them to figure out how powerful they are as learners, not tell them what to learn and how to prove to us that they learned it.
Life is seldom ideal, however. When I was struggling to learn to drive a stick-shift (a 5-speed), I told my boyfriend (now my husband), "I just need you to tell me that I can't do something that will cause the engine to fall out onto the road." He stared. "You can't do anything that will cause the engine to fall out. You can't break the car." "Okay, then."
There is nothing you can do while exploring this method of learning that will irrevocably destroy your children's respect for you as a parent or mentor. There is nothing you can do that will cause them to never learn again, or completely lose interest in learning (or even this project) forever, or will stunt them creatively forever, or will keep them from getting into a good college.
So, what's to fear? I saw that J's interest in Calvin & Hobbes had gone on to a new level without any word or help from me. On his own, he was pursuing something that he really cared out and making it his own.
Making a successful project is like making a campfire. The child's interest is the spark. Your job is to run around a collect little twigs and sticks and offer them up. Also to say, "Can I get you anything?"
Turning this little metaphor around, you can see that without the child's interest, a thriving project is difficult if not impossible. You can gather interesting resources, you can plan an exciting field trip, you can gather a pile of library books and a cool science kit — but if you don't have a child's intense interest, it can be an uphill battle. However, if you start from a child's intense interest, and add those other things … well, it can be an exhilarating downhill ride.
Artwork (top) by J Pickert, age seven, and (bottom) by Bill Watterson.