Comics project: Supporting investigation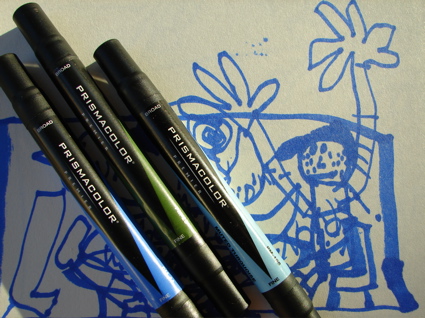 When I realized J had taken his interest in Calvin & Hobbes to a whole new level, and I thought it might translate into an interesting project, the first thing I did was support what he was already doing.
He asked me for a sketchbook that would be only for drawing comics. So we got that. (My job is so hard.) Then I went an extra step and I bought him a couple of expensive (a couple of dollars each) drawing pens and gave them to him, telling him "These are the kind of markers artists and cartoonists use." He was suitably impressed, and very pleased. Offering him high-quality tools was my way of showing that I respected the work he was doing.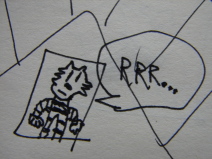 Next he asked for a special desk just for drawing comics. We already have a table set aside for drawing in our art studio (though that's way out in the barn) and he already has a regular desk. I suggested maybe we could just outfit his desk for drawing. He was perfectly amenable to this plan, and together we cleaned it off and found the materials he said he needed — pens, markers, pencils, etc., a stack of paper, his comics sketchbook, and his C&H books. (Note: Later on, when this project was showing some staying power, we did create a new drawing space in his room.)
He wanted new Calvin & Hobbes books, so I suggested we go to the library and see what they had. I also went online and did a little research. (We have a lot of C&H books already.) We found the Calvin & Hobbes Tenth Anniversary Book
, which has essays and stories about the comics written by Bill Watterson.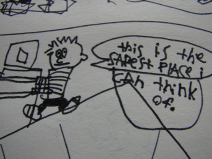 I remembered reading somewhere that Bill Watterson loved Peanuts. I remember Charles Schulz saying that Bill Watterson drew shoes that looked like little dinner rolls. So I found a copy of the Peanuts Treasury
for the boys to check out. They loved it. (Oh, the hours I spent as a kid reading Peanuts!)
The trip to the library yielded two Peanuts books (found by Jack) that included interviews and essays by Charles Schulz: Charlie Brown, Snoopy, and Me (out of print) and Happy Birthday, Charlie Brown: Celebrating 30 Years… (also out of print). Both books include Charles Schulz's stories about the comic strip and its characters.
So now we have a pile of comics anthologies, a stack of autobiographical works by famous cartoonists, tools for making comics, and a space to make them.
Let the fun begin.