The courage to make a fresh start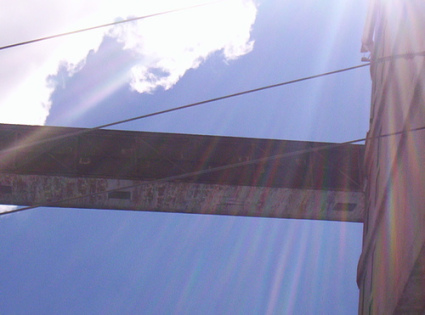 When I was running my Reggio-inspired school, our classroom for children age 3 through 5 was enormous, with its own huge art studio, a stage with musical instruments and costumes, two dramatic play areas, science area with microscope and other tools, reading lofts, huge block area, etc.
The art studio was stocked with several sets of shelves filled with bowls, trays, and jars of art supplies, several easels, a giant loom, a light table large enough for four or five children, and entire clay area.
Visiting teachers would blanch, then tell us (again and again) that their children could never handle such an excessive amount of available materials, tools, areas, choices.
So we would explain that when the children came in on the first day of the school year, the classroom would be nearly empty. There would be only basic materials in the art studio and the ordinary blocks in the block area and a good selection of books in the library. Then, as the children mastered each area and each material, we would slowly add in more. After several weeks, the children could move about the entire classroom with access to all their materials without being overwhelmed and over-stimulated, knowing exactly how everything was used and put away, and the teachers could concentrate on working with individual children or small groups while the students confidently used their space.
One particular pair of teachers who shared a classroom visited in the middle of the year. They told us about their students and their struggles, they observed what was happening in our school, and they listened carefully to how we began each year. Then they returned home.
Two weeks later, I had an e-mail from them. When they got back home, they went into their classroom and took everything out — every book, every block, every art material — and made the classroom a completely blank slate. Their children returned on Monday morning very surprised, as were their parents — and the school administrators for that matter. Then, they slowly introduced each area of the classroom as we had described, as though it were the first day of school. And two weeks later, their classroom was transformed. The children were taking responsibility for the materials as never before, so the teachers could give them more. Things were put where they could be taken out by the children, and the children put them carefully away again. The teachers felt like they had an entirely different group of students, and they went forward confidently to try to build the curriculum they now felt their students could handle.
When you are in charge of your own program (as all homeschoolers are), you can make changes on the fly — you can decide at any time during the year that you aren't satisfied with how things are going, or maybe you just want to try an exciting new idea, and you don't have to wait for anyone's permission or fill out any paperwork. You just get up the next morning and put your idea into action.
I was astonished by those public school teachers — in a great way — that they were strong enough and determined enough to begin again from scratch, midway through the school year. It took a lot of bravery for them to stop and start again.
I love the new year, a time of looking back and looking forward, a time to focus on plans and goals and dreams. But it's important to remember that we can have a fresh start any time we need it — no matter what time of year, no matter how invested we think we are in what we've done so far. We can sweep the table clean and begin again if we want to. And it doesn't have to be a big change — it can be just one small, new thing.
See also: Curriculum of Curiosity: "Rather than put every material out on the first day of school, we added things throughout the year. Rather than announcing any new addition as a special treat and drawing attention to it (which creates the additional problem of 15 children wanting to use it at once), we simply added things and let them be discovered. Then the children told each other and showed each other."