In the dollhouse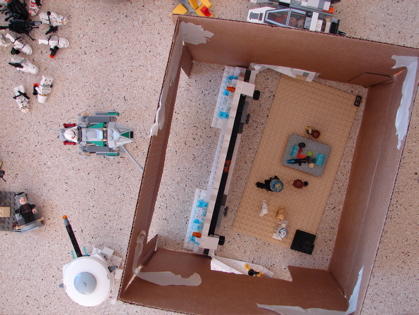 Construction of the Jedi temple has not quite begun. The research period is in full swing, which involves a lot of stop-action watching of the second trilogy.
In the meantime, a small box was added to Jack's birthday LEGO set, the Hoth base, to enhance it to his standards. (Empire Strikes Back is my favorite Star Wars movie. All we need now is an AT-AT.) There is also going to be some painting of the old corkboard he's using as the ground -- white, for snow, of course.
Soon the temple will begin to be built for real. So much debating about what will make the best elevator, etc.
One great thing about homemade constructions — Jedi temples, car garages, dollhouses, etc. — is that there is no guilt when you dispose of them when they are no longer played with. Also, they are, of course, the ultimate green choice — don't buy new, don't buy at all! Make something out of recycled materials, which can later be recycled again when you are finished.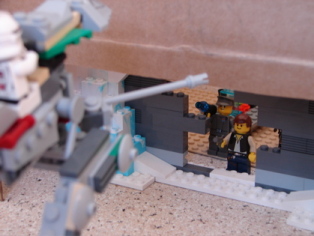 Most important, there is an entire creative research, materials choice, construction, and decoration that the kids get to do. It becomes art, craft, and science project in one. (Have you ever made a garage door? an elevator? a rotating helipad? Simple machines, baby.)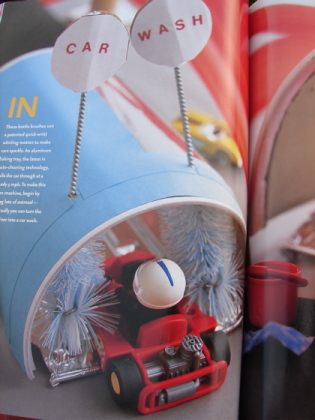 You may remember the great Martha Stewart Kids article about making a car wash and garage out of things from around the house. (Why did they cancel that magazine again? Best magazine ever. I saw an entire set for sale on Ebay not long ago. Too rich for my blood, but boy would I love to get a hold of the issues I missed.) I have tried in vain to find it on Martha's website; it was in the MSK winter/spring 2003 issue.
Elisabeth Dunker of Fine Little Day has a fantastic flickr set of the wonderful dollhouses she and her daughter made. They are wonderful, and they remind me of a classier version of Phoebe's dollhouse on Friends.
I want to make one of those for myself.
Dutch of Sweet Juniper made his daughter a quick, inexpensive, modern-style dollhouse that I lurv.
Of course, another great thing about the homemade dollhouse/garage/Jedi temple is that you don't have to worry about those pricey dollhouse dolls and accessories. You can use what you already have on hand -- action figures, Hotwheels, Polly Pockets. Start with the people to choose your scale.
Of course, anyone who owns a dollhouse will tell you that it is inevitably overtaken by unusually large and/or small friends anyway. The Hamburglar living in the back bedroom, Strawberry Shortcake hanging out in the kitchen, not to mention plastic dinosaurs and teeny plastic jungle animals lurking around the back door.
Then there's this groovy modern plexi dollhouse from Better Homes & Gardens Gifts to Make Yourself in 1972. Love the fireplace, baby.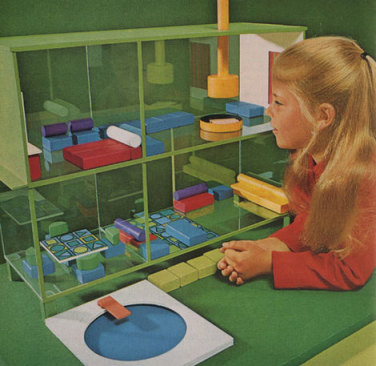 Not as futuristic as a Jedi temple, but still plenty cool.
Finally, our friends Pete and Tom made this amazing Dalek city. Super cool, isn't it? Show that to any medium-size child and the ideas should start popping.