Drawing with your children, continued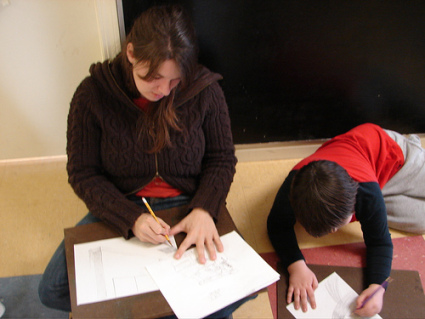 The best reason for drawing with your children occurred to me only after I wrote the last post. (Of course!)
If you don't draw with your children, then you are getting out the materials, sitting down with them, talking about the goals of the drawing exercise, and then .. what? If I was drawing — and trying something new — it would make me nervous to have you sit and watch me! I would wonder how you thought I was doing, if you thought I was doing a good job, if I was doing it right or wrong. I would know you were watching me, and I would realize you were judging my work.
When I bake with my children, we put on our aprons, get out the bowl and measuring cups and ingredients, divvy up the tasks, and we get to measuring, mixing, stirring, spooning, etc.
I don't step back and have them do everything because I'm worried about intimidating them with my awesome baking skills. We work together, side by side, cheerfully, as a team.
This is the same kind of cooperative environment that I am suggesting for making art.
I'm not sitting and watching you draw (with an implied judgment). I'm just sitting here drawing, too, concentrating on my own work. We may show each other what we did, and we may talk about what we like and don't like and how successful we thought we were (talking about our own work), but I'm not here to critique a child's work.
Draw with them, but don't draw for them.
So, again — draw with your children! Show them that's it about the fun of acquiring a new skill, not about you judging their efforts. Get on their level and draw alongside them. It's fun!