Art lesson: Observational drawing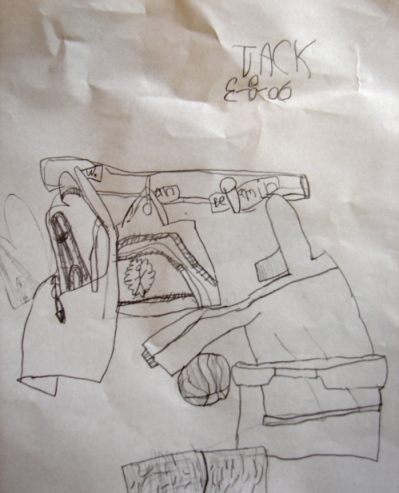 Jack's observational drawing (age 6)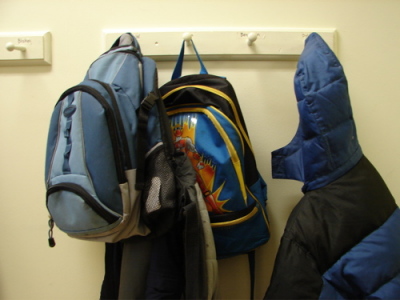 What Jack drew
Looking for our one-week e-class Observational Drawing for Families? It's here!
Lesson: Observational Drawing
Materials:
• Paper
• Pencil
• White eraser
• Pencil sharpener
What does it mean to observe? When you observe something, you look at it very closely. How can we be good observers? We can look at something very, very closely. We want to notice all the details.
Let's look at something together. [I frequently borrow a kid's shoe. A dirty, torn-up kid sneaker has lots of details!] Tell me everything you see. [Feel free to add your own details to keep the list growing.]
Sometimes we sit down to draw whatever we want — we call that "free drawing". When you free draw, you can draw things however you want to draw them, whether they're true or not. You can make an animal with ten legs. You can make a man with huge hands that are bigger than a car. You can do whatever you want.
When we do observational drawing, we're going to practice seeing. We're going to practice looking at things very closely, and we're going to draw exactly what we see. We're going to add as much detail as we can.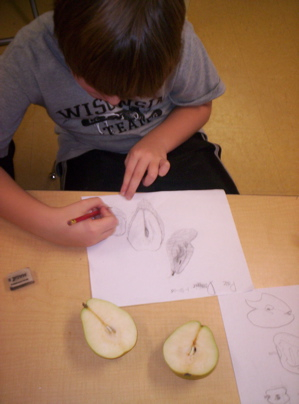 Have children draw anything at hand. First lesson, the simpler the better — a pencil, a pencil sharpener, a pair of scissors. (The fewer details, the more accurate the final drawing will be, and the happier the artist will be.)
Have the child draw for, say, five minutes. If they say they are done, look at their drawing and the thing they are drawing. Ask them if they see any details they haven't drawn yet. If you see something, point it out. "Can you add this to your drawing?"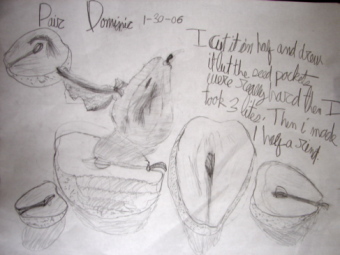 If the child finishes a simple drawing in a fairly short amount of time and still has interest and energy, have them draw something else. Quit before you wear them out. Praise their attention to detail, not the drawing itself. Try not to fall into the trap of saying "Great picture!" and instead say things like "I like how much detail you put in your drawing" or "You did a great job of drawing all those shoeslaces", etc.
Extension Ideas:
Draw your snack before you eat it. (Note pictures of Dominic drawing his pear. This is, of course, not his first sketching session!)
Draw each other. Take turns!
Draw a piece of furniture in the room.
Draw your foot. (As Leisa says, your foot is always with you.)
Take a walk outside and collect things to draw: a leaf, a pinecone, a feather.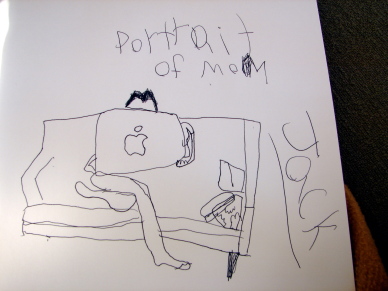 Notes:
We have done observational drawing with children age 3 through high school. Children who have barely turned three can create amazing drawings; try to fight your own prejudice about what you think your child can do. Wait and see what they can do. Let them show you.
This is a learned skill; don't worry about what is created in the first session. Ideally, sketch for 15 minutes every day. Sketch together! Pick something, set it between you (e.g., a tape dispenser, a vase, the TV remote) and draw together for 10 or 15 minutes. If not every day, then at least once a week, do an observational drawing.
Always plain, ordinary pencil. No colored pencil yet — save that for later! Plain pencil allows you to focus on details. No markers! No crayons! No pens! Plain, ordinary pencil.
No erasing! Encourage children to draw big — many children will draw teeny, tiny little drawings no bigger than a dime. Encourage them to draw large, and if they feel they made a mistake or they become unhappy with their sketch, encourage them to move to a different part of the paper and start drawing again rather than erase. Fill a page with sketches before you go to a new page.
With older children, or with children who have a lot of experience doing observational sketches, encourage drawing the same item from different perspectives. Draw your shoe from the side, then from the front, then the back. Draw your glasses folded up, then open then and turn them away from you. Etc.
For our art class, we will draw for at least 15 minutes at the beginning of each class, before doing other activities. Drawing is like anything else — the more you do it, the better you will get!
Preferably children will work in a sketchbook with a lot of pages — 70 or more — and in a size that is at least as big as a normal sheet of 8.5 x 11 paper. If you must work on loose paper, date and keep your sketches! Bind them together later in a three-ring binder or report cover.
No newsprint! This cheap, rough, sometimes yellow- or gray-tinged paper is the worst. Ban it from your art studio and your life. Regular copy paper is about three bucks a ream (500 sheets) and very nice for drawing.
Above all, don't say you cannot draw. The best way to cultivate your child's confidence is by being confident yourself. You can draw, even if you don't know it yet. Sit down and draw a tape dispenser with your kid. You may be pleasantly surprised.
Related stuff:
We now have a one-week e-class, Observational Drawing for Families. Check it out!
Benefits of observational drawing
Observational drawing with the young and/or reluctant: tips
Sharing our work: Observational drawings
Observational drawing: Musical instruments
Observational drawing: Where do we go from here?
Art lesson: Blind-contour drawing