Fostering independence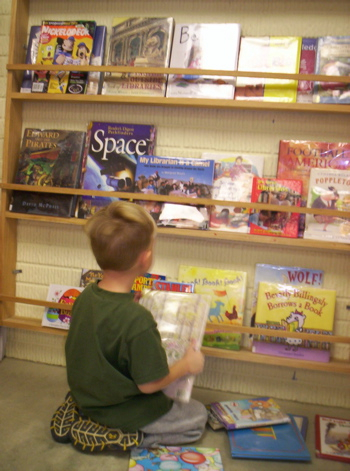 Yesterday, I wrote about helping pre-readers research.
Every part of this has to do with fostering independence — allowing the child to be in charge of his own learning.
If you can't read, you are at the mercy of those who can. But if there is a system in place for having someone read to you at a determined time the materials that you have chosen, then you are back in the driver's seat.
If you can't write, you are at the mercy of those who can. But if, instead of having to pester someone else to spell the word you want to write, you can look it up and copy it by yourself, then you are in control.
Not only do they get to decide which library books to check out, but they get to decide what is most important.
There are a hundred ways you can help your child work independently. Books and materials can be stored where they can reach them without assistance. Clean-up materials can be sized for small hands and, again, kept where they can be used without having to ask for help. Small children want to take responsibility, if you will let them.
Sometimes we get so caught up in everything we want our children to learn — literature, math, science, geography, language, music, manners — that we forget the most important things. How to make good decisions. How to handle disappointment. How to talk to other people about what matters to us. And so on, and so on. The curriculum of what really matters.