Friday link round-up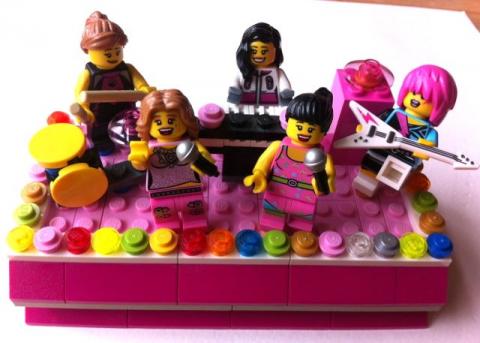 Hope everyone had a great week!
This week's facebook links (plus bonus links!):
In the world of project-based homeschooling this week, Michelle shared her shift in thinking about planning:
"We still set goals and make plans, but these are negotiable and fluid. As always, we do whatever works for us at any given point in time, and we're never afraid to shift gears or direction. The main difference these days is the shift from planning ahead to documenting the work as/after we do it." — Planning Less, Doing More @ Raising Cajuns
How can you plan ahead if you're letting your kids lead authentically? You can never anticipate exactly how things are going to go. Does that mean you give up on planning altogether? No. As the father of Reggio, Loris Malaguzzi said,
It is true that we do not have planning and curricula. It is not true that we rely on improvisation, which is an enviable skill. We do not rely on chance either, because we are convinced that what we do not yet know can to some extend be anticipated. What we do know is that to be with the children is to work one third with certainty and two thirds with uncertainty and the new.

…We can be sure that the children are ready to help us. They can help us by offering us ideas, suggestions, problems, questions, clues, and paths to follow; and the more they trust us and see us as a resouce, the more they give us help. All these offerings, merged with what we ourselves bring to the situation, make a handsome capital of resources. — Loris Malaguzzi, The Hundred Languages of Children
I then shared a classic (2008!) Camp Creek post about planning:
"Don't plan ahead — plan along.

Plan the environment.

Plan time to observe and document.

Plan one-on-one time. 

Plan to supply resources as they are needed/requested.

Plan time to collaborate.

Plan time to reflect." — Project-Based Homeschooling: Planning
I have been writing this blog for a long, long time.
Shaun shared her children's reaction to the creative making space she set up and left available to them:
This is Violet, my older, preparing to sew. She loves the webcomic Homestuck, because she is 1) an aspiring comic artist and 2) a teen. She found the hat-making tutorial, made a list of what she needed, and then dove in. She even made the horns (see below) twice, because she didn't like the first set. And she did it cheerfully. And all I did was drive to the fabric store because I still don't really know how to run the sewing machine. I'd venture to say this is the first time she'sused the sewing machine in 2 years, and that was for a pillowcase.

Every time I say to myself "why is she unmotivated?" I need to look at this picture. — World Nutella Day, and some projects @ What Real World?
Another great post about motivation — I shared a beautiful post from the PBH forum from a parent experiencing the magic that happens when learning focuses on a child's interests:
"Driving to a craft store before 9 a.m. could be a small win for me. My six-year-old making his own color-coded list of supplies could also be a small win. But really, my win for today was feeling like my son and I were a team.

We were researching, designing, measuring, cutting, sewing, playing, planning. He was leading, asking, insisting. Today was special. Maybe today both our strong interests intersected just right. Maybe all this adult PBH has gotten me going in high gear so I could fly along next to my son at top speed for one day. : )

When he first got going on this current project, my son told me, "I'll work on it day and night. That means I'll be done with it by dawn." So far, it's been a week's worth of dawns working day and night. He is *that* excited, and so am I."
Thank you, Janet, for letting me share that with everyone! If you're interested in participating in the forum, sign up here.
Be sure to check out Lise's latest post about her daughter's project on the Nields — it's a great example of how many of the "hundred languages" children can employ with a single interest:
A few days ago, we read the liner notes inside Rock All Day; Rock All Night, and we learned a wonderful story about Katryna and Nerissa having the chicken pox as children (combining Lucy's favorite topics: childhood stories, The Nields, and sickness).  So Lucy's recruited the other children to take parts in the drama of a miserable, moaning Nerissa, unable to hold her new baby sister, while Katryna (Lucy) holds her tenderly.  She adores this game, and we play it again and again. — The Nields in valentine and doll form @ In the Purple House
Finally, I loved this post — it goes along with the values we're embracing in PBH for Grown-Ups: stop waiting and start living the life in front of you:
"Our vanity is no longer enough of a reason to avoid the camera. Life doesn't wait until you "get thin" enough to capture it. Life is happening … it is happening right now and the only moment we are guaranteed is the one we are living." — So You're Feeling Too Fat to Be Photographed @ My Friend Teresa Photography
That's it for this week. Hope you had a good one, and I hope you have a great weekend!
Be a part of the PBH community. Project-Based Homeschooling isn't for only one kind of homeschooler — whether you're a classicist or a radical unschooler or somewhere in-between, all kids deserve the chance to direct and manage their own learning while pursuing their deepest interests. Read the posts on project-based homeschooling. Check out the book. Join the forum. Chat with me on twitter. Follow me on facebook. See my pinterest boards on learning, authentic art, play, and more. Come make friends, get some new ideas, and brainstorm about your challenges.
"Allowing children to learn about what interests them is good, but helping them do it in a meaningful, rigorous way is better. Freedom and choice are good, but a life steeped in thinking, learning, and doing is better. It's not enough to say, "Go, do whatever you like." To help children become skilled thinkers and learners, to help them become people who make and do, we need a life centered around those experiences. We need to show them how to accomplish the things they want to do. We need to prepare them to make the life they want." — Project-Based Homeschooling: Mentoring Self-Directed Learners