Friday link round-up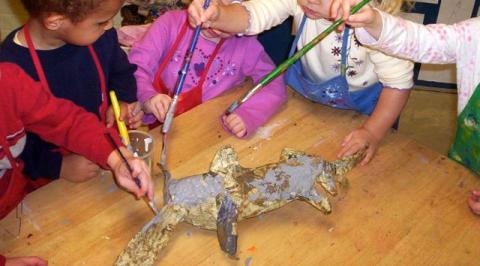 The best thing I have to share this week (with permission!) was a post in the forum by a mom who worked past her initial misgivings about Minecraft in order to support her son's deep interest — and had a great outcome:
"I'm new to pbh and still anxious about how it will all work; especially since both my boys love minecraft. The other day during our project time my 10 yr old was simply building on minecraft and I had to continually bite my tongue b/c that little voice in my head was telling me, "this is not education!". However, I persevered. :)

I grabbed a notebook and just started asking him what he was doing. Lo and behold he was building giant forks, shovels, question marks, dollar bills, etc. I made the observation that there are artists that create actual sculptures just like that. Before I knew it, both boys were looking for images on google, discovered the artist was Claes Oldenberg, and we were talking about what was interesting about the art. That led to a discussion of art in context and I posed the question of what giant sculpture would be appropriate in the context of our house. They came up with several ideas, but decided they would build a life-sized Steve from minecraft. I asked what they needed, we gathered supplies. I jotted down ideas they came up with. They came up with the idea to hide binary code in their statue since steve is created by code. We went to the library and they worked with the librarian to hunt down books on Oldenberg. My oldest also got several books on architecture as well for inspiration for building and has immersed himself in that and has built some awesome buildings and is learning a ton about architecture.

I truly see the value of journaling. It is eye opening how much they learn. The math concept of median was used in the building projects. They were measuring and figuring out scale. They were working together and not fighting. As I write all they are doing I see all the different directions they could take this. It's very exciting to watch. Thanks for all the encouragement and advice this blog provides."
I love hearing these stories. If you're a member of the forum, we share them in the small wins thread — it's important to take a moment and celebrate your successes as you learn to mentor yourself and your kids to your best lives. Even a small change — like taking a pause and getting out your journal, asking a few questions — can make a huge difference in your learning life.
And have you seen O's amazing Minecraft project on PBH Kids? If your kids have project work they'd like to share, let me know!
I liked this article on project-based learning (as manifested in schools) mostly for this teacher's reaction to helping kids direct their own learning:
"'[E]ngaging kids in project-based, deep-thinking types of learning that I saw in Finland … that's what we tried to replicate in our state,' Paine said. And not coincidentally, just the kind of pragmatic, complex, collaborative problem-solving that companies say they need in the 21st century workplace. …

"The first [project-based learning] project I did — after it was done — I said I would never go back to the old way of teaching, because it was that valuable.'"

'I wanted to cry because I could see how much progress they had made from beginning to end.'
You might want to follow my project-based learning board on Pinterest. I think we can glean some insights and ideas from what traditional education is trying to accomplish with PBL even though we homeschoolers have the freedom to take it so much further. (The board is a mix of PBL at school and at home.)
Last week I wrote a post called The Sliver, or How to stop fighting about screen time. In that post, I suggested using "generous limits" (as opposed to strict limits or no limits at all) to make it possible for your child to go beyond just being an irritable, frustrated, passive consumer and actually be in the flow, learn, and create with media.
In the comments, someone brought up studies on brain development and asked how I could dismiss those. I wrote a lengthy response, but a friend sent me a link to this article, which I think is a great addition:
"Diagnosed with moderate to severe autism at the age of 2, Jacob spent years in the clutches of a special education system that didn't understand what he needed. His teachers at school would try to dissuade Kristine from hoping to teach Jacob any more than the most basic skills.

…

"For a parent, it's terrifying to fly against the advice of the professionals," Kristine writes in her memoir, The Spark: A Mother's Story of Nurturing Genius. "But I knew in my heart that if Jake stayed in special ed, he would slip away."

…
'I operate under a concept called "muchness,"' Kristine said. 'Which is surrounding children with the things they love — be it music, or art, whatever they're drawn to and love.'

By the time he was 11 years old, Jacob was ready for college. He's now studying condensed matter physics at the Indiana University-Purdue University in Indianapolis." — Boy Genius Diagnosed with Autism has IQ Higher than Einstein
And a quote from the boy himself, from his TedxTeen talk that appears at the end of the article:
"In order to succeed, you must look at everything with your unique perspective and not settle for accepting the straight facts." — Jacob Barnett
The talk is great, and your kids might enjoy it, too.
Since we've been talking a lot lately about screen time on the blog (posts, comments, and in the forum), I thought this was worth sharing:
"My work with children, teachers and computers over the past thirty years has been focused on increasing opportunity and replacing 'quick and easy' with deep and meaningful experiences. When I began working with schools where every student had a laptop in 1990, project-based learning was supercharged and Dewey's theories were realized in ways he had only imagined. The computer was a radical instrument for school reform, not a way of enforcing the top-down status quo. …

Used well, the computer extends the breadth, depth and complexity of potential projects. This in turn affords kids with the opportunity to, in the words of David Perkins, 'play the whole game.' Thanks to the computer, children today have the opportunity to be mathematicians, novelists, engineers, composers, geneticists, composers, filmmakers, etc.… But, only if our vision of computing is sufficiently imaginative." — Technology Is Not Neutral @ for the love of learning
When Gary says "only if our vision of computing is sufficiently imaginative," I think he means only if teachers take the time to fully explore how computers can be used by students in school. At home, I would say "only if our vision of computing is sufficiently imaginative" to see what powerful tools computers can be for mastering skills, creating original works of art, building community, and so on. If we demonize tech, we're taking away so many of the hundred languages children can use to learn and build.
In the inspirational area, this week, I loved what Michael wrote about focusing on what we can do:
"I might dream of Sustainably Creative becoming one of the top 100 most read blogs in the world, being offered a publishing contract worth hundreds of thousands of pounds, and Oprah relaunching her chat show just to interview me. However all of those dreams require actions by other people, lots of other people (and Oprah). I can't make those people act in the ways I might like.

However I can work on my half of the equation. I can show up and write posts regularly for Sustainably Creative. I can work on book proposals and publish my own ebooks. I can approach agents and publishers. In short I use what energy I have to focus on the work that at least puts me on the right track to fulfill my dreams." — Achieve (almost) anything you want with a pen, paper, and a pot of tea @ Sustainably Creative
This is what it's all about — just starting. Doing what we can. It changes your life, even if you don't end up with what you originally thought you wanted.
Thank you for hanging out with me on PBH and being part of this community!
I have to say that being a PBH mom has helped me tremendously to see that while being there for my kids, I can support my own work and make my dreams a reality. Learning as I go. — PBH forum comment
Thank you for challenging us parents the way you continually do and sticking up for the rights of children. You know why PBH rocks above all other educational methodologies? Because it's the only methodology I've encountered that requires parents to try to become the best possible version of themselves in order to walk the talk. — PBH parent e-mail
Allowing children to learn about what interests them is good, but helping them do it in a meaningful, rigorous way is better. Freedom and choice are good, but a life steeped in thinking, learning, and doing is better. It's not enough to say, "Go, do whatever you like." To help children become skilled thinkers and learners, to help them become people who make and do, we need a life centered around those experiences. We need to show them how to accomplish the things they want to do. We need to prepare them to make the life they want. — Project-Based Homeschooling: Mentoring Self-Directed Learners