Friday link round-up + announcement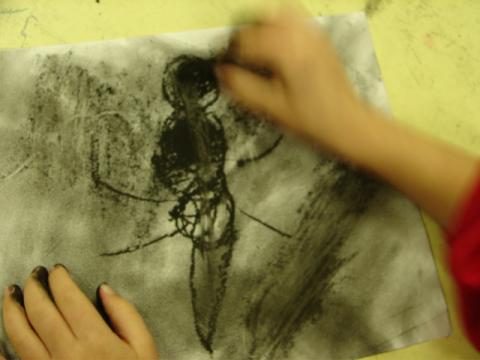 If we did all the things we are capable of doing, we would literally astonish ourselves. — Thomas Edison
First, the announcement:
PBH Master Class
In July I'll be teaching a PBH Master Class. For six weeks, we'll be reading selections from the book along with supplementary readings and new material I've prepared just for this class.
I'll be leading and supporting class members in a deeper exploration of the key elements of this approach and helping you put these ideas into immediate practice.
This class is not only for homeschoolers — it's for any parent (or teacher) who is interested in supporting children's interests and helping them become active thinkers, learners, makers, and doers. Please share the word if you think someone might be interested or helped by this class!
You'll also have the chance to make some like-minded friends who have the same goals and values for learning and supporting children. We'll have a private forum where class participants can discuss each week's focus and share questions, ideas, and issues. This forum will stay up after the class is over so you can stay in touch with your cohort and keep learning together and supporting one another.
I hope to have the sign-up page ready early next week. If you are interested and would like to receive the e-mail alert, please sign up here.
Thank you!
And now, this week on Facebook…
One of the best things I saw this week was this short video about creativity versus looking for a particular answer. It's well worth a couple minutes of your time.
Even when adults are trying to set up a situation where kids can be creative, if children get a hint that they are hoping they do something in particular, it will squelch their creativity. The children start trying to please the adults rather than freely making and building and having their own ideas. This video is a beautiful example of what can happen when we back off and drop our own ideas in favor of theirs.
I loved this post about children needing purpose in their work, which is the heart of PBH:
"[S]tudents today may be high achievers but they have no idea what for. … [They] need to find a purpose in life — something meaningful to themselves that also serves the greater good. …

In a series of studies of over 1,200 youth ages 12 to 26, Damon found that those who were actively pursuing a clear purpose reaped tremendous benefits that were both immediate and that could also last a lifetime.

[I]mmediate benefits included extra positive energy that not only kept students motivated, but also helped them acquire the necessary skills and knowledge to pursue their purpose, making them very strong learners.

Youth with a strong sense of purpose also benefited from positive emotions such as gratitude, self-confidence, optimism and a deep sense of fulfillment — all of which scientists have found help prevent depression and anxiety.

Students who carry this sense of purpose into adulthood may also benefit in the long run. Research shows that adults who feel their lives have meaning and purpose are happier, more successful at work, and maintain stronger relationships." — Putting the "Awe" Back in "Awesome" — Helping Students Develop Purpose @ Edutopia
The sharing part of PBH taps directly into this. Connecting with their community and making a real contribution = purpose.
And this is so much easier to accomplish at home where kids can work on a project that is authentically meaningful and engaging to them!
Heather wrote a great post about mentoring your child to sew if you yourself don't sew. She does a great job of outlining how any parent can be a supportive mentor in an area where they may not be particularly skilled:
"You might choose to learn with your child or you can help make it happen. Being a mentor means being a guide to something your child wants to learn. The great thing in this situation is that your child is coming to you with an interest. Just think of the intrinsic interest and motivation already at play! …

Remember that if you want your student to be in control and to lead the way in her endeavor to learn to sew, then the materials she needs for the job need to be at the ready. …Workspace is about making the project/learning activity accessible. I could make a long list of things my kids have ownership over in their learning and all of them involve us relinquishing control over workspace. We've worked to carve out spots for our kids to engage in what matters the most to them." — Teaching Sewing in Your Homeschool (Whether or Not You Sew!) @ Blog She Wrote
She really gets into fine detail about environment, materials, and so on, so definitely check it out — you can apply the same ideas to any interest!
More and more people are stating the opinion that every kid needs to learn how to code. I really liked this article saying coding isn't a golden ticket if kids can't write — because writing is an essential skill to really succeed in business:
"Computer programming gets great press. … [Y]oung people have long been counseled on the advantages of learning how to program. … [Y]et, when I visit software companies, I often notice that the most successful employees aren't necessarily the best coders. Instead, leaders in the software business are usually pretty good coders who also happen to be fantastic communicators. …

Whatever you do in the new economy, wherever you go, you're going to be called upon to write. And the better you write — the more succinctly and confidently you wield language on the page — the more you'll stand out. If you want to succeed, then, write. Learn to write, and practice every single day. …

Writing is really just a formalized way of thinking. Writing turns all those ideas that are flitting about your brain into a coherent picture of the world. That's why you can't ignore writing; in the modern economy, how well you write will often be taken as a proxy for how well you think." — Class of 2013: Learn to write code. Sure. But really, learn to write.
As a person who's been self-employed since college, I would add that writing is an essential skill for everyone, not just graduates seeking a job. If you can't write a clear cover letter and resumé, your paperwork hits the circular file. But it was just as important for me to be able to communicate clearly to clients (and potential clients). How you write = how you present yourself to the world. The more we rely on the computer to do business, the less it's about face-to-face contact and the more it's about the page and the screen. Today, you may never meet in person the people you work for or the people who work for you — they will know you by your writing.
On the flip side, an interesting article from NPR about high school students reading less and less challenging works:
"'The complexity of texts [high school] students are being assigned to read,' Stickney says, 'has declined by about three grade levels over the past 100 years. A century ago, students were being assigned books with the complexity of around the ninth- or 10th-grade level. But in 2012, the average was around the sixth-grade level.'

Reading leads to reading… It's when kids stop reading, or never get started in the first place, that there's no chance of ever getting them hooked on more complex books." — What Kids Are Reading, In School and Out @ NPR
Wow, this sparked a huge conversation on twitter. Some people really wanted to stand up for YA and MG literature and pointed out that story and theme are just as important as technical reading level, and kids are more likely to be deeply engaged and have good discussion around a book they actually enjoy and understand. I don't think it's an either-or issue and I stand by my conviction that kids should be exposed to more challenging works in school. What say you?
We had another big twitter discussion about library reading programs, of which, as you may remember, I am not a fan:
[I]t's a shame to treat reading as a sort of punishment — or something that requires a spoonful of sugar to go down, which is why I'm a curmudgon about reading programs that bribe kids with prizes or pizza if they read. Reading isn't punishment — reading is one of the greatest things ever. When we act this way, we are sending a clear message that reading isn't awesome — it's something that requires cajoling, bribery, or denial. — In defense of reading, which should need no defense
Librarians insist that these programs bring more kids in to the library and get more kids reading — but it's the adults who are pulled in by the programs, right? So I suggest we stop offering the bribes to the kids and give out free Starbucks coupons to the parents. I think it could work.
A couple of PBH for Grown-Ups-style links…
I liked this brief article about finding ten minutes in your day for the thing that matters to you — they were specifically talking about meditating, but the same thinking holds for anything you wish you could fit into your day:
"When was the last time you took 10 minutes to do nothing?

We may tell ourselves we take an hour to relax every night while we watch our favourite TV show or reading that book you never seem to finish. The half an hour journey to work with music from our iPod crowding the senses is also a familiar activity we may call our 'chill time'. But in reality, none of the above is still not doing 'nothing'." — I don't have ten minutes @ Scrawl Media
We have to use the time we have and prioritize the things that really matter. Find ten minutes for your meaningful work!
In that same vein, I like this series they're doing at WhipUp — the quote is for the whole series:
"Stop listening to the advice of those that say it can't be done, and seek the advice of those who are successfully doing what you want to do."
Every day I see bad advice on Twitter and cringe. Be choosy about whose advice you're seeking. Make sure they know what they're talking about. If you want real, useful advice, take the time to choose mentors (even online mentors or authors) who have experience and success to back up their words. Think about the motives of the people who are offering you advice.
Do they want to be an insta-expert? (They spent a few hours reading about a subject online and now they're an expert themselves.)
Do they have puffy ego issues? (They love being asked for help so much, they offer it whether they know what they're talking about or not.)
Are they mostly focused on making money? (Have they had a long-term interest in this topic or is it just a niche they want to exploit?)
There is no substitute for doing your own research. Take the time to go to the library and check out a few books. Even a modest amount of familiarity with a subject can help you spot some of the people who don't have the real knowledge to back up their faux authority. Then read their about page and make sure they've walked the walk before they started talking the talk. You'll save yourself a lot of wasted time and heartache.
Ooh, I got a little cranky there at the end! Thanks as always for your support of the PBH community! And don't forget to sign up for the e-mail list if you are interested in the master class. Have a great weekend!