Homeschooling toddlers and preschoolers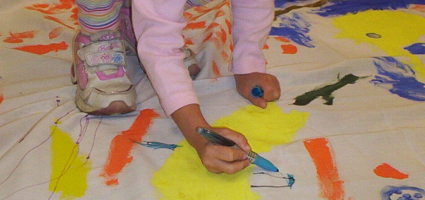 Some years ago my studio teacher showed me an online forum of art teachers where one person was expressing her annoyance at having to teach Kindergarten students, which she felt was "a waste of my time". Other teachers chimed in with sympathy and understanding.
Now that doesn't represent all art teachers, of course; my friend was indignant and said she wished these men and women could visit her studio and see the work produced by three- and four-year-olds. They were expressive, creative, and meaningful — actually, much more so than the typical cookie-cutter art produced by older children at many schools.
Yesterday I mused about the blog posts I've read recently about "distracting" little children when their older siblings are busy learning. Many adults, both at home and in school, seem to think that investing time helping the youngest learners is time better spent elsewhere.
Another post for another day, but I get tired of hearing "children's work is play" used as an excuse to put small children in the corner with a box of blocks. Children's work is play, but that doesn't make it any less meaningful or less worthy of attention and support. They learn through play; they express what they know through play. That isn't to say that it isn't also their work.
Why should small children be wooed away from older children who are hard at work?
The child who is digging in the dirt with a stick at the edge of the group will swiftly (as we mothers know) turn into a child who has the ability to participate fully. You can take advantage of exposing her to the type of work you hope she will do, or you can try to distract her away from it to make more room for the older children.
In doing so, you do a disservice to both groups. The younger children are losing the chance to learn in the easiest, most pleasant way — at the feet of their loved ones. The older ones are losing their chance to display their mastery to an adoring audience. In a mixed group of children, both groups benefit.
If you are teaching a traditional curriculum, dedicating a portion of your schedule to project-based learning will allow your children to not only acquire basic skills but learn to apply them, acquiring valuable habits of mind along the way. Letting your youngest children marinate in this atmosphere of engaged, excited learning is the best way to effortlessly raise relentless learners.
If you are unschooling, introducing preschool-age children to project work means that by age five or six you will have what I call a project-oriented child — an avid learner who reaches confidently for resources (including adults) to learn about what excites his interest.