The relentless learner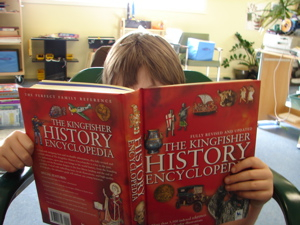 Yesterday, I wrote a little about my older son, the intractable child.
So, how do you work with such a contrary being? He doesn't want you to impose your will; heck, he doesn't even want you to suggest your will. He doesn't want to hear your ideas; in fact, if he hears them from you, he'll draw a big black line through them.
You may start to think, well, fine, he says no to everything. He refuses every suggestion. He shakes his head politely at every offer. He's not going to do anything! He's going nowhere! He had a great idea, but now he's doing nothing with it!
What I've found, however, at least with my intractable child, is that he not only doesn't stand in a corner, like Bartleby, doing nothing, he actually is a relentless learner.
When someone talks about something he doesn't understand or know about, he goes to look it up, or he demands a full explanation. He doesn't want to be ignorant. He wants to understand what's going on.
When he has an interest, the best way I can encourage him isn't to offer books or materials or field trips (things my younger son accepts with a smile). The best thing I can do is ask questions. What are you going to do? How can you find out about that? Is there anything I can do for you?
When we start a first project with the youngest children (three year old's), we start by listing their questions. Then we ask them, How can you find out what you want to know? This leads to brainstorming: We can ask my dad! We can call my grandma! We can look in a book!
We do this because we don't just want to learn facts about birds, or rivers, or outer space. What we really want to learn is how to learn. That is the curriculum that matters. How do we find information? How do we locate and talk to experts? How do we know when our question has been answered?
My son has been doing project work for seven years. He not only knows the process, he demands the process. He insists on being in charge.
So I go back to square one, and I ask the questions. How can you find out what you want to know? What are you going to do? Is there anything I can do to help you?
And even when I step on his toes, and he shuts down an entire line of inquiry because he feels like I got too involved, he doesn't just sit in the corner and do nothing. He just alters his course, smoothly, and keeps moving forward. Because he is a relentless learner.
Also see: The Myth of the Reluctant Learner