How to tell if you're bad at collaborating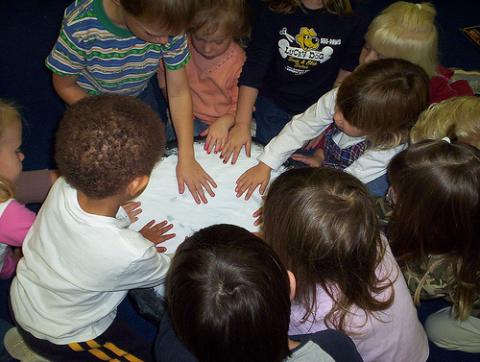 1 - You don't want to share your successes.
If you're a teacher, this means you don't want the person in the next classroom copying your decor, your bulletin boards, or the way you do independent reading. Those belong to YOU. You care more about getting the credit than you do about the kids in the other classrooms.
You want to have a little edge up on everyone else — that's how you win, right?!
2 - You don't want to admit your failures.
Failures and mistakes are something to hide, preferably in a shallow grave far, far away in the woods.
No way do you want to "share" what's not going well and let these people see you're not perfect. They're your competitors. It's all about maintaining a façade of effortless ease — no one respects a loser.
3 - You can't tell the difference between brainstorming and having all the answers.
If someone offers you a suggestion, they must think they're God's gift to homeschooling/unschooling/teaching/parenting.
If someone shares an issue they're having, they must want everyone else to do their work for them. Instead of tossing your ideas in, you take the floor to explain what they did wrong and how they should fix it. At least then everyone will recognize that you know what you're doing.
4 - If you can't be the pitcher, you're quitting and taking your ball home with you.
If you're not the lead dog, the view never changes — so if you're not the lead dog, you're out the door. After all, without hierarchy, how can we tell who's ahead of whom?
5 - You only respect people who are exactly like you.
There's your way and the various multitude of wrong ways. If someone is doing something differently than you do it, it means they don't respect you and they think you're doing it wrong. They're attacking you, so start defending yourself!
• • •
All of these things come into play when you collaborate with your child.
Collaborating doesn't mean playing devil's advocate or shooting down "bad" ideas. It means taking a non-perfect or partially formed idea and working together to make it better. Instead of hitting things head on (right/wrong, black/white), it means tapping them to change their trajectory. And everyone gets in on the tapping.
Bad collaborating = "That won't work."
Good collaborating = "What if…?"
Collaboration assumes that working together you can create something better than you could on your own. When we collaborate with our children, we help them build this skill: the ability to sit down with others and help each other, work together to refine ideas and find solutions. It requires respecting different views, different talents, and different strengths. It requires respecting other people's ideas and other people's perspectives. You can't collaborate if you always have to be the one in charge, the one who knows everything, the one who's right. Collaboration requires mutual respect — and humility.
Collaboration doesn't mean getting other people to solve your problems for you. It means hearing other opinions and seeing things from a different angle. It helps you solve your own problems.
Collaboration is an attempt to leverage success for all. We can all help each other, so we all win. Rising tides lift all boats. When we come together to increase the number of perspectives, the amount of insight, and the sheer quantity of available ideas, we are investing in each other's success. Collaboration recognizes that success is not a zero-sum game: you don't have to lose so I can win. We can both win.
People who don't collaborate well also struggle with learning — because learning requires the same abilities as collaboration:
- humility
- the desire to learn
- willingness to make mistakes
- willingness to mentor and be mentored
- an open, questioning mind
Helping your child learn to collaborate — by collaborating with you and other family members, then with peers — you help her strengthen her ability to learn, succeed, and help others succeed.
If you have an apple and I have an apple and we exchange these apples, then you and I will still each have one apple. But if you have an idea and I have an idea and we exchange these ideas, then each of us will have two ideas. — George Bernard Shaw
The strength of the team is each individual member. The strength of each member is the team. — Phil Jackson
If everyone is moving forward together, then success takes care of itself. — Henry Ford