It's my birthday and I have presents for you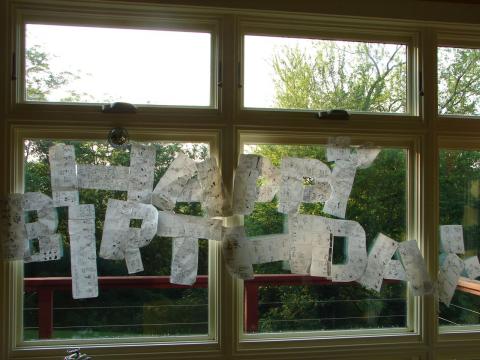 A birthday banner made of original comic strips!
• • •
It's my birthday and I want to give you a present!
This summer I'm going to teach a series of free one-week classes — and today you can sign up!
Free Summer Classes 2014
#1: Journaling Boot & Reboot — June 15-21
Whether you want to journal about PBH, your own meaningful work, start a gratitude habit, or gain insight into your values and goals, you can use this free one-week class to jumpstart a great practice for this summer and beyond. This class is for you but we'll also talk about how to inspire kids to journal and the best way to support and encourage them while letting them own the process and do it their own way. Sign up here!
Stay tuned for announcements of more classes as summer goes on! (To make sure you don't miss anything, 
join our e-mail list
!)
I give because I love. <3_<3
(If you want to give ME a present, please consider
reviewing my book on Amazon
! Other than a hug and a really big cake, that's all I want. And I already have the cake.)
Read more about the free classes
here
— and keep checking back as we update!