No one's going to DIY that for you, sweetheart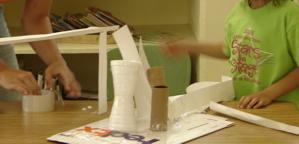 It's called DIY for a reason.
Wired published a story Homeschooling Only Deepens Silicon Valley's Rift with the Rest of Us and I responded with the following rant on Twitter:
I love kids and I love great educators and I want great schools for ALL kids. But anyone who thinks it's easy — or even doable — for one family or even a group of families to waltz in and disrupt their local school is … incorrect.
If I had the power to walk into my local school and change how they are doing things to how *I* think things should be done … gosh, just think of it. I bet they'd welcome me with open arms. They'd get out the red pen and start changing their schedule right then and there to accommodate my ideas.
But of course it doesn't work that way.
To say that homeschooling parents are terribly selfish for just leaving and doing what they think is best for their own kids (a song homeschooling parents have been hearing from the very beginning) is to overlook the fact that schooling parents are just as selfish every time they
- sign their kids up for an extracurricular activity,
- move to a better neighborhood,
- hire a tutor,
- buy an educational app or book or film,
- help their kids with their homework,
and on and on and on. Not EVERY child has those benefits. Should you do for your child what you aren't willing to do for society?
Please do not assume that just because people homeschool, they don't contribute to the public schools or to all kids. You have no idea whether they volunteer, tutor, help out a teacher friend, buy school supplies, or offer to do free trainings and workshops. You know nothing about what they're doing for all kids.
What you do know is what YOU are doing. Are you advocating for change? Are you in there demanding whatever it is you want? Are you rallying other parents to the cause?
Or, how about this: Are you asking your local school what they need? Do you know the average teacher spends at least $500.00 every school year buying materials out of his or her own pocket? Do you know they don't just buy art supplies but soap and paper towels?
Whatever it is you're doing, start there. DIY it. Be a self-directed learner. Educate yourself. Then decide what you want to do with what you learned.
If you believe with all your heart that I have the power to change your child's education, that means you have the power, too. Use it.