Project-based learning: A teacher's perspective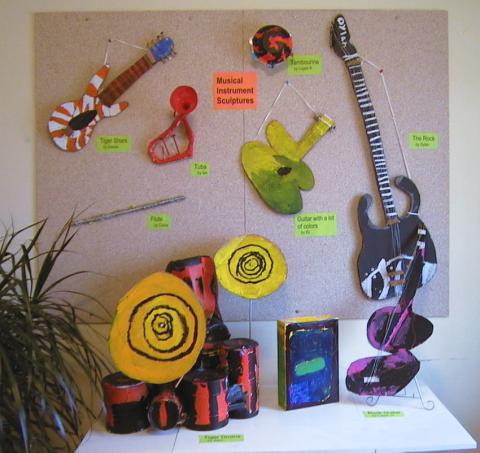 My good friend Emily, who used to teach K-3rd at my tiny private school, left a great comment on my post Observational drawing: Where do we go from here?. It was so great, I'm going to reproduce it here in its entirety so more people can see it.
I know this comment is after-the-fact for this conversation, but I am a "late reader" and so I'm only seeing this for the first time.

As soon as I read your post, Lori, I knew I *had* to write a comment because I still think about all the wonderful things that happened during our instrument project. Learning the instrument families --- no! Becoming *experts* on instrument families, learning how sounds travels, making the ears, the "Keyboard Controversy," all of it was amazing. It's all become a magical memory for me. One that keeps me motivated to keep trying projects in a public school setting even if it is hard and sometimes frustrating. One that reminds me all that children are capable of --- so much more than I sometimes give them credit for. One that encourages me to challenge kids. One that makes me mourn the loss of that class, and the simple fact that my own son will not ever get to experience that moment with those circumstances. (Although I hope to recreate it for him at home.)

Thank you for giving me another moment to relive that year!

I also wanted to share another story related to the "keyboard controversy." As estea pointed out, the piano is a string instrument, and, of course, we knew that as well, but the PROCESS they took to learn that fact was much more worthwhile for them since they had to discover it on their own. They learned so much more than how to classify a piano. They learned that everything written in books isn't necessarily true, as you mentioned. They learned how to debate. They learned how to make hypotheses and conclusions. (In the end, they decided that a piano was, indeed, a string instrument, BUT an electronic keyboard was a percussion instrument since it doesn't have strings.)

The story I was thinking of happened about that same time. A child in the class became very interested in the Loch Ness Monster. He asked me if it was real, and, of course, I answered, "I don't know. Why don't you try to find out?" So, he did! He checked out books on the subject, interviewed his classmates to see what they thought, and we probably looked online for information too. And then all of sudden, one day, his interest was gone. *Poof!* No more discussions, no questions, nothing. When I asked him about it, he replied, "Oh, I asked my dad what he thought, and he said it wasn't real. So now I know." And just like that, he lost so many valuable learning opportunities.

And now I've rambled for long enough. Thank you again, Lori, for writing about this!
Emily, thank you so much for taking the time to share this.