Observational drawing: Where do we go from here?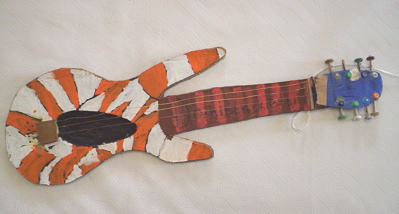 I could talk about that guitar for two hours.
I was going to post something about how we take the skills learned in observational drawing (seeing, describing, discussing, rendering) and then we branch out into the different media.
Something about how drawing then goes to sculpture and collage and painting and modeling and etc.
Then I looked at that guitar and thought about all the non-art places it took us, too.
I remember kids not just looking at instruments but tracing them with their fingers, playing a real rock-band drum set for the first time (!!), arguing passionately about whether a piano is a percussion instrument (because the hammer hits the string! percussion!) or a string instrument (because the strings make the music! string!). Making models of human ears out of clay. Learning about how things are classified — not just musical instruments, but animals, plant, birds, fish. Doing experiments on how sound travels.
Children who cannot yet read or write a single sentence can make extensive notes by drawing, notes that they can read back to you days or even weeks later, knowing exactly what they were thinking about when they first drew it. Children who cannot yet read or write a single sentence can look through stacks of books and mark interesting passages for an adult or older child to read to them later. "I'm sure this says something about the viola! Read it to me!" Pre-readers researching.
Observational drawing is the first step along a path of art and expression — collage, painting, print-making, sculpting, modeling, and so on. For those of us who homeschool, it can also be the first step in hands-on learning.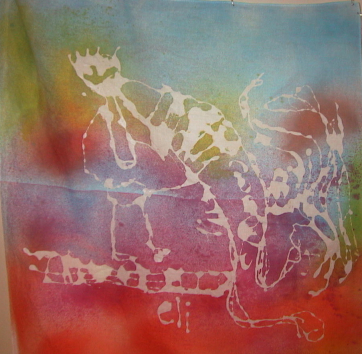 Batik, Saxophone Player, by Eli, age 8
Related stuff:
Comics project: Inquiry-Based Learning
Art lesson: Observational Drawing
Benefits of observational drawing
Observational drawing with the young and/or reluctant: tips
Sharing our work: Observational drawings
Observational drawing: Musical instruments
Art lesson: Blind-contour drawing