Project journal — parent's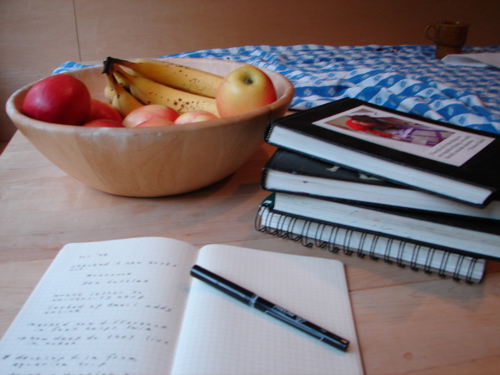 I use my project journal to keep track of
what the boys are doing each day
books they've read
movies they've seen
sites they've visited online
their conversations
letters and e-mails they've sent
photos of them working
photos they've taken
their sketches, models, and constructions
their questions
their plans
their requests — for materials, field work, etc.
and so on...
I use a digital camera and print out my photos on regular copy paper to glue in my journal. I also display these on bulletin boards dedicated to their ongoing projects, and I print copies of anything they want to put in their own journals.
I highlight their questions in my journal, so I can remind them later of things they wanted to investigate.
I also highlight things I want to remember to do — get them materials they asked for, make copies of some sketches for their project board, etc.
(I am not this well organized in, well, any other aspect of my life. But I know from experience that if I don't write things down as they happen, I will quickly lose track of their plans and questions and wonderings. They speed along so steadfastly that if I'm not coming along behind with a basket to collect all of their future plans — the things they have thought of, but haven't done yet — many of them will be lost forever.)
My journal is an important tool for me. My part in our learning relationship is to support them in their investigation, and that requires a lot of me — I have to pay attention to what's happening every day. I have to be quiet and see what they are saying, doing, and planning, without my interference. I have to respond faithfully when they ask for things — whether it's wire, tape, help looking up something online, or a trip to the natural history museum. I need to keep track of all those lines of inquiry they mark as a path they want to follow later, when they have more time, so they can focus on what they are doing right now.
Your journal can also be a powerful assessment tool, if that is something you need or want to do. And it is a powerful reminder of what your children can accomplish simply following their own trail of questions.
A project journal should not be simply a diary of what happened, however — focusing on the past. To be a useful tool, you must constantly review and reflect. Your role isn't a passive one, trailing along behind your children, dutifully taking notes. Their project journals will be primarily about their topic — say, bees — but your project journal is primarily about your topic — your children and how they learn. Therefore, it isn't a dead record of the past, but a living documentation that stretches from the past into the future.
Also see: Inside my project journal