Projects and the intractable child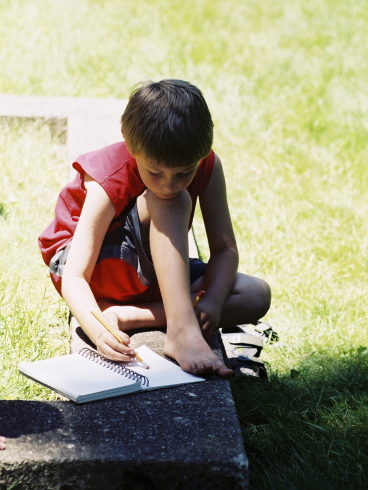 My ten-year-old has taken our lessons to heart. He is the architect of his own learning. He can learn about anything that interests him. We will provide him with whatever help he requests. (Emphasis on requests.)
If you have ever known a child who reacts to your suggesting a book by saying, automatically, without even thinking about it, "No thanks", you are familiar with this child.
If you have ever suggested to a child an activity that simply reeks of excitement and fun, only to be met with a casual, "Yeah, I don't think so, no thanks," you are familiar with this child.
Now that he is ten, things have improved. I can suggest a book without his immediately saying no. He is reading, and immensely enjoying, Kon-Tiki
right now on my recommendation. He is pretty confident now that I won't force him to read a book he doesn't want to read.
Although he still has his doubts.
When he went through a stage of intense interest in Flickr, I pulled out a big pile of Time/Life Photography Series books that I bought years ago at a library sale.
He got very excited about a story about Joseph Pulitzer and how he was the first publisher to include sensationalistic photographs in his newspaper. (This was in the volume "Photojournalism" — these books were published in 1971, btw.) He was talking a mile a minute and gesturing and laughing. Before he told me the story, however, he paused to say significantly, "I wasn't reading about how cameras work or anything. It wasn't about that." It was like he was saying, "I know why you gave me these books — I'm onto you — and I didn't do what you wanted."
The directions he took his interest in — starting with Flickr — were places I couldn't have predicted. We talked about art — what is art, what's not. We talked about how pictures tell a story — or don't accurately reflect the truth. We talked about geography and places we want to visit.
I eventually realized that to him, Flickr was a toy, and he was playing with it. He was looking it up and down and all around and figuring out what it could do. He was running around the room with it making zooming noises like it was an airplane, then he was walking it across the floor and laughing. He was turning it inside out. He was in discovery mode. He was in the zone — the flow state — calm, relaxed, completely plugged in, energetic, and focused.
Anything I did that made it seem like I was dictating what he should do would make him stop in his tracks. It would break the spell.
Over time, I've become better at how I make my offers of assistance — emphasizing it's only a suggestion, and he can take it or leave it as he wishes. And he has become better at considering my offers, not always rejecting them out of hand.
The biggest lesson has been mine. I realized that I can't predict where he is headed. It is entirely his own direction, plotted out according to his needs, his interests, his goals. And I don't want to get in the way of that, so I need to hang back and make sure I'm supporting him, but not tripping him up by trying to anticipate where he wants to go. He'll let me know where he wants to go.
Also see: The Relentless Learner and The Myth of the Reluctant Learner