Reading
I just read another homeschooling blog post that declared how great it is that homeschoolers read more than non-homeschoolers. They're better readers, they like to read more, they read more often, etc.
My first reaction is, well heck yeah, they have time to read!
When I was running a (tiny, private) school, we made time each day for the children to read to themselves. This was in addition to the time that they were read aloud to by their teacher (Kindergarten through fourth grade). Visiting educators' reaction? We don't have time to do that. There is too much to teach. We already don't have enough time to cover the material.
This is the sort of thing that made me grind the heels of my hands into my eye sockets. Which way to attack this? You could go straight for what really matters in education today and point out that the kids will learn more, and be more receptive to learning, if they are calm and relaxed and rested. (Our kids read after lunch. It made a lovely quiet transition to the afternoon.) Or, you could go the other direction and point out that test scores don't really matter if we raise generations of kids who can't or won't or don't read.
I remember talking to the 8- and 12-year-old sons of a friend several years ago (back when kids that age seemed enormous). I asked what their favorite books were. Both of them moaned and groaned and said they hated to read.
... Hated to read? Hated to read?! Well, I ... I don't know what to say. That's like saying you hate to eat. You hate to watch TV. How can anyone hate to read?
But they went on to explain why they hated to read --- it was because they hated the books they were forced to read at school. They were so boring. Etc. So I said, well, huh, I could choose a book for each of you that you would love. You would love to read. They rolled their eyes and said no way. I couldn't pay them to waste time reading anything.
And there's the rub, because when would they read these great books I had for them? Their days were very full, and the little bit of free time they had they really preferred to do something else. Like, there would be a long list of things they would prefer to do, and reading would not even make it to the bottom of that list.
Sob!
They also told me that boys don't like to read, boys like sports, but that's a whole other ulcer-aggravating conversation.
This is a deep-and-wide topic, and I can't plumb its depths in this one post, but I will reiterate this: When I read (or hear) homeschooling parents say sanguinely that homeschooled kids love to read or are great readers or etc., I think, the greatest thing about homeschooling is time. All that lovely, blessed time. No worries about having to choose how to spend your one free hour a day, whether you should crash on the couch and watch "Scooby Doo", play with your dog, work a little on your airplane model, help your mom make a pie, play a little Age of Empires
or maybe a game of chess with your dad. There's time for all of those things — and still time to read Treasure Island, Rascal, Kon-Tiki, A Wrinkle in Time, Harry Potter, or The Dark is Rising.
That's a great thing about homeschooling, but schooling can easily (easily!) make room in the day for kids to read books of their own choosing, silently, to themselves. And (rolling my eyes now) the kids' attention and attitudes will improve and they will actually learn better anyway, so you haven't actually cost yourself anything just for the mere benefit of raising generations of readers.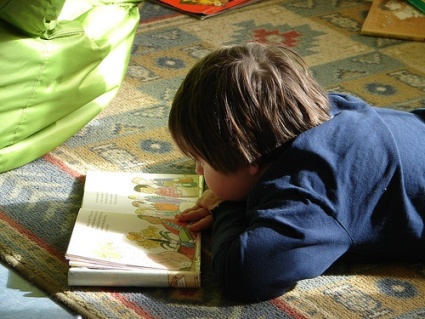 More:
Jim Trelease: Sustained Silent Reading — Reading Aloud's Natural Partner
If the majority learn to read but don't read, we must ask: Why are they not reading? The only logical answers are either because they don't like it or because they don't have the time. There are no other major reasons. Eliminate those two factors and you've solved the American literacy dilemma. Reading aloud goes to work on the first factor and SSR attacks the second. — Jim Trelease
Washington Post: The No-Book Report: Skim It and Weep
We pride ourselves on being a largely literate First World country while at the same time we rush to build a visually powerful environment in which reading is not required.
"Sustained Silent Reading" Helps Develop Independent Readers
Teachers should be right there on the floor (or in another comfortable spot) -- modeling a lifelong love of reading.
Note: Upon rereading, my mom and dad activities are so gender traditional. For the record, I play chess (although I prefer Scrabble), and my husband, while no pie maker, makes a mean pot of soup.
I am not bashing homeschooling families for basking in the contented glow of their great readers; it just drives me crazy that kids in school don't have the same luxury of time to become great readers.
How can a generation of non-readers raise a generation of readers? If kids never discover a love of reading, how can they introduce it to their own children?
In all my years of running my small private school, I never saw a child who didn't love to be read to, regardless of age. I still read to my nearly 11-year-old every night. Right now we are reading Bryson's A Short History of Nearly Everything
.
See also: Teaching Kids to Hate Reading and In Defense of Reading .. Which Should Need No Defense