Small Wins Wednesday: Mentoring a mentor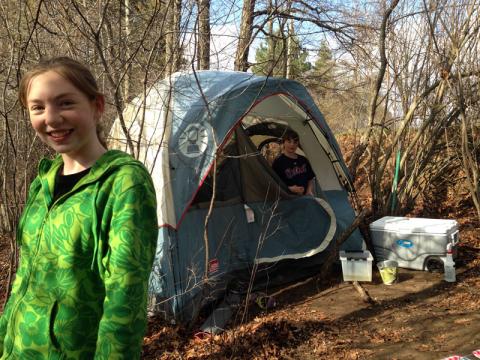 • • •
Every Wednesday we share a small win from the forum, Twitter, the Facebook page, or (with the writer's permission) from the mail bag.
This week's small win is from Kerry:
My 6 year old had been playing birthday party for each of her stuffed animals and dolls for weeks. She would cut up decorations, write invitations and wrap "presents" for the guest of honor. She'd make a cake in her play kitchen and we'd sing "Happy Birthday."

 

One day she decided she wanted to plan a real party, with balloons, and a piñata full of candy, and guests, and everything. She'd never made a piñata before, so we watched some videos on You-tube, made a list, and headed to the store for supplies.

 

Just as she started making the paper-maché paste, back at home, her big sister stepped in to help. As I sat back, happy to not be assisting any longer, snapping pictures to document, I noticed that big sister was slowly taking over the project. She had opinions on everything from which paste recipe to use, to how to close up the piñata after filling it. All decisions the 6-year-old had already made. I tried suggesting she start her own paper-maché project, but she wasn't interested. And really, the 6yo did need help covering the huge balloon with all the little strips of paper and, with her sister's help, they were able to quickly whip up more paste when they unexpectedly ran out. She needed her help, and they were having a lot of fun.

 

 

Lori had some great ideas, of course, and I have spent some time talking with my daughter about helping me mentor her younger siblings. I've told her what a great example she is setting while she works on her own projects. And I have tried to make my own learning visible, talking about what I'm working on to improve myself, so that she becomes more aware of her own actions and how they might be improved.

 

Last week, the 13-year-old, along with the help of her cousin and sister, organized a camp for her younger siblings and cousins. They cleared a space in the bit of woods edging our yard, set up the tent, hung a tire swing, built a pallet table for meals, shopped for groceries, collected field guides, made a hilarious welcome/rules of camp video to show to the campers before heading out, and planned activities and games. I was so impressed with her ability to keep everyone doing what they needed to be doing, and delegating work, without dictating or being overly "bossy." Everyone had a great time and, while they were cleaning up the site at the end of camp, my 6-year-old came to me, with a sad face, and said she didn't want camp to be over. Planning has already begun for the next camp and the campers all signed up right away.

 

As I wrote in the forum last week, I have loved watching my daughter's "bossiness" develop into thoughtful, trusted leadership.

 

It's amazing when I think back to the little girl at 3 ordering her cousins and little sister around, getting angry and frustrated at their reactions. I can still see the red face and foot stomp at the bottom of the slide as she yelled that they were doing it (the obstacle course) wrong. And, to now see them come to her with their ideas looking for someone willing to put it all together, to do the planning and organizing. Or to see her present her plans to an attentive group, to see her get them excited about her plans, and to see her welcome, or at least consider, others' ideas and input.

 

It's not always roses, of course, but she really is becoming a brilliant leader, and as someone who prefers to do my own thing, and not mess with trying to lead others, in general, I find it awe inspiring.
• • •
Kerry blogs at 6 Berries and also tweets. Thank you so much for sharing your small win!
Why do we share small wins? Because we put on our attention on what we want to grow. We support each other, celebrate each other's successes, and we make more of the good stuff!
Have you had a small win this week? Whether it's related to PBH or not, please share in the comments!