Small Wins Wednesday: Sewing with Kids and Not Taking Over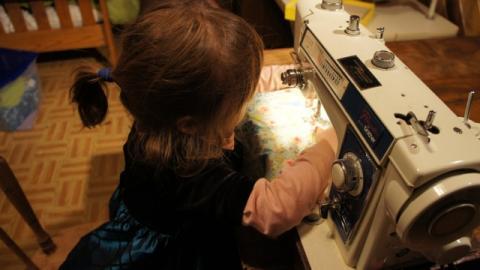 This is a pic of my daughter on the "tiny sewist program". She wanted to do a princess dress for her friend's birthday. Of course, I freaked initially. Then, we discussed the steps (choosing fabric, making patterns, cutting, etc.) and I wrote them on a board… — M, in the forum
• • •
Every Wednesday we share a small win from the forum, Twitter, the Facebook page, or (with the writer's permission) from the mail bag.
My son (7) announced this morning he wanted to sew.

We saw a book at the library Sewing for Children (and I just saw a recommendation for it on the sewing thread — I think it is a nice intro to sewing, lots of felt, easy projects) and the kids have been looking through it for a while.

We have done some sewing in the past, and I have not been able to not take over. So I was a bit nervous. Luckily I have spend a great deal of time catching up on the threads here last night. ;-)

The kids each picked a project and started, both projects had lots of buttons and they started sewing it on haphazardly and I just couldn't help myself given them a button sewing lesson and getting them to do a practice run on a scrap piece of felt. After that my son lost interest and I thought I blew it. And I felt so bad, I could kick myself for falling in this trap again.

We went to visit friends, while driving I reflected why I react in this way. Part of the 'problem' is that all the materials, tools, etc., are my sewing stuff. They do not have any sewing materials in their project cupboard.

On our way back we stopped at our little local sewing shop. They chose a few colorful felt pieces, needles and embroidery thread, and a plastic box to keep the thread and scissors in. They were so excited; they ran to our workspace and started working.

My son used his practice scrap and turned it into a little bag, sewing the seams all by himself. He then proceeded in hand sewing little bags for his sister and me. I was so impressed. He glowed and made each of us a pincushion as well, stuffing and hand sewing it with the utmost patience. He asked if he could make each of us a little felt needle case tomorrow (ever the practical one ;-).

My daughter, who just turned five, has her heart set on a mobile phone felt soft toy. I have helped her holding materials, threading the needle, tying knots, etc., if asked. I haven't taken over — I have managed to be there to move her project along without her getting too frustrated or feeling it is too hard. And she is so happy and proud. She is still working on her project and tomorrow I am going to hang back more, now that she has practice with some of the skills.

We worked like this for over 2 hours and when I went downstairs to start dinner they both brought their work with them and sat at the table working. I hope I have turned a corner. I find it hard to let go if there is a definite skill or sequence involved; I want to teach them the basics. All with best intent of course: helping them to succeed. Yet the joy and pride they had this afternoon was so wonderful for me to witness. — L.
Why do we share small wins? Because we put on our attention on what we want to grow. We support each other, celebrate each other's successes, and we make more of the good stuff!
Have you had a small win this week? Whether it's related to PBH or not, please share in the comments!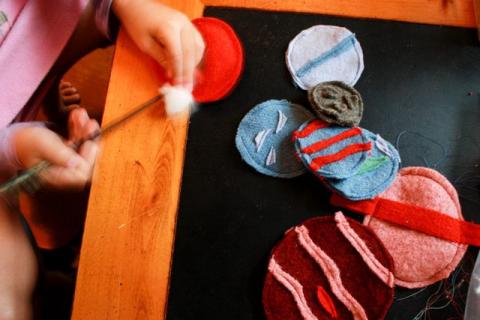 F sewing a stuffed solar system. — Dawn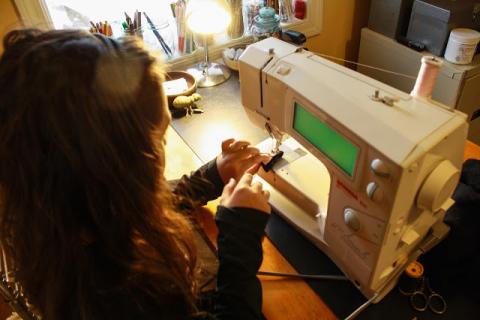 F making cat ears. — Dawn