In the studio: Rationing art supplies, part 1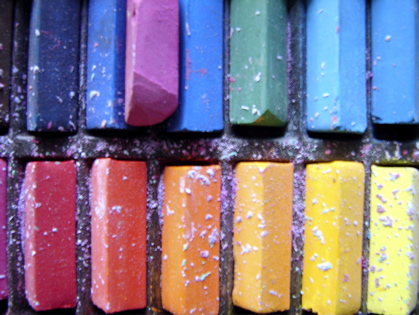 We had a lot of visitors to the TPS* and during our post-observation talks, the same questions were raised again and again. A frequent observation by visiting educators was something to the tune of "Our students couldn't handle this."
As in, they couldn't handle the wide-open spaces, they couldn't handle the number of choices, they couldn't handle the sheer amount of art materials they were allowed to choose from.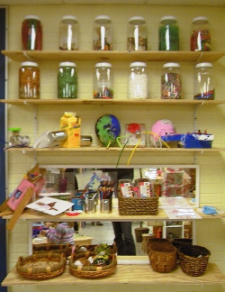 Anyone who has watched a preschooler glue four thousand sequins methodically to a single piece of paper understands where they're coming from.
There is a look in the eyes of a three-year-old … eyes darting back and forth … as they see a large clear container filled with buttons. The look says: "How can I get these buttons?" The look says: "How can I get ALL of these buttons?" The look says: "How can I make sure NO ONE ELSE gets MY buttons?!"
Yet our students worked cheerfully with the big container of buttons right there in front of them and didn't freak out or anything. How did we do it?
There is a certain amount of training necessary. I remember hearing some diet advice a long time ago -- that you should keep a big supply of your favorite guilty food (e.g., miniature Snickers) in the house, so you could calm down and your brain would allow you to diet without sending you freak-out "MUST BUY SNICKERS" messages.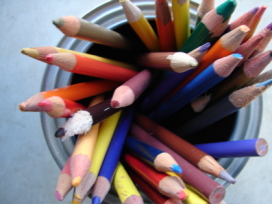 Similarly, you must help the children realize that there are plenty of buttons for everyone. The buttons will keep on coming. There is not a single, limited supply of buttons.
When introducing a studio environment, whether at school or at home, it helps to start with a lot of less-expensive, easy-to-procure items (pencils, paper, markers, popsicle sticks, glue). I like reams of copy paper for drawing; there are 500 sheets in a ream so it's relatively inexpensive, but nice quality. A ream of legal-size copy paper shakes things up a bit.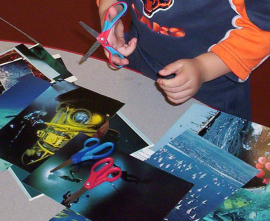 Start tearing out sheets from magazines before you recycle them, and fill a box with these, for collaging.
Get a bin and throw your clean recyclables into it, along with a few rolls of masking tape for sculptures.
Fill a basket with things from the yard — leaves, pinecones, twigs, acorns, pebbles, shells, etc. Nature's art materials.
Now you've got a nice starter studio.
We added other materials slowly … buttons, beads, lacing, cotton balls, pipe cleaners, plastic-coated wire, etc. If our students came in on the first day of school and found a completely stocked art studio, I'm sure they would have wigged out as well. Instead, they slowly grew to know it as a place where neat new things were always appearing, where there was enough for everyone.
We never doled out buttons. "Everyone gets three buttons!" That's the type of thing that makes you feel greedy and desperate. Sometimes, you just have to let them glue and glue and glue until they get past the panic stage. But once they understand you're going to keep supplying them with the good stuff, they calm down. They're able to cast their eyes over a display of materials and choose with care the thing they really need.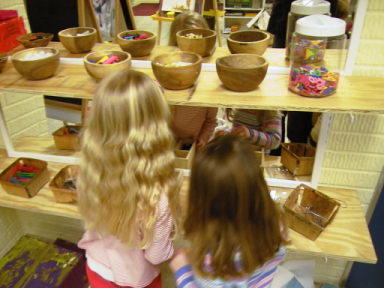 Continued tomorrow...
*TPS = tiny private school